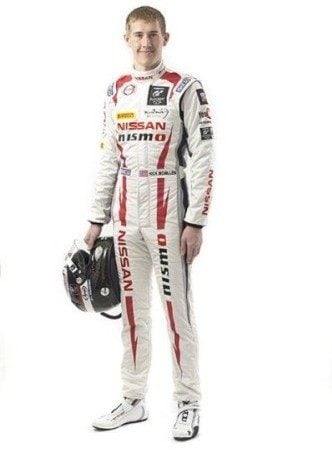 This guest contribution is by Nick McMillen, 2013 United States GT Academy Champion. This is the account of his journey as one of the newest Nismo Athletes. Look out for future articles from our racing driver contributor coming soon as he experiences and progresses through his professional career.
The last couple months since Dubai have been pretty busy, but lots of fun as well. Plenty of physical training and track time. I've had the opportunity to get some good track time in with the Nismo GT3 car too and am feeling very prepared and excited for Monza next week on the 13th of April. I'm ready to go racing and get down and dirty finally!
First thing after Dubai was heading off to a beautiful and sunny Portimao, Portugal. We got to have a couple days of testing and all drivers ran a decent amount of laps. I've never been to such a crazy track and facility. Probably the most elevation change I've ever encountered in a race car and one of the best tracks I've had the opportunity to drive. A good balance of fast and slow corners along with some blind parts where you have to really trust yourself. Can't wait to go back and try it out again if I get the chance.
Next bit of track time was at Snetterton for some tire testing but with the nice added treat of some time in a Radical SR8! First day was a little cut short due to an engine failure in the Radical along with some nasty weather for the GTR. Although I got to have some fun in the rain with the GTR which I was actually hoping would occur and I got my wish with more than I think I bargained for. That was at least until a shed flew across the track in front of me which was interesting. I'm just glad I avoided it!
The second day went well with plenty of laps in the GTR as well as the Radical. Felt really awesome in the GTR and at this point a lot more comfortable in finding the limit. The Radical was just absolutely crazy and I can't thank the guys enough who put that together. If you haven't driven one of these, the best way to put it is that this thing is bonkers fast! I hope to have another go in one of these if not some LMP cars in the near future. I wasn't able to conquer the car like I wanted to so I'm itching for another go at it to show it who's boss.
Lastly, and most recently, was our first official test day at Paul Ricard for the Blancpain Endurance Series. I really enjoyed France and getting to have some nice warm weather for a few days. Being able to be on track with all of the other cars and see all the teams made me want to go racing. If my wish was granted I'd be racing tomorrow if I could!
But, sadly I'd have to wait a couple more weeks. Testing at Paul Ricard went well other than an issue on the first day of testing that delayed us a little bit. Got to see where we were speed-wise for the most part and put in plenty of laps to get even more comfortable with the car. I think we are shaping up to have a good season ahead of us.
Last week included plenty of fitness and sim training to make sure all the edges have been sharpened and I'm as ready as I can be. It's off to the UK first and then to Monza! Can't wait to have those first laps at Monza and rub some paint (hopefully not literally) with the other boys out there. Excited and thankful for every one at Nissan, RJN Motorsport, and every one else who's put in their hard work to help myself and the rest of my team get us to where we are now. I hope the next update will include a picture of myself and team on the podium. Guess we'll have to wait and see!
Enjoy!
Nick
Images courtesy of GT Academy and Nick McMillen's personal photography.
See more articles on Blancpain Endurance Series, GT Academy 2013, and Nick McMillen.