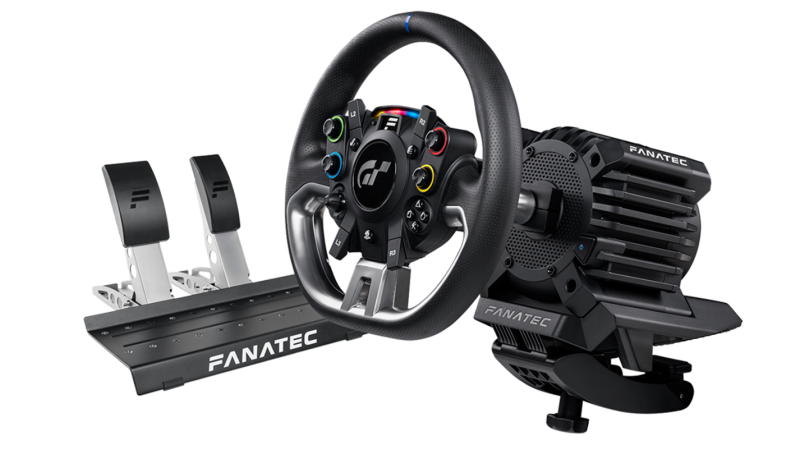 Fanatec's direct drive Gran Turismo DD Pro is available for customers in Europe and the USA to order again, with first deliveries expected in or before February 2023.
A combination of global shipping delays and supply line component shortages halted production of the Fanatec Gran Turismo DD Pro, meaning the wheels have been very scarce indeed. Avid viewers of the Gran Turismo World Finals will not have missed the fact that even this showpiece event was using older rival wheels instead of the official unit.
However Endor AG's CEO Thomas Jackermeier has confirmed that these issues are now easing and the wheel is set to go back into mass production at its Asian manufacturing facilities.
That means Fanatec can now offer the wheel for pre-order again, and to sidestep the sea-freight shipping issues it will bring the first batch over by air and save the month-long trek across the Indian Ocean and through the Suez Canal — which was recently blocked again by a broken-down oil tanker.
With the time cut from weeks to hours, Fanatec will be able to deliver the wheels to customers by February 2023; although some units currently state a date of early March, Jackermeier believes "there's a strong chance" they'll be available earlier. Fanatec will absorb the additional cost of the air freight rather than pass it on to consumers.
Customers in Australia and Japan are not currently able to pre-order the wheels — which consist of the 8Nm base in Europe only, and the 8Nm regular and Premium bundles — but this should change soon.
As production is set to fully come on stream in 2023, the wheel may become more widely available again next year, with Jackermeier stating that all supply issues will be over by Q2 2023. This is partly reinforced by the fact that Sony Interactive Entertainment president Jim Ryan has already confirmed that PlayStation 5 console supply issues are also solved.
You can help support GTPlanet by ordering through the affiliate links above!
See more articles on Fanatec GT DD Pro.