You'll be skipping between three continents in this week's GT Sport Daily Races, with a couple of nods back to Gran Turismo of old.
The three races this week all feature circuits that have been in prior GT games, and for the most part the cars are familiar friends too. This is probably most obvious in Race A, which takes you to the Tsukuba Circuit in the Mazda Roadster Touring Car. The race should bring back memories of long, long endurance races in the convertible Mazda at the circuit, even though the car itself is PS3-era one. It's a simple five-lap sprint on Sports Medium tires and with a grid start, and the game provides the car for you.
Gran Turismo 2 is the theme for Race C, as you'll head to Laguna Seca in the Honda S2000. Both made their series debut in the second title, and you'll be driving an 11-lap endurance race with the combination here. The S2000 will wear Sports Hard tires, with a de-tune to 196hp there shouldn't be any traction issues. Nor tire wear for that matter, as the 5x multiplier won't make much of a dent. Watch out for the false start check on the grid start though.
Race B will be a familiar one for GT Sport players though in the Nurburgring GP circuit it too features a track from the past. Simply head out with your favorite Gr.3 race car for the four-lap race here.
These three races will run through to Monday, February 3, when another new set of three will replace them.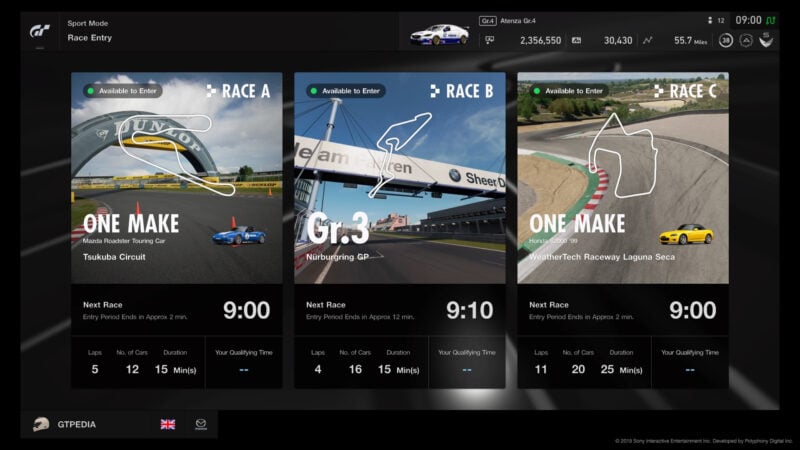 Race A
Track: Tsukuba Circuit, 5 laps
Car: Mazda Roadster Touring Car – Provided Car
Tires: Sports Medium
Start Type: Grid Start
Fuel use: Off
Tire use: Off
Race B
Track: Nurburgring – GP, 4 laps
Car: Gr.3 – Garage Car
Tires: Racing Hard
Start Type: Rolling Start
Fuel use: Off
Tire use: Off
Race C
Track: WeatherTech Raceway Laguna Seca, 11 laps
Car: Honda S2000 '99 – Garage Car
Tires: Sports Hard
Start Type: Grid Start with False Start Check
Fuel use: 3x
Tire use: 5x
More Posts On...