There's a new set of three GT Sport Daily Races for players this week, and it's a rare week without a road car. All three events are for track ready machines only, with a little twist — and we hope you like Racing Hard tires.
The quick Gr.3 racers fill in the middle Race B spot this week. It's simply a case of picking your preferred Gr.3 car — or the Lamborghini Huracan — and heading out for a three-lap sprint of the famous Spa-Francorchamps circuit. There's no tire wear or fuel consumption to worry about, so just head out for a 13-mile blast.
Race A brings back the front-wheel drive Gr.4 pick and mix. Although it's a specially provided car, players will have to choose between the Audi TT, Peugeot RCZ, Renault Megane, and Volkswagen Scirocco Gr.4 offerings — and that also means standard liveries. It's a seven-lap race of the short East layout of the Suzuka Circuit — the main straight and the esses only. We anticipate much understeer around the final corner.
You'll also be racing the Gr.4 cars in Race C, but you'll be able to choose whatever takes your fancy. The ten-lap race takes you to Dragon Trail and the original Seaside layout, but in the reverse direction. This makes the Chicane of Death slightly less deathy, but the following hairpin has multiple lines, all of which are wrong.
As is typical, Race C has fuel consumption and tire wear turned on, but they're at a relatively low 3x and 5x respectively, and there's only a single tire grade permitted. That will negate the need to stop at all, so strategy won't be a part of proceedings.
These three races will run through to Monday, May 25, when another new set of three will replace them.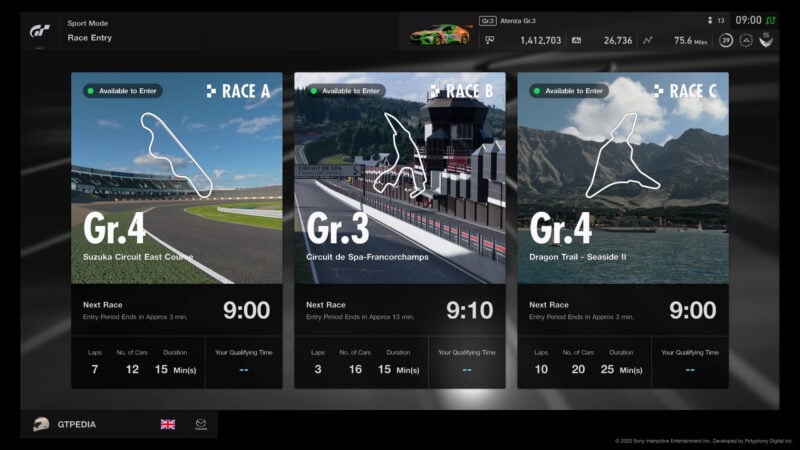 Race A
Track: Suzuka Circuit – East Course, 7 laps
Car: Gr.4 – Provided Car
Tires: Racing Hard
Start Type: Grid Start
Fuel use: Off
Tire use: Off
Race B
Track: Circuit de Spa-Francorchamps, 3 laps
Car: Gr.3 – Garage Car
Tires: Racing Hard
Start Type: Rolling Start
Fuel use: Off
Tire use: Off
Race C
Track: Dragon Trail – Seaside II, 10 laps
Car: Gr.4 – Garage Car
Tires: Racing Hard
Start Type: Rolling Start
Fuel use: 3x
Tire use: 5x
See more articles on Daily Races.