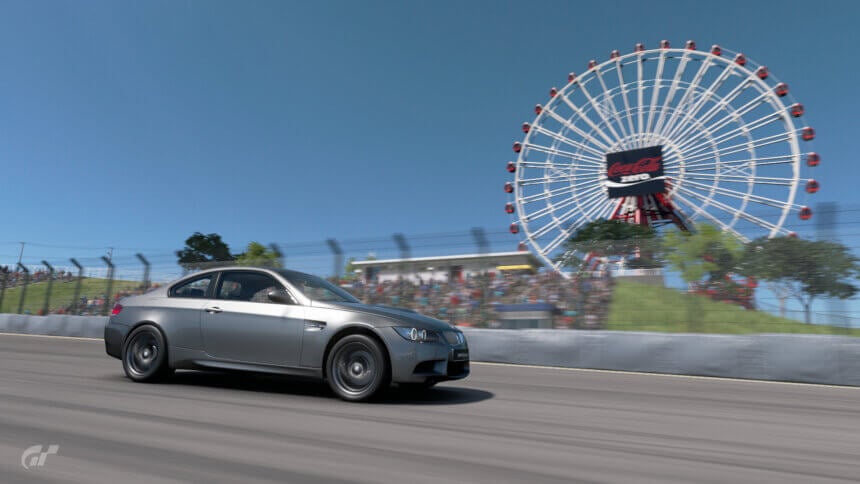 We're jetting around the world again in this week's GT Sport Daily Races, as all three events take place at real-world race tracks — and on three difference continents.
Race A sees you head to Asia, and the famous Suzuka Circuit in Japan. It's the home of the Japanese Grand Prix, but rather than local fare you'll be driving a European sports car. Indeed some may argue it's the European sports car: the BMW M3. The race is only three laps long — Suzuka is a pretty lengthy lap — but with a grid start there should be plenty of action.
The same applies to Race B, but for different reasons. This race hops West across the continents to Europe, and Austria's Red Bull Ring. It's a track that's had plenty of names over the years, before finding its way to its most recent owners, and it packs a lot in to a short distance. That'll seem even shorter in the Gr.3 race cars you'll be using this week too. You've got free choice of any of the Gr.3 cars you have in your garage for this five-lap race.
Going West again, all the way across the Atlantic and the continental USA, will take you to Race C. Unusually this takes place at California's Willow Springs circuit, on the Big Willow course, a track more commonly seen in the sprint races. This week it's in the endurance slot, and it looks like tire strategy will play its part.
For the 15-lap race this week you can select any Gr.4 car from your garage. That would generally mean a front-wheel drive model, but the 7x tire wear multiplier might make them less capable of getting to the end without a stop. You can also choose racing hard or racing medium tires, but there's a mandatory tire requirement; if you don't use the hard option for at least one lap in the race, you'll get a 20-second penalty. Just to add a further fly in the FWD ointment, there's a grid start with false start check.
These three races will run through to Monday, August 31, when another new set of three will replace them.
Race A
Track: Suzuka Circuit, 3 laps
Car: BMW M3 Coupe '07 – Provided Car
Tires: Sports Hard
Start Type: Grid Start
Fuel use: Off
Tire use: Off
Race B
Track: Red Bull Ring, 5 laps
Car: Gr.3 – Garage Car
Tires: Racing Hard
Start Type: Rolling Start
Fuel use: Off
Tire use: Off
Race C
Track: Willow Springs – Big Willow, 15 laps
Car: Gr.4 – Garage Car
Tires: Racing Hard*, Racing Medium
Start Type: Grid Start with False Start Check
Fuel use: 2x
Tire use: 7x
More Posts On...