The last set of GT Sport Daily Races for this year is heading to the real world, and taking players to some of the game's destinations around the globe.
Race A heads out to California, and the Willow Springs facility on the edge of the Mojave Desert. It's an N400 pick and mix this week, with a choice between two Porsches — the 2009 911 GT3, and the 1995 Carrera RS Club Sport — at the Big Willow circuit. To make the two competitive with one another, there's both Balance of Performance (BOP) and unique, preset vehicle tuning for the four-lap event, so just pick your Porsche and go racing.
Boasting almost as few corners as Big Willow (10 rather than nine), Race B will take you to Austria's Red Bull Ring. The race here is for Gr.3 cars — essentially GT3 race cars, loosely based on road-going machines. You can pick from any of the vehicles in this class that you own for this five-lap race.
If it's corners you like though, Race C has them all. It's just a two-lap race, but given that the circuit is almost 16 miles long that shouldn't be a surprise. Yes, you'll go to the Nurburgring, and the full 24-hour race layout for this week's endurance race slot.
Unusually, the cars are a little slower than in the Race B slot for Race C this time round. You can again choose from any suitable car in your garage, but it's Gr.4 cars — similar to GT4, with cars based on road cars and the most basic nod to racing requirements. This usually means front-wheel drive dominance, but the mile-long Dottinger Hohe may put a different complexion on affairs.
As it's only a two-lap race, there's not a lot of race strategy applicable this week. Both tire — racing hard — and fuel use multipliers are not high enough to require a pit stop, so just get out and race.
These three races will run through to Monday, January 4 2021, when another new set of three will replace them.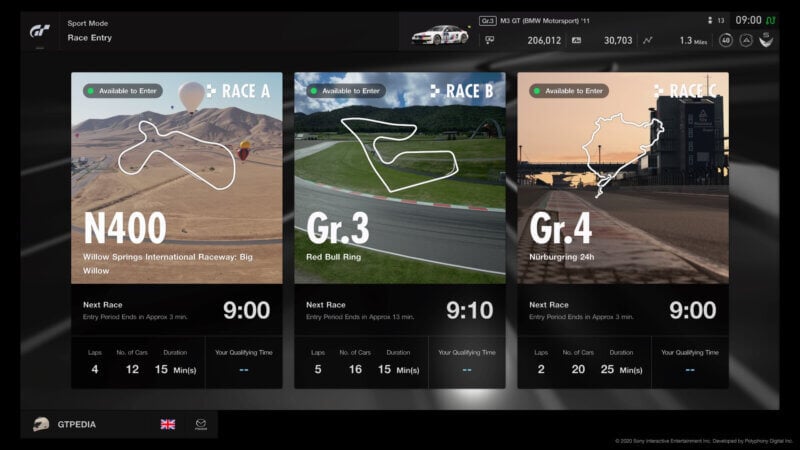 Race A
Track: Willow Springs – Big Willow, 4 laps
Car: Porsche 911 (993) Carrera RS CS '95, Porsche 911 (997) GT3 '09 – Provided Car
Tires: Sports Soft
Start Type: Grid Start
Fuel use: Off
Tire use: Off
Race B
Track: Red Bull Ring, 5 laps
Car: Gr.3 – Garage Car
Tires: Racing Hard
Start Type: Rolling Start
Fuel use: Off
Tire use: Off
Race C
Track: Nurburgring 24h, 2 laps
Car: Gr.4 – Garage Car
Tires: Racing Hard
Start Type: Rolling Start
Fuel use: 2x
Tire use: 5x
More Posts On...