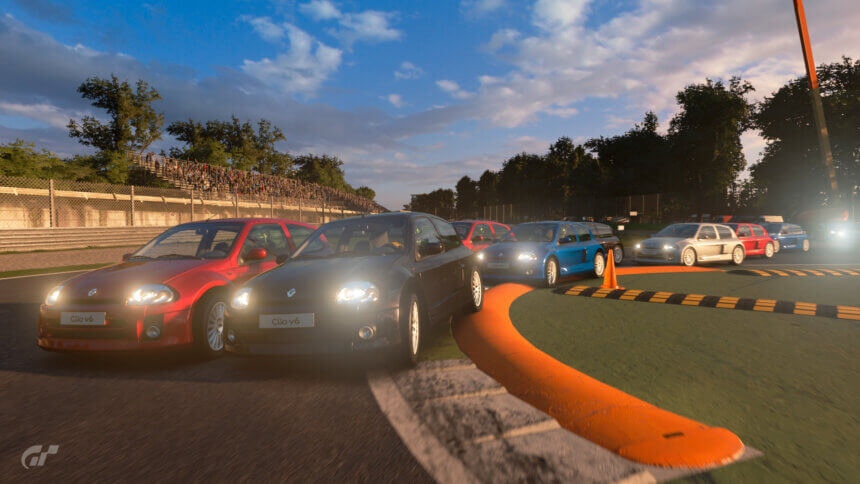 This week's new set of GT Sport Daily Races will take players to three race tracks around the world, all linked by a history of wine-making. You'll be taking in Italy, California, and the county of Kent in the United Kingdom for the next seven days.
It's Italy that's up first in Race A, as you head to the "temple of speed": Monza. As is now traditional, the three-lap race is a one-make event, which this week uses the Renault Sport Clio V6.
A rather mad concoction, the Clio V6 starts life as a decent little hatchback, before undergoing an almost total makeover. Whatever small capacity engine you'd find in the nose is ripped out and replaced with a three-liter unit back behind the driver and driving the rear wheels.
Extensive modifications to the car — the V6 shares almost nothing, even body panels, with the regular Clio — meant a significant weight increase, so that the V6 was barely any quicker than the front-drive sporty models. The short wheelbase and reduced range of steering also made for snappy handling that was difficult to recover. Fortunately you'll be using Sport Medium tires this week.
Race B sees you driving in Kent, the "garden of England", at the Brands Hatch circuit. It's the full Grand Prix layout this week, which is fortunate as you'll be racing in your choice of Gr.3 car. Again, it's the medium tire for you this week, so just pick your Gr.3 and go racing.
California's Laguna Seca plays host to Race C this week, with Gr.4 cars. This road car-based category is commonly dominated by front-wheel drive machines, thanks to favorable BOP, but tire wear in the endurance event may level the playing field somewhat.
You're locked into Racing Medium tires for the 13-lap race, and with 6x tire wear — equivalent to 78 laps of wear — that might prove too punishing for the FWD cars to go the distance without pitting, at least comfortably. That may nudge the advantage to lightweight MR cars, like the Megane Trophy or Cayman GT4.
These three races will run through to Monday, February 1, when another new set of three will replace them.
Race A
Track: Autodromo Internazionale di Monza, 3 laps
Car: Renault Sport Clio V6 24v '00 – Provided Car
Tires: Sports Medium
Start Type: Grid Start
Fuel use: Off
Tire use: Off
Race B
Track: Brands Hatch – Grand Prix Circuit, 5 laps
Car: Gr.3 – Garage Car
Tires: Racing Medium
Start Type: Rolling Start
Fuel use: Off
Tire use: Off
Race C
Track: WeatherTech Raceway Laguna Seca, 13 laps
Car: Gr.4 – Garage Car
Tires: Racing Medium
Start Type: Rolling Start
Fuel use: 2x
Tire use: 6x
More Posts On...