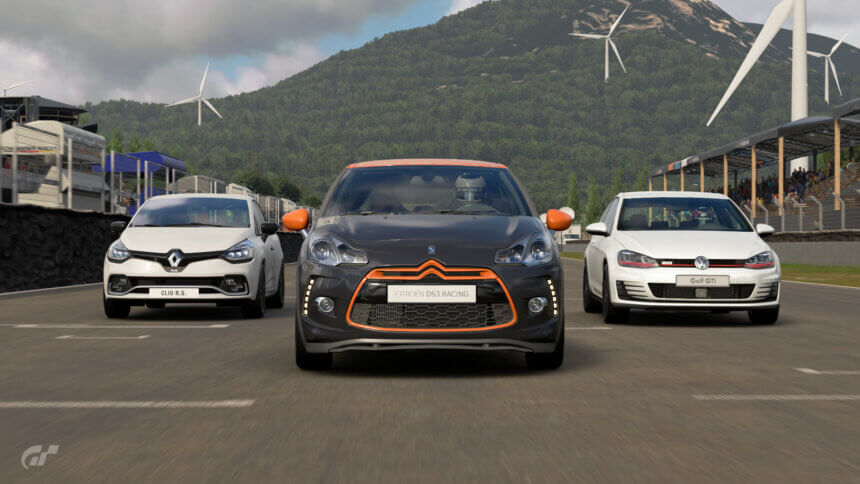 A new set of GT Sport Daily Races has arrived, and the next seven days will put you in racing action at circuits — real and fictional — around Europe. There's also an unusual pick and mix format this week, featuring four famous hot hatchbacks, to get to grips with.
Race C is the event for speed demons this week, and takes you to the Red Bull Ring in Austria, the only real-world circuit in the line-up. The fast F1 circuit only has nine turns — and one of those is barely even a kink — so it's well suited to the vehicle choice for the event: Gr.2 cars.
This is the category that features Super GT machinery, with one car each from Honda, Lexus, and Nissan, for each of two eras. The 2008 cars are typically uncompetitive, and the mid-engined Honda a mite slippery, which mean it's likely to be a 2016 Lexus vs. Nissan battle this week. You'll need to be aware of the mandatory tires, which are Racing Hard and Racing Medium this time out. Players must use each tire grade at least once in the 13-lap race, or face a one-minute post-race penalty.
The shorter Race B event is something of an old favorite combination. It takes place at the Dragon Trail Gardens circuit, which arrived after launch and sits right alongside its sister course at Dragon Trail Seaside. This fictional circuit is located in the region of Baska Voda in Croatia, and features some pretty challenging turns.
It's a simple enough race however. Just grab your choice of Gr.3 race car — GT Sport's equivalent to the GT3 class — and head out for the five-lap race.
Race A provides the variety this week, with a pick and mix event we haven't seen before. These races offer up a small choice of provided vehicles for players to try out, commonly with non-standard settings to better equalize them, and while we've seen a few different examples before — 911s, city cars, front-wheel drive Gr.4s, Subaru BRZ/Toyota 86GT — this week's options are new.
You'll be able to pick from four hot hatches for the race, with the B-segment Citroen DS3 Racing, Peugeot 208 GTI Peugeot Sport, and Renault Sport Clio RS220 (2016 model) joined by the C-segment Volkswagen Golf VII GTI. The race itself is a six-lap affair that takes place at the relatively short Sardegna Road Track C course. It's a compact course but with plenty of time on full throttle, so make your choice carefully.
These three races will run through to Monday, March 1, when another new set of three will replace them.
Race A
Track: Sardegna – Road Track C, 6 laps
Car: Citroen DS3, Peugeot 208 GTI, Renault Sport Clio RS220, Volkswagen Golf VII GTI – Provided Car
Tires: Sports Medium
Start Type: Grid Start
Fuel use: Off
Tire use: Off
Race B
Track: Dragon Trail – Gardens, 5 laps
Car: Gr.3 – Garage Car
Tires: Racing Medium
Start Type: Rolling Start
Fuel use: Off
Tire use: Off
Race C
Track: Red Bull Ring, 13 laps
Car: Gr.2 – Garage Car
Tires: Racing Hard*, Racing Medium*
Start Type: Rolling Start
Fuel use: 2x
Tire use: 10x
* denotes mandatory tire requirement
More Posts On...