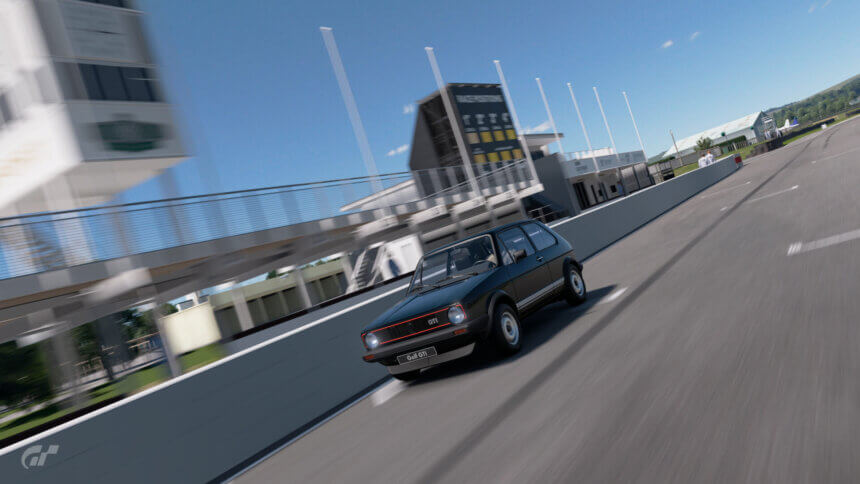 A new week means a new set of GT Sport Daily Races to get to grips with, and this week's trio of events brings a mixture of pace to satisfy all tastes.
For those who like to take things slow, Race A puts you into a classic hot hatch. The Volkswagen Golf GTI predates the modern trend for stuffing a few hundred horsepower and four-wheel drive into a family car, and makes do with just over 100hp in a car weighing significantly less than a ton. For the race, the game will provide you with the car, so you just need to pick a color.
Matching the classic car is a classic circuit: Goodwood. Although Goodwood might be famous for its hill climb in the annual Festival of Speed, the Goodwood circuit has a much deeper history, hosting non-championship rounds of Formula One back in the 1950s. It's mainly used today for track days and the "Revival" event that celebrates the era before the track closed as a competition venue in 1966 — though you'll be racing four competitive laps against other Golfs.
Moving up to a little extra pace is Race B. This will set you on one of GT Sport's more popular original circuits, as you'll race four laps of the Dragon Trail Seaside course, a fictional track set near Baska Voda on Croatia's Dalmatian coast.
You have free choice of any car from the Gr.4 category for this event, the game's equivalent to GT4. These cars closely resemble road cars, and are essentially stripped-back production machines with a few select, race-grade parts to help them survive an endurance race.
Race C puts you into the fastest tin-tops on Earth, as you'll be racing the Gr.2 Super GT cars. There's only six cars in the game in this class, with one car each from Honda, Lexus, and Nissan, for each of two seasons: 2008 and 2016. Naturally the 2016 cars are almost always the vehicle of choice, thanks to a significant downforce advantage.
You will need to be aware of a couple of things for the ten-lap race though. Firstly, the circuit is the reverse layout of the Lago Maggiore GP track, which means the first turn is the vaguely apexed uphill right-hander and the final corner is the slowest on the track — so expect late-race dive bombs. More importantly though, you'll need to use both the Racing Medium and Racing Soft tire grades during the race, or face a post-race penalty of 60 seconds.
These three races will run through to Monday, April 19, when another new set of three will replace them.
Race A
Track: Goodwood Motor Circuit, 4 laps
Car: Volkswagen Golf I GTI '83 – Provided Car
Tires: Sports Medium
Start Type: Grid Start
Fuel use: Off
Tire use: Off
Race B
Track: Dragon Trail – Seaside, 4 laps
Car: Gr.4 – Garage Car
Tires: Racing Medium
Start Type: Rolling Start
Fuel use: Off
Tire use: Off
Race C
Track: Autodrome Lago Maggiore – GP II, 10 laps
Car: Gr.2 – Garage Car
Tires: Racing Medium*, Racing Soft*
Start Type: Rolling Start
Fuel use: 2x
Tire use: 6x
* denotes mandatory tire
More Posts On...