A new set of Gran Turismo Sport Daily Races for is available, with three new races to keep players occupied over the coming week.
Endurance circuits are the theme for this week, with the venues for two of the most famous 24-hour races in the world playing host to races — albeit considerably shorter ones in the virtual environment.
Circuit de la Sarthe, home of the 24 Hours of Le Mans, is the location for Race A. You won't be driving modern LMP1s, or classic Group Cs, or even GT-class racers though. Instead you're racing a staple of the Gran Turismo series, the Mitsubishi GTO.
The GTO was a technological tour de force when it originally launched, with just about everything that could possibly be made to move doing so. That included adaptive aerodynamics, intelligent all-wheel drive, electronically controlled suspension, and four-wheel steering.
Naturally that all meant the car packed quite a bit of heft, and though it was part of the "Gentleman's Agreement" era of 276hp Japanese performance cars and pretty rapid to boot, it was more of a GT car than a sports car.
Circuit de la Sarthe will suit it down to the ground, especially as you'll be driving the version with no chicanes this week. Your brakes won't thank you for trying to haul the heavy GTO to a stop at Mulsanne Corner, but at least you only have to do it once as it's a one-lap race.
The second race for the week features a few more laps though, as it's set at the more conventionally sized Dragon Trail Gardens. This is the second of two tracks placed at the fictional Dragon Trail venue, located near Baska Voda in Croatia.
You'll have a slightly more difficult challenge this week as the track is the less-often used reverse version, with a tricky, slow double-apex first corner and a long, opening final corner that doesn't open as soon as you think. However the high-downforce Gr.3 cars — equivalent to real-world GT3 — should be a good match for the circuit; just pick your favorite and go racing.
That only leaves Race C, which this week heads to the fearsome Nurburgring, and its legendary Nordschleife. It's a Gr.4 race, featuring the road car-based category equivalent to the real-world GT4.
With the long lap and the relatively slow cars, it's only a two-lap race and, thankfully, there's no tire change or pit stop requirements this week. That means it's basically a two-lap sprint on Racing Hard tires, although the 5x tire wear — so the 26-mile race feels like 130 miles on your rubber — might make things tricky for the front-wheel drive cars near the end.
While there's no need to worry about stopping, starting might be an issue this week. The race features an unusual grid start, with the additional false start check. That means you'll need to keep the brakes or handbrake on from the moment the fifth light comes on until they all go off to start the race, or you'll face an immediate reduction in power for a few seconds and get swamped by the cars behind you.
The three races will run through to Monday January 17, when another set will replace them.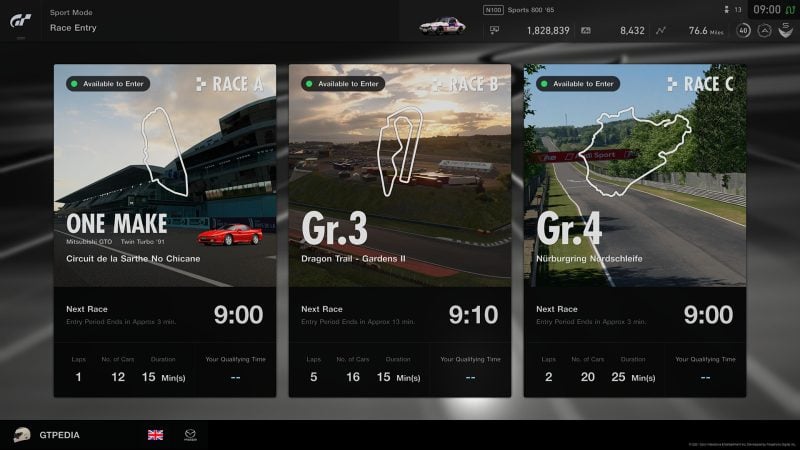 Race A
Track: Circuit de la Sarthe – No Chicane, 1 lap
Car: Mitsubishi GTO Twin Turbo '91 – Provided Car
Tires: Sports Hard
Start Type: Grid Start
Fuel use: Off
Tire use: Off
Race B
Track: Dragon Trail – Gardens II, 5 laps
Car: Gr.3 – Garage Car
Tires: Racing Medium
Start Type: Rolling Start
Fuel use: Off
Tire use: Off
Race C
Track: Nurburgring Nordschleife, 2 laps
Car: Gr.4 – Garage Car
Tires: Racing Hard
Start Type: Grid Start with False Start Check
Fuel use: 2x
Tire use: 5x
See more articles on Daily Races.