This week's GT Sport Time Trials are somewhat of a change from the previous fortnight. You'll be tackling a very small track in a very small car (well, by modern standards), and something much faster somewhere much faster.
The first time trial, which is the one you can't tune for, sees you head to the fictional Kyoto Driving Park. Your steed will be the new-shape Mazda Demio, also known as the Mazda 2, but don't worry about running it down the long straights because there aren't any. The venue is the tiny Miyabi layout, which consists of two corners and two chicanes. With a single hard stop on the brakes, times should be close this week.
You'll cross the Pacific for the next time trial, heading to California and Willow Springs Big Willow — the self-styled "Fastest Road in the West". To take on the fast track you'll need a fast car, and Nissan's GT-R NISMO is an ideal steed. You've got free rein on tuning too, so turn the power up, drop the weight off and go for it.
As Time Trial mode is a global competition, it will rank your best time against all players worldwide, rather than just those in your region as with other Sport Mode events.
These two time trials will run through to December 19, when two further events will replace them.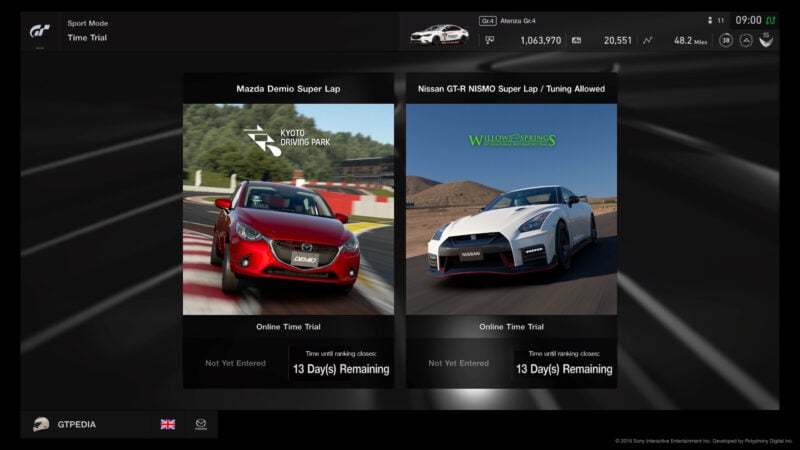 Mazda Demio Super Lap
Track: Kyoto Driving Park – Miyabi
Car: Mazda Demio XD Touring '16 – Garage Car
Tires: Sports Hard
BOP: On
Power/Weight Limit: N/A
Settings: Fixed
Nissan GT-R NISMO Super Lap/Tuning Allowed
Track: Willow Springs – Big Willow
Car: Nissan GT-R NISMO '17 – Garage Car
Tires: Sports Soft
BOP: Off
Power/Weight Limit: N/A
Settings: Adjustable
More Posts On...