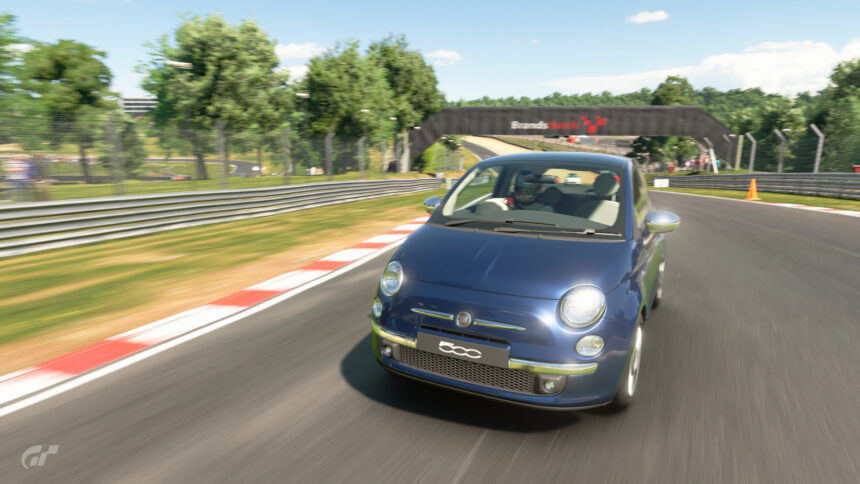 If you like going incredibly fast or incredibly slow, this fortnight's set of GT Sport Time Trials will cater for you.
Sitting in the former camp is the first Time Trial. For the second time in a row, this involves a Red Bull X series car, but it's not the Junior model from last time out. This time it's the full fat X2019 Competition car, the very same model as used in the World Tour final races.
The X2019 Competition sports some changes from the original X1/X2010 from GT5/GT6 and the X2014 Standard car you'll find in GT Sport. There's revisions to the aerodynamics to reduce downforce and, more importantly, wake effects, to bring cars closer together through the corners. There's also a naturally aspirated V12 in place of the turbo V6, though it still produces roughly 800hp.
Appropriately, given that April 23 is St. George's Day, you'll be taking the X2019 to slay the dragon — specifically Dragon Trail Seaside. You don't have any vehicle tuning to be concerned about, so you just need to get out there and smash the lap times in.
For car tinkerers and slowcoaches, the tuning event is at a more leisurely pace. Although you have free rein on tuning, the car you'll tweaking is the 65hp FIAT 500 1.2 Lounge. "Lounge" is not exactly a name that conjures up a mental image of speed, but we're being a little unkind. There's no power or weight limit, so with 182hp and less than a ton, the 500 could set some brisk lap times.
The small car suits a small track, and you'll be heading to the Brands Hatch Indy Circuit to test your pace and tuning prowess.
GT Sport's Time Trial mode is a global competition, ranking your best time against all players worldwide, rather than just those in your region as with other Sport Mode events. These two time trials will run through to May 7, when two further events will replace them.
Red Bull X2019 Competition Super Lap
Track: Dragon Trail – Seaside
Car: Gran Turismo Red Bull X2019 Competition – Garage Car
Tires: Racing Hard
BOP: Off
Power/Weight Limit: 804hp/650kg
Settings: Fixed
FIAT 500 1.2 8v Super Lap/Tuning Allowed
Track: Brands Hatch Indy Circuit
Car: FIAT 500 1.2 8v Lounge SS '08 – Garage Car
Tires: Comfort Soft
BOP: Off
Power/Weight Limit: N/A
Settings: Adjustable
More Posts On...