There's a new set of GT Sport Time Trials starting today, with a couple of interesting challenges that might be a little unusual. You'll need to pick your car carefully for one, and choose your line even more carefully for the other…
First up you'll be taking on a pretty dicey challenge. The time trial takes place at Australia's famous Mount Panorama, also known as Bathurst. It's a tight and unforgiving track, with close concrete walls and significant elevation changes.
In the real world, it's usually limited to GT3 cars, and even they are getting on for being too quick for the circuit. Gran Turismo isn't the real world however, and you'll be tasked with attacking it in a Super GT car. Outside of prototypes, these monsters are among the fastest tin tops in the world, so you'll need plenty of brave pills for this event. You can pick any of the six Gr.2 cars for the event, though it's likely that the 2016 cars will come out on top.
The second race has a very unusual twist this week. As usual it's a full tuning affair, so you'll be able to tweak and tinker with your car to get it to suit Sardegna Road Track B. That twist is the fact you're allowed any N300 class car.
This doesn't limit you to just regular N300s either. Anything you can tune to fit into the N300 category is eligible. Given that GT Sport's Balance of Performance system will be active for the event, expect the top times to come from a Toyota S-FR Racing Concept, Ferrari F50, Ford GT40, or KTM X-Bow. That's not to say you can't be a little more… creative in your choices.
GT Sport's Time Trial mode is a global competition, ranking your best time against all players worldwide, rather than just those in your region as with other Sport Mode events. These two time trials will run through to August 27, when two further events will replace them.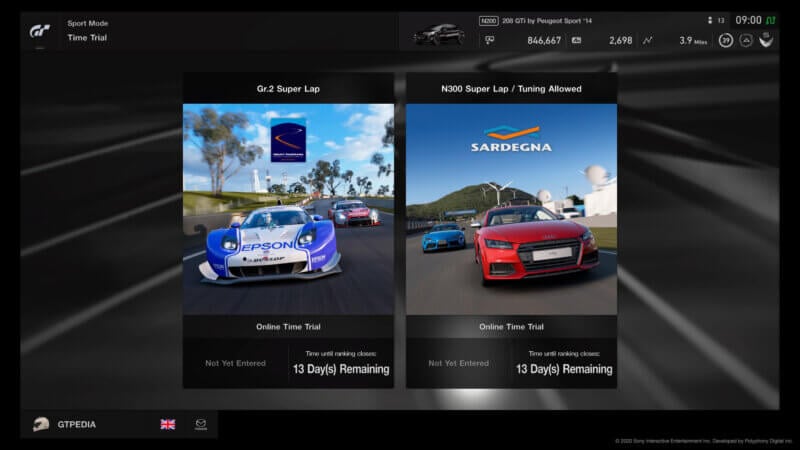 Gr.2 Super Lap
Track: Mount Panorama
Car: Gr.2 – Garage Car
Tires: Racing Hard
BOP: On
Power/Weight Limit: N/A
Settings: Fixed
N300 Super Lap/Tuning Allowed
Track: Sardegna – Road Track B
Car: N300 – Garage Car
Tires: Sports Hard
BOP: On
Power/Weight Limit: N/A
Settings: Adjustable
See more articles on GT Sport Time Trial.