There's two more events in GT Sport's newest game mode for this fortnight, and a rather old school feel to things.
Unlike other parts of GT Sport, Time Trial mode is a global event and not divided up into regions. The goal is to go as fast as you possibly can over a single lap, and the pairing for the next two weeks has something of an old school feel to it.
For the first event, you'll need one of the game's six "Gr.2" cars. These are the two sets of Super GT cars, with a Lexus, a Honda, and a Nissan each from 2008 and 2016. Settings are fixed and BOP is in play, but in all likelihood you'll need one of the more modern cars to set a competitive lap time around the tight Brands Hatch Indy Circuit.
You've got freedom to tune in the second hot lap event, and an ideal car for tuning too. The Mitsubishi GTO Twin Turbo is one of the newest vehicle additions to the game, and you'll need to tweak it to set the best lap you can around the Kyoto Driving Park Yamagiwa circuit. One thing to bear in mind: it's on Comfort Soft tires…
The time trials will run through to September 26, with two further time trial events to replace them.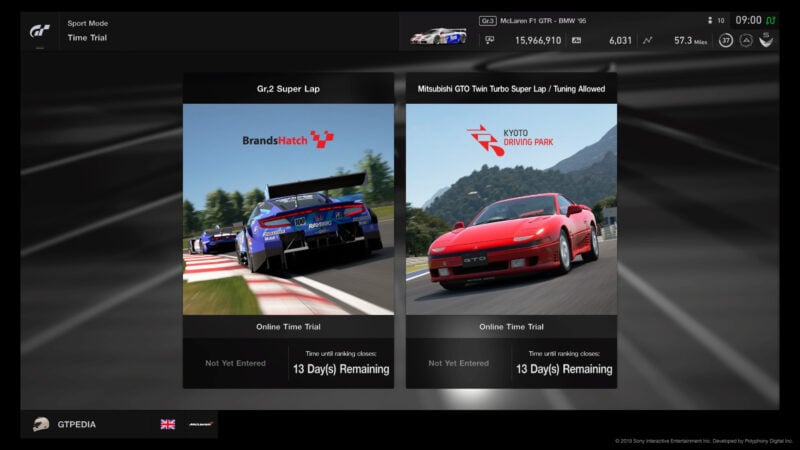 Gr.2 Super Lap
Track: Brands Hatch – Indy Circuit
Car: Gr.2 – Garage Car
Tires: Racing Hard
BOP: On
Power/Weight Limit: N/A
Settings: Fixed
Mitsubishi GTO Twin Turbo Super Lap/Tuning Allowed
Track: Kyoto Driving Park – Yamagiwa
Car: Mitsubishi GTO Twin Turbo '91 – Garage Car
Tires: Comfort Soft
BOP: Off
Power/Weight Limit: N/A
Settings: Adjustable
Featured image courtesy of RL_23.
More Posts On...