GT Sport's new Time Trial mode has updated again, bringing some new features into play.
The global hot lap competition is now in its third rotation, with each event lasting for two weeks. For this fortnight's events we're looking at the opposite ends of grip and speed. Although both use racing tires, you're going to need to treat them quite differently.
One of the new features added by the most recent update is rain, or rather "wet conditions". You'll immediately get a chance to try it out with the first time trial, which sends you to the overcast and damp Red Bull Ring, specifically the short track. For your lap you'll get to use the Honda S2000 which, at least in its original form as represented here, did not have a terrific reputation as a wet weather car. Tuning isn't permitted, but you can choose between full wet and intermediate racing tires for your laps.
The second event turns the pace up somewhat, as you'll be sent to a bone dry Monza, with the track-day special Pagani Zonda R. You can tweak and fettle the Zonda to your heart's content and, just for you speed fiends out there, this version of Monza skips out the first chicane — Variente del Rettifilo.
This round of time trials will run through to September 11 and should be replaced by two further time trial events.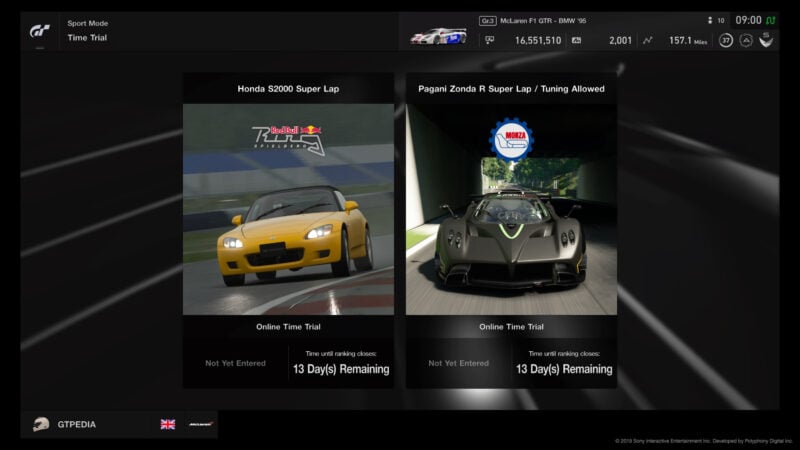 Honda S2000 Super Lap
Track: Red Bull Ring – Short Track (Wet Condition)
Car: Honda S2000 '99 – Garage Car
Tires: Racing Heavy Wet/Racing Intermediate
BOP: On
Power/Weight Limit: N/A
Settings: Fixed
Pagani Zonda R Super Lap/Tuning Allowed
Track: Autodromo Nazionale Monza – No Chicane
Car: Pagani Zonda R '09 – Garage Car
Tires: Racing Hard
BOP: Off
Power/Weight Limit: N/A
Settings: Adjustable
More Posts On...