It's easy to forget precisely how much work goes into making games these days.
Everything supplementary to the core experience — the music, interface, marketing, and so on — demands just as much work as the real meat and potatoes. And today, each of those elements is usually lavished over for hundreds of hours on end, by an expert of the trade.
Anyone who knows Gran Turismo knows the series takes its soundtrack pretty seriously, which is why this tweet from recording engineer Charlie Hurst earlier this month came as little surprise to fans.
Just watching some orchestral soundtrack recording, in AIR studios main control room, for the next Gran Turismo game. They have more mics t… pic.twitter.com/6dK40radwH

— Charlie Hurst (@chazhurst) April 4, 2017
Hurst worked with UK-based creative content agency Explosive Alan Productions on last May's GT Sport reveal at the Copper Box arena. Here we see him dropping in on a recording session for Polyphony's upcoming game. But where exactly is this all going down?
AIR Lyndhurst Hall in London is a prestigious studio with a pedigree of work, serving as the proving grounds for film and television scores, elaborate classical recordings, sound effects work, and, yes, even video game soundtracks. But music aficionados know it better as the brainchild of the recently-departed Sir George Martin — "the fifth Beatle."
Martin had his hand in nearly every Beatles recording, serving as an expertly trained source of guidance for the group, and helping the Fab Four cultivate their timeless sound. He wrote the entirety of the instrumental soundtrack to The Yellow Submarine, as well as the majority of orchestral arrangements featured in the quartet's songs.
In other words, Martin took the unrefined talent of the greatest band in the world, and made it shine. In 1965, he departed British recording powerhouse EMI, and started his own independent company along with a partner. AIR, or Associated Independent Recording, was born.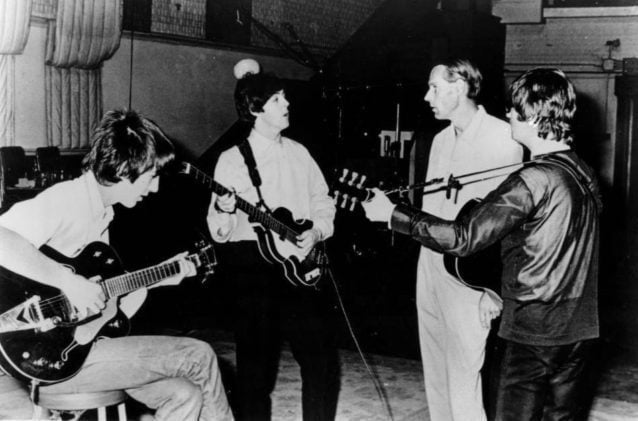 Decades later, Lyndhurst Hall was built, owing its name to Lyndhurst Hall Congregational Church in the Hampstead suburb of northern London. Since 1991, the studio has played host to the creation of numerous works of art, spanning the entire entertainment industry. Its most recent contributions include the soundtracks to the PS4 epics Bloodborne and Uncharted 4, the popular Netflix series Black Mirror, and the just-released film adaption of the Japanese manga Ghost In The Shell. In the past, it's served artists ranging from Adele to the Red Hot Chili Peppers to Peter Gabriel.
Classical music also comprises a significant chunk of what AIR produces, making it a perfect match for Gran Turismo. World-renowned virtuoso pianist Lang Lang had his performances featured in the opening films of GT5 and GT6, and every entry in the franchise since GT4 has carried an extensive selection of classical music.
Martin passed away in March 2016 at the age of 90. Still, his legacy lives on in the unlikeliest of ways in our favorite games, films, and TV shows — as well as in the band that made him famous.
More Posts On...