The final online race in the 2022 GT World Series Nations Cup will broadcast this weekend, on Sunday November 13.
It's the final chance for the 12 qualified drivers to pick up "World Series" points as they head into the World Final in November, where more points will be on the table. The driver with the highest score across all five events will be crowned champion.
The 2022 championship stands finely poised at the moment, with no one driver running away with it. In fact each of the three rounds staged so far has had a different winner and each one has been a first ever victory for that driver.
That started with the online Round 1, which saw Brazil's Lucas Bonelli claim victory at Watkins Glen in a last-lap thriller. Kylian Drumont of France then blew the competition away with his win at Trial Mountain at the live World Series Showdown in Austria — in his first ever World Series event. Chile's Angel Inostroza then won in the online Round 2 at Spa.
However none of these race winners currently leads the standings. Instead it's familiar name Igor Fraga who heads the field, courtesy of consistency. Fraga is one of only three drivers to claim points in different rounds, and with two second-place finishes in Round 1 and the Showdown he leads the way on seven points.
Current Standings (After Three Rounds)
Igor Fraga (Brazil) – 7 points
Kylian Drumont (France) – 6 points
Ryota Kokubun (Japan) – 5 points
Lucas Bonelli (Brazil) – 4 points
Angel Inostroza (Chile) – 3 points
Baptiste Beauvois (France) – 3 points
Valerio Gallo (Italy) – 2 points
Jose Serrano (Spain) – 2 points
Takuma Miyazono (Japan) – 1 point
The 12 drivers will be doing battle at the reworked Deep Forest, with 15 laps of the circuit in the fascinating Nissan Skyline R30 Group 5 race car. It's a bit more of an agricultural drive than many of the racers are used to, with mid-80s suspension tech and a rather peaky turbo.
Strategy will be interesting as, unusually, there's no requirement to change tire grades. The drivers will run all 15 laps on Racing Soft tires, but with a 3x tire wear multiplier — each lap generates three laps' worth of wear — nobody will escape a trip through the pit lane. Fuel consumption is also set at 3x, but this should be enough to make a tank last the distance.
Players can enter their guesses for who will take victory on a special in-game portal called "Bonus Campaign". Pick the winner and you'll earn 500,000cr for your GT7 bank balance.
The race will broadcast at 1300 UTC on Sunday November 13, with the live World Final coming in two weeks' time on Sunday November 27.
Competitors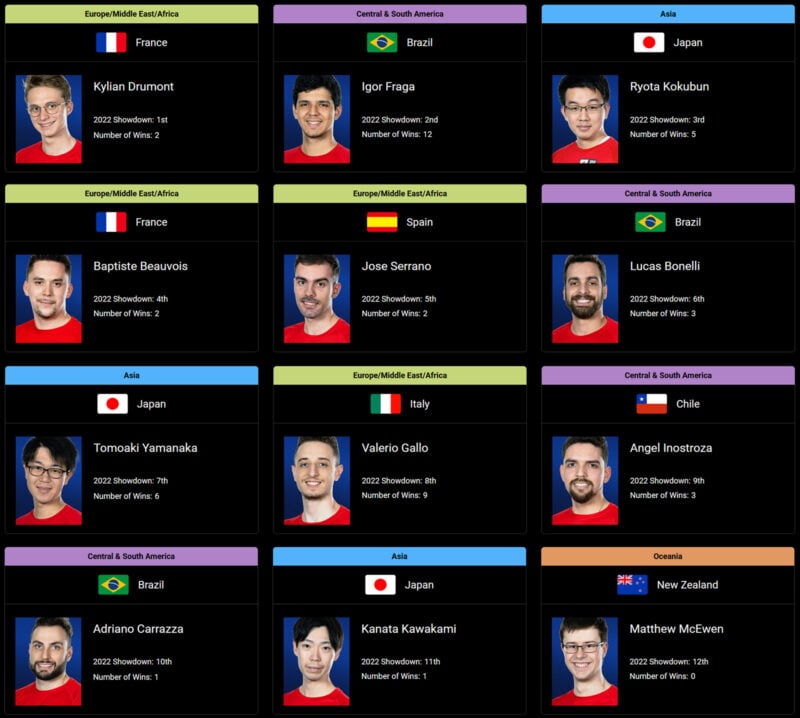 See more articles on Gran Turismo World Series.