Have you got the newest DLC yet? Now available world-wide, the Car Pack 3 and Speed Test packs are going over well within our community, giving players a new track to test their cars' abilities, and more of them to record numbers from! The Photomode section has naturally taken to the new content as well, and some of our themes this week even allow use of these new cars and location.
Before we get to each of the weekly GT5 competitions, a quick message to those who still fancy a photo shoot with Gran Turismo 4 – our community is still going strong with that, having just started their 100th week of the Unedited competition. Dust off the old PS2 and help celebrate a GTP milestone!
As always, make sure to click on the theme link in the description to be taken to the competition thread's first post in the forums. Make sure to read all the submission rules there before entering your image!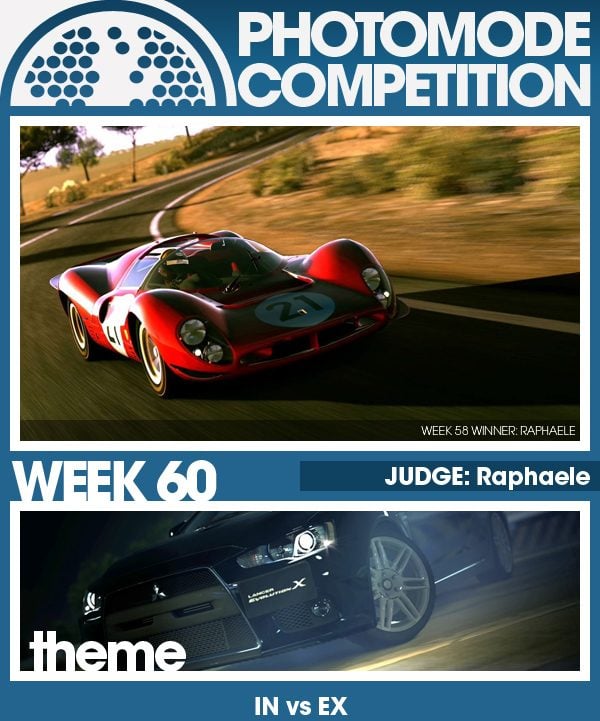 (Click to view full-size of Raphaele's winning shot)
Week 60 brings with it Raphaele's cunning In vs Ex Head2Head theme – Inhalation versus Exhalation, that is. He'd like to see close-ups focusing on these two important parts of the automotive equation – Inhalation can be things like air vents or the intake trumpets of an engine, while Exhalation can be exhausts. Pick your side and enter the competition now!
This Week's Poll: Polyphony have been fiddling with the Photomode portion of the game the last few updates, introducing some of the more interesting visual features from the Warm filter into the rest of the mode. Appropriately, there was a theme for that – Ghosts 'N' Flares 'N' Stuff. Pop into the poll to vote for your favourite image, as there are 25 glowing images all eligible for the crown!
(Click to view full-size of ceiling_fan's winning shot)
We hope you like GT's this week – Ford GT's, that is! Ceiling_fan's theme this week focuses on the retro Ford supercar, with no limitation on locations. Cruising the city streets, setting a fast lap around the 'Ring, or thundering down La Sarthe's straight at dusk? The choice is yours, so enter now!
This Week's Poll: We took a trip to art class last week with Surrealism, and our members brought back some impressive pieces of, well, art. The judge's favourite fifteen have made it to the poll, so you know your job here – vote! Perhaps a quick visit to Wikipedia's entry on the topic might explain some things, too.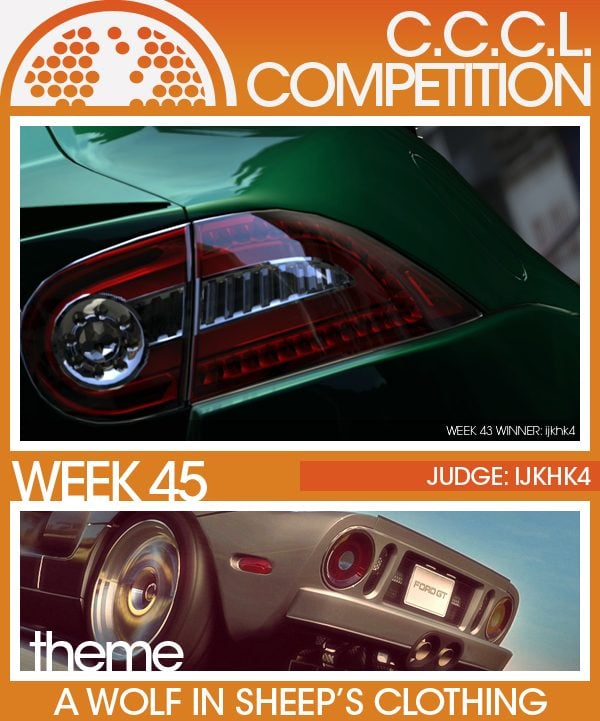 (Click to view full-size of ijkhk4's winning shot)
We all remember the story, but no car embodies the idea of A Wolf In Sheep's Clothing better than the BMW M5. Capable of eating mere sports cars for breakfast, the previous-generation E60 had one of the finest engines strapped into a relatively subdued family car body. Your mission this week is to take one, unsullied by additional bodykit addenda, to Special Stage Route 7. Go forth!
This Week's Poll: Okay, so it didn't exactly hold up to the L in it's Sport Leicht Rennsport name, but the Mercedes SLR McLaren sure could cut a stunning pose for images, as proven by last week's Certain Car Certain Location poll. There's only a few hours left to this one folks, so get your vote in post-haste!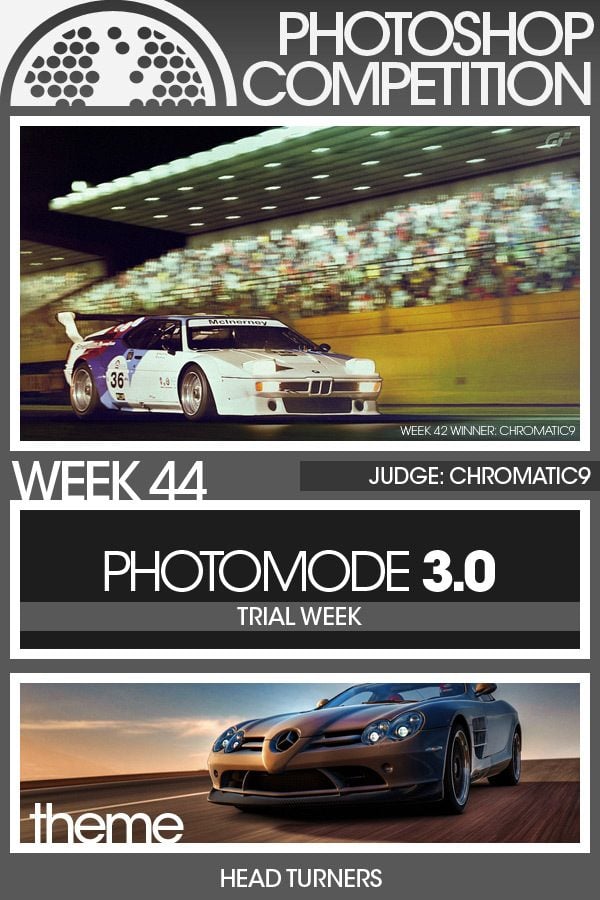 (Click to view full-size of chromatic9's winning shot)
Oops! Yes, this image was up here last week – while the Head Turners theme is now closed, there hasn't yet been a new theme posted for the Photomode/Photoshop competition, so sit tight, as we'll have one ready next week!
This Week's Poll: …however, we do have the poll for Head Turners! Last week was a trial run of a proposed "3.0" competition, allowing users to use advanced editing techniques like photostitching and HDR. Head on over to cast your vote now, and give your two cents on this new format!
(Click to view full-size of Fido_le_muet's winning shot)
It's family portrait week here in the Secret Santa competition – Brothers And Sisters is the theme! You'll need multiple cars in the shot, and they must be related – a C1 Corvette driving alongside the newest ZR-1, for instance, or an SC430 road car beside it's SuperGT counterpart. Find the family ties, and then make sure to submit to Fido before the deadline!
This Week's Poll: It's going down to the wire in this week's Logos & Wordings poll, as at the time of writing, the leading image is ahead by a single vote, while three images are tied right behind it! There's only a few hours left, so get your votes in!
Again this week, while not an official GTP competition – if you're looking to spice up your PS3's theme, or have been cooking up themes of your own, keep an eye on this new experimental competition, specifically for just that! It closes up at the end of the month, so you've still got a week!
All sound a bit complicated? Read this thread for an explanation on how to get your images off your PS3 and onto a computer, and read over the individual rules in each competition's thread. If you're further stuck, feel free to Private Message me (click here). Start snapping those digital shutters!