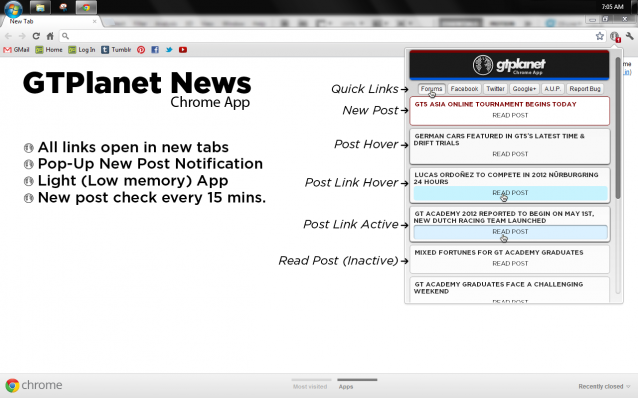 Each month, over half a million people visit GTPlanet using Google's Chrome browser, making it the most popular way to access the site. Now, it's going to be easier than ever for Chrome users to stay on top of news from the "world of Gran Turismo" with GTPlanet's new Chrome extension!
Available for free on the Chrome Web Store, the extension places a small icon in your browser's window. When new content is posted to GTPlanet's blog, you'll receive a small notification in your browser, and the icon will display a small red badge indicating new content is available.
Clicking on the extension's icon will show you all the latest stories, along with quick links to various areas of the site, including GTPlanet's Facebook, Twitter, and Google+ pages.
If you aren't yet using Google Chrome, you can download the browser for free, then click here to install GTPlanet's extension. Chrome has been gaining popularity among Internet users over the last few years for its simple design and speedy performance. I personally use and highly recommend it.
All credit goes to GTPlanet user Chase (cbabb), who developed GTPlanet's Chrome extension and kindly donated it to the community. To thank Chase or submit any feedback or bug reports about the extension, you can contact him here. Thanks again, Chase!
More Posts On...
The original comments for this post are no longer available.