As a 14-year-old, I was fascinated by the internet and wanted to create a website for my favorite video game: Gran Turismo 2.
Today, that little website is now 20 years old and has reached over 100 million people around the world. It is an amazing and humbling achievement, and I am overwhelmed with gratitude for all who have made it possible. To each and every one of you: thank you!
These special anniversaries are always a great opportunity to look back at how far we've come — and consider where we're going. When we celebrated our tenth anniversary back in 2011, I wrote an in-depth history of GTPlanet and its origins. Those first ten years were full of milestones, but the past ten have been even more incredible.
Let's pick up where the tenth anniversary left off…
2012 – In Front of the Cameras
During 2011 and 2012 we were never too far away from a Gran Turismo event, covering the GT Awards at SEMA in Las Vegas and numerous GT Academy finals at Silverstone in the UK.
I made my video debut talking about GT Academy with Carlos Rodela on GameSpot TV. Just a few weeks later, I was invited to host the 2012 US GT Academy national finals in San Diego alongside IGN Pro League commentator Kevin Knocke.
We also had another big reveal in 2012: we published our first book!
Andrew Evans and I assembled an encyclopedia of Gran Turismo facts called GTPEDIA. It covered every detail of every GT title released, from trivia to Easter eggs. Our first two print runs in the United States and Europe quickly sold out, and we still sell it today as an ebook.
GTPEDIA is still growing: we recently published an entirely new chapter covering Gran Turismo Sport in a free update. If you haven't already, download your copy right here!
2013 – Launching to New Heights
2013 was the year of Gran Turismo 6, and we were part of the celebrations in Ronda, Spain. Even in today's era of the FIA GTC World Tour, the Ronda party — which celebrated both the launch of GT6 and Gran Turismo's 15th anniversary — remains one of the most spectacular and unique real-world events in the history of the franchise.
We even witnessed Kazunori Yamauchi get a street named after him!
2013 also introduced major changes for the GTPlanet site itself, with a forum software platform upgrade and a new, responsive website designed for mobile phones.
2014 – Enduring Appeal
GTPlanet hit a few landmarks in 2014, not least of which was our 10 millionth forum post.
Earlier in the year, we started up an endurance series event. These live-streamed races featured some of the best drivers in the world playing Gran Turismo 6 over huge distances — even some 24-hour races. The commentary team was lead by Tom Brooks, who would go on to become "the voice of GT Sport" some three years later.
On a personal note, the biggest highlight of the year for me was the honor of being featured in KAZ: Pushing the Virtual Divide, a Sony documentary about the life of Gran Turismo series creator Kazunori Yamauchi.
2015 – Casting a Wider Net
The second half of the decade is probably the point where GTPlanet changed the most. It became apparent, as it had when we launched ForzaPlanet in 2011, that our site's users enjoyed discussing all of their favorite racing games here on GTPlanet, but they had to go elsewhere to get news on these games. 2015 is when that all changed.
We began to cover racing game topics beyond Gran Turismo and directly related subjects, with articles on Forza (then Motorsport 7 and Horizon 2) and Project CARS sharing space with the GT topics we were already well known for.
That meant a whole new writing team, with multi-platformer Kyle Patrick coming in as editor, as Andrew Evans went to new pastures to drive some real cars around. (He'd be back though…)
2016 – Back on Stage
With the PS4 already on the market for three years, 2016 was supposed to be the year of GT Sport. In the end, Polyphony Digital postponed the game by 12 months, but not before we got to see a grand reveal of the title and its vital statistics.
This time the event was in London, at the Copper Box arena in the Olympic Park. A two-day extravaganza involved passenger laps in racing and sports cars outside, a display of Vision GT cars indoors, and some live action on stage.
I was honored to co-host this first-ever live GT Sport event alongside Spanish YouTuber AJ Rodriguez (also known as "toniemcee") and Ben Edwards.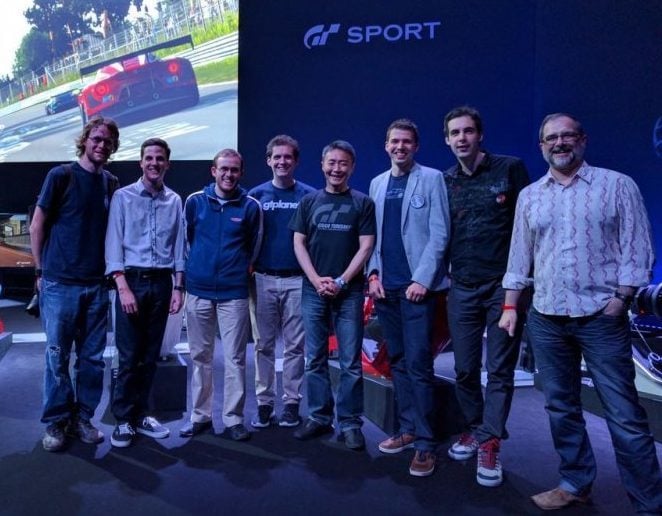 The real highlight, though, was getting to meet so many GTPlanet members and readers. The Copper Box was a prototype of sorts for the Gran Turismo World Tour, and it was the first Gran Turismo event that was open to the public.
2017 – Branching Out
This year was a true test of our new position as a racing game media site, with new titles in the Gran Turismo, Forza Motorsport, Project CARS, and F1 series all launching within a few weeks of one another. Adding to that, we launched another major update to our website. Busy was an understatement.
However, we'd already cast our thoughts further afield, to cars. The virtual and physical world of cars are indelibly linked; as the Vision GT project had shown since 2013, the line between real and not is somewhat blurry. With Andrew back in the fold, GTPlanet expanded yet again to include automotive topics.
That included our first full car review — which naturally, given his taste in cars — is the Mazda MX-5 RF.
Of course with a new Gran Turismo title there's a launch event, and I was honored to attend GT Sport's kick-off in Modena, Italy. It was a spectacular event in the heart of Italy's automotive region and — as a personal highlight — I finally had the chance to meet one of the Gran Turismo community's most legendary oracles in person, "Amar212".
Another highlight of my trip to Italy was the chance to attend the presentation of Kazunori Yamauchi's honorary doctorate at the University of Modena and Reggio Emilia.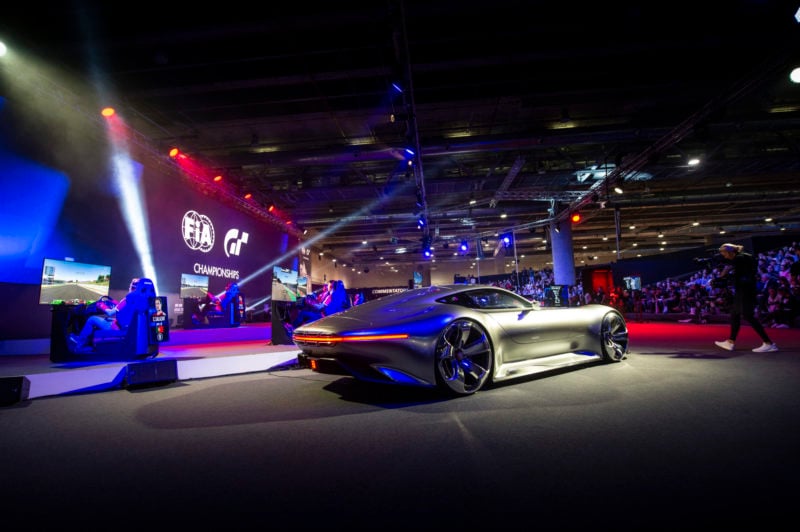 2018 – A New Esports Era
GT Sport launched its FIA Certified Online Championship in 2018, and that meant many more live events.
With the online portion serving as a qualifier, players would head to events in Germany, Austria, Spain, Nevada, Japan, and Monaco. Finally, we got to witness the first ever official Gran Turismo world champion claim his crown.
It wasn't just about Gran Turismo events this year though. Kyle flew across the Pond to the UK to attend the launch of Forza Horizon 4 at Goodwood — our first launch event for a game outside of GT.
2019 – Globetrotting
Our motoring coverage moved on a step in 2019, as GTPlanet scored an invitation to drive one of the decade's most hyped cars: we were among the first in the world to take the wheel of the new Toyota Supra.
Another cool highlight of the year: Nathan Howe and his dad assembled a cracking team of New Zealand-based GTPlanet members to compete in their country's 24 Hours of Lemons —- and they finished!
GTPlanet's links with Gran Turismo grew stronger still, and for the first time in our history we set foot inside the Polyphony Digital offices. Given that we'd never even met Kazunori Yamauchi a decade previously, this was quite a milestone!
2020 – Sim Racing Shines
We started a rollercoaster of a year on the highest of highs, with a trip to the spectacular Gran Turismo World Tour in Sydney, Australia — the first of its kind in the Southern Hemisphere.
I made the most of my time in the region, with a visit to Mount Panorama in Bathurst. Then, I hopped over to New Zealand for an exclusive interview with the newly-crowned champion of the Toyota Racing Series, Igor Fraga, and visited Nathan at the Hooncorp team headquarters in Auckland.
Needless to say, the rest of 2020 didn't go as expected. Events were cancelled and travel was put on hold, but things didn't slow down for us.
As the world stayed home, millions of people discovered sim-racing, and millions of them found GTPlanet. Traffic to the site more than doubled over the course of just a few days.
Our community remained as strong as ever, and our international user base gathered in our forums to share and discuss the latest news and information as the pandemic spread.
2021 and Beyond…
As the world returns to normal, an exciting future lies ahead for our growing community. New gaming consoles have just arrived, new games from all the major franchises are just over the horizon, and there are more sim-racing fans than ever before.
GTPlanet, too, will continue to evolve. I have been hard at work preparing one of the biggest site updates in our 20-year history, along with more new features and announcements to come.
Thank You
Once again, I want to thank each and every one of you who has been on this journey with me over these past two decades. Because of GTPlanet, I have traveled the world and developed a global network of lifelong friends and acquaintances.
I am so thankful and fortunate to be able to wake up each day and do what I love, and I am as passionate about the site today as I was when I first brought it online two decades ago.
Here's to the next 20 years!