As hobbies go, gaming tends to attract the stigma of being solitary, sedentary and for geeks. The image of the slacker playing games in his mom's basement is tough to shake off and online gaming doesn't do much to help.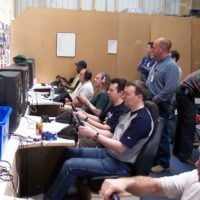 However a group of European gamers have been using Gran Turismo as a social mechanism for nearly a decade. Started back in May 2004 and organised using the GT3 forum Gran Turismo by the Numbers (GTBN), the first UKGTP events used Gran Turismo 3's iLink feature to allow six gamers to race each other – with a baying crowd watching on – at a model shop in Wycombe. 2005 saw a move to GT4 and its dedicated Local Area Network (LAN) mode, but also a loss of both the venue and the original lead organiser WasteGate. With so many attendees being GTPlanet members, GTP's administrator Famine took on the role of organising the events.
Over the intervening years one UKGTP event was held every six months, with school halls, pub function rooms, attendee bedrooms and even a garage converted just for Gran Turismo LANs serving as venues. The events took place in Sheffield, Newark, Banbury, Fleet and Middlesbrough – even exporting the format to California after GTP supermoderator Smallhorses attended an event while in the UK. Like GT3, GT4 was limited to 6 cars on track (for six simultaneous players), necessitating two sets of LANs running alongside – or three in the case of the Banbury event.
GT5's arrival in 2010 caused a minor issue, with a dedicated LAN mode absent from the game. However, gamers quickly discovered that consoles connected to each other through a local switch could play GT5's online lobbies so long as a single connection was maintained to the internet to keep the consoles logged into PSN. Using this method, UKGTP's first "iLAN" was held in Middlesbrough – though it nearly didn't take place at all thanks to the PlayStation Network outage in April 2011.
The fifteenth biannual UKGTP event (UKGTPXV) took place in GTP member Sureboss's front room last weekend, with the usual group of ever-presents (only GTP supermoderator daan and Famine have been to every event), frequent flyers and fresh meat (this time GTPlanet member dhandeh, with his own theme tune). It proved its usual, bleary-eyed mix of camaraderie – some far too rude to print – and high-spirits with 22 hours of Gran Turismo fun, including a 30 lap endurance of the Spa-Francorchamps DLC track using MX-5 TC DLC cars.
Of course UKGTP is neither unique nor the first regularly held Gran Turismo LAN event – some of our number were invited to the Netherlands to a similar existing setup after six Dutch and Belgian members attended our Banbury event. GTPlanet's Local Gatherings forum provides a mechanism for nearby members to locate each other and organise and participate their own events.
In-game videos of races from UKGTPXV can be found in daan's video thread.
More Posts On...
The original comments for this post are no longer available.