It seems like just yesterday we were looking at the 2017 Automotive Year in Review. Now in a blink of an eye, we're closing in on the ending of 2018.
Like 2017, this year had no shortage of captivating automotive stories. From the ever-raging power wars to some awe-inspiring new cars, every month gave us something new. However, it wasn't all joyous. We still had our fair share of automotive tragedies and facepalm moments along the way.
In this year-end review, we're looking at both sides of the spectrum. Also, along the way, we'll touch on some of the oddest stories of the year too. So sit back, relax, and let's look back at what made 2018 a year for cars.
Add Another Year Without the Toyota Supra…
With the end of 2018, we're marking yet another year without the new Toyota Supra.
In fact, it's been 11 years since the idea for the fifth generation of Toyota's sports car was originally floated around. Back then, the FT-HS concept made its debut at the 2007 North American International Auto Show in Detroit, Michigan. Car enthusiasts swore that a production version was only a few years off using the same technology from the FT-HS. That never happened.
Then in 2014, we were determined that the FT-1 concept was the new Supra. However, once again our hopes and dreams were quickly dashed.
In February we got a bombshell from Toyota. It was officially planning to bring one of its iconic models back to the market. Despite a rich history of various vehicles, all signs pointed to the Supra as a comeback kid. We were still a tad skeptical.
Then at the 2018 Geneva Motor Show, Toyota finally gave Supra fans what they'd been dreaming about since 2002. Even though it was just in racing guise, it still proved that the Supra was, in fact, real.
As the year continued, we were blessed with other reveals of the car too, including the odd NASCAR spec one.
Then just this month a leaked image making rounds across the internet showed off the road car. Breathing a sigh of relief, the automotive community now knew for certain this was happening.
To reinforce that belief, Toyota even went as far as to let us sample the new Supra's engine note. It also announced that the first production model would head to auction through Barrett-Jackson after the first of the year.
The production Supra will now make its debut as a 2020 model at the 2019 North American International Auto Show. This means 2018 is the last of the Supra-less years… probably.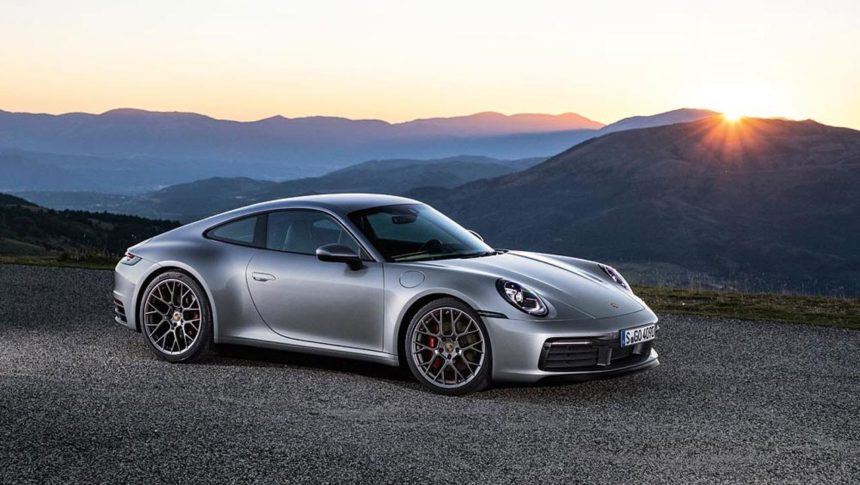 …But There's Plenty of Other New Metal to Go Around
Even though we didn't get the Supra, we did get plenty of other vehicles in 2018.
BMW led the reveals with the all-important new G20 3-Series, which it showed off at the Paris Motor Show. It also went big with the new 8-series and the X7 SUV.
Like its German rival, Porsche also dished out the new goods in 2018. Topping the list was the brand new, 992-era, 911. It also brought out a new version of the 911 GT3 RS, which it promptly took around the Ring in under seven minutes. Then just for good measure, it released the race-ready 911 GT3 R as well.
The best product to come out of Stuttgart though was a throwback of sorts. Making its debut at the Rennsport Reunion, Porsche showed off its modern interpretation of the 935. At €701,948 ($820,000), it's not exactly a cheap rebody.
Not to be outdone, the other two German automakers came out swinging too. Audi showed off its production e-tron GT along with an updated version of both its road-going and race-ready R8.
Mercedes also pulled the cover off its new all-electric EQC crossover. However, its AMG arm really wowed us with its ultra hardcore AMG GT R Pro and tech-happy AMG A35.
It wasn't all sports cars and sports sedans though. SUVs and crossovers continued to dominate the market, so much so that Ford even decided to pull the plug on cars for the most part.
Due to the SUV and crossover craze, we saw plenty of new ones make their debut. Not surprisingly, many of these came from Land Rover.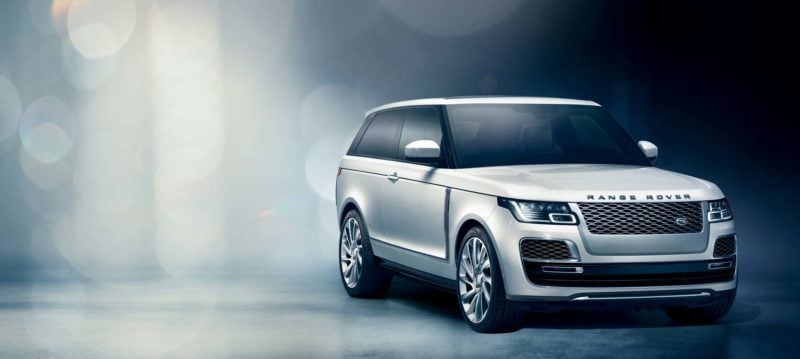 To celebrate its 70th anniversary, Land Rover showed off a very limited edition £150,000 Defender. That wasn't all either. It also gave the world its first full-size luxury SUV coupe with the Range Rover SV Coupe — even if that's ignoring the original three-door Rangie. Finally, Land Rover unveiled the newest generation of its new tech-friendly Range Rover Evoque.
Rolls Royce got into the SUV game for the first time too, although it'd prefer if you didn't use that classification. Whatever you call it though, the Cullinan is certainly the brashest of all 2018 vehicles. That is until you see the bulletproof version of it.
Out of all the SUVs and crossovers that came along this year, there was one stand out. One that really made us scratch our head and go "but why?" That being the Renault Arkana, which smashes a bunch of different market segments together.
So what was our favorite new vehicle this year? That's difficult to answer and it's probably hard to choose just one. If push comes to shove, we couldn't say no to the new Toyota Century. While not exactly flashy, fast, or even very well known, it's just cool. The one-off GRMN version certainly helps its case too.
A Hearty Helping of Power
Gone are the days were we think 500hp is jaw-dropping. Instead, we're now in an era where quadruple digit power figures are almost a must. This year delivered on that too with several cars hitting or eclipsing the 1,000hp mark.
To kick off the year of power, Toyota made the first entry just a few days into 2018. Packing 1,000 ponies, the GR Super Sport Concept made its debut at the Tokyo Auto Salon. Using the running gear from the TS050, it's also a race car for the road.
That was just the beginning for the super and hypercars. We saw Aston Martin take the cover off its extreme 1,100hp Valkyrie AMR Pro. Rimac's C_Two packed 1,900 electric horses and the forever in development SCC Tuatara clocked in at 1,750hp on E85 fuel.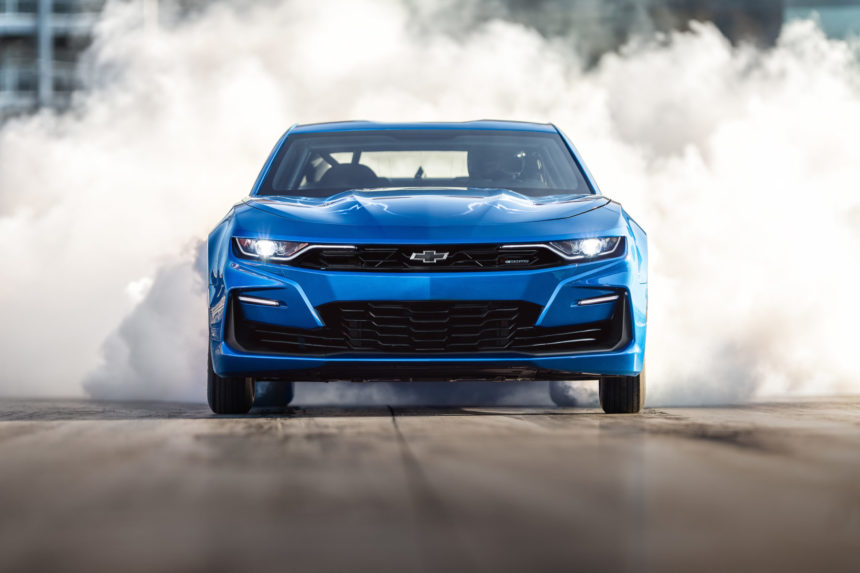 Muscle and pony cars made a strong showing in the power department too. Hennessey showed off the 1,000hp Exorcist Camaro and the 808hp Heritage Edition Mustang. Also, Ford teased its 700+ horsepower Shelby GT500.
The real party pieces came at SEMA 2018 though. There, Dodge showed off the 1,000hp, 426ci V8 crate engine dubbed the Hellephant. Although the Speedkore Performance Group out of Wisconsin trumped that with its 1,400hp Dodge Demon.
Despite this, the most exciting power plant at SEMA actually came from GM Performance. During the show, it unveiled its 560kW (700hp) electric crate motor, which showed going forward hot rodding isn't dead.
The Quest for the Strangest Automotive Records
Unlike 2017, 2018 thankfully saw a reduction in needlessly specific Nurburgring records. However, it made up for this by turning out some rather odd records instead.
Kicking off the year BMW set out to recapture a record it previously lost, the world's longest drift. While on the surface this really isn't that bizarre, the way it accomplished it was.
In order to keep the thirsty M5 sliding for eight hours, it devised mid-drift refueling. Using a similar concept to how fighter jet refuels mid-flight, BMW built a refueling car to drift alongside the record-setting vehicle.
In March, the cast of Top Gear set their sights on the land speed record for tractors. Headed up by tractor enthusiast Matt LeBlanc, the crew swapped in a 500hp Chevy V8. The result? Wheelies and a top speed of 87.27mph.
The odd speed records continued in April with a new vehicle claiming the world's fastest. While only for a brief moment, the world's fastest vehicle was a Nissan Qashqai SUV. If this seems a bit absurd, it's because it is.
At the VMax200, a Nissan GT-R wearing a Qashqai suit managed to beat a Koenigsegg Agera RS. Clocking in at a speed of 237.8mph over a standing mile, it was 16mph quicker than the Koenigsegg. However, shortly after that feat, an Agera RSN eclipsed the 242mph mark.
Still, with the 237mph figure, the Qashqai did earn itself a place in record books as the world's fastest SUV.
Not to be outdone in terms of weirdness, another record came up in May. This time around it was something that shouldn't have a world record to begin with, a shed. Yes, like that little building full of dusty lawn equipment in your backyard.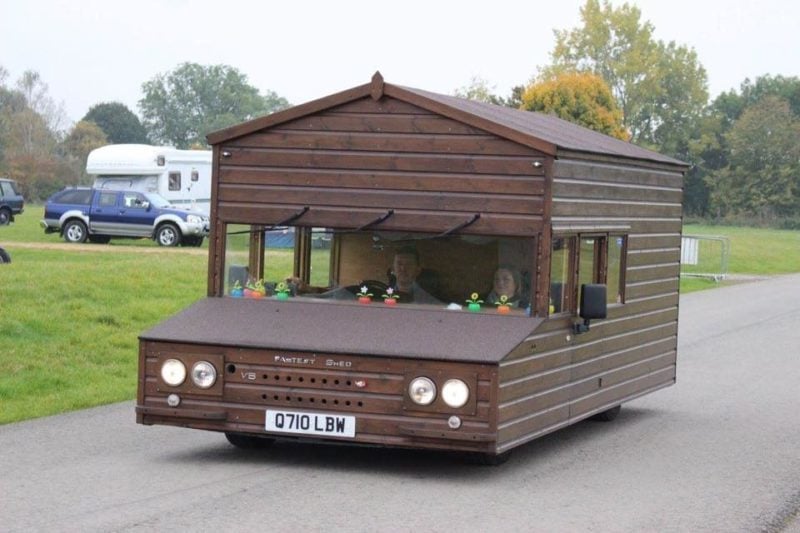 Using a twin-turbo Audi RS4 engine and a VW Passat chassis, the shed managed an impressive 101.043mph too.
So why might someone do this you ask? Well, the best reason we came up with is that it's just what happens in Britain.
May also saw a pair of University of Michigan grads set a rather ambitious record. Setting out on a whirlwind of a road trip, they managed to visit 23 states in just 24 hours. As an added bonus, they did it while wearing bow ties too.
Our favorite bizarro record came in September thanks to Skoda. Using the frankly awesome Octavia vRS 245, it captured the record for catching an arrow from a moving car. Why this exists is something that's still a mystery, but we can't argue at how impressive it really is.
That's No Car
It's no secret that automakers like to brand things other than cars. Ferrari is a prime example of this and will slap the prancing horse on virtually anything. It even went as far as working with Thrustmaster to release an F1 replica headset for sim racers (it's also rather good).
Alongside the Ferrari inspired headset was another electronic gadget bearing a supercar maker too. At the end of November, McLaren teamed up with HTC to release a limited edition VR unit. Unfortunately, it is pretty unimpressive since it's more or less just a color swap for an additional $350.
McLaren also ventured into the world of flip-flops too. Unlike the HTC Vive, these actually made a bit of sense by poking fun at the F1 halos that made their debut this season. The footwear also helped charity by partnering with Gandys, so that's another plus for the venture.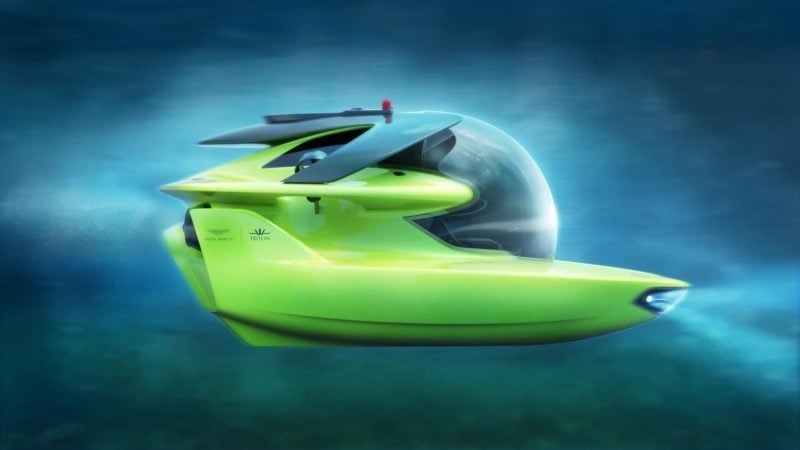 The nautical theme was prevalent with automakers this year as well. In February, Aston Martin released its "Project Neptune" in collaboration with Triton Submarines. It gives a true James Bond feel too and is possibly one of the only luxury subs on the planet.
Then in September, Lexus looked above the water with its 65-foot LY 650 luxury yacht. Made by Marquis-Larson, the LY 650 joined three other Lexus flagship vehicles, the LS, LX, and LC, to round out its fleet.
The oddest automotive branded item this year though was the Porsche wine called Cuvée 356. Produced by an Austrian vineyard Tement, it's a semi-dry white made to honor the 70th anniversary of Porsche. Unfortunately, we still can't tell you how it tastes either. Maybe one day we will figure out what an elegant flavor is.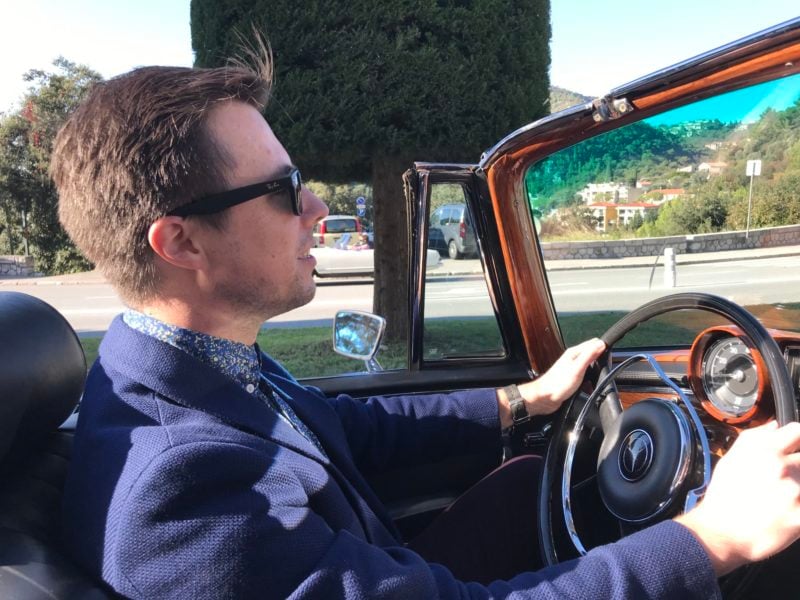 For the Love of Cars
The Gran Turismo Sport FIA Championships were at the forefront of our experiences this year. Along with that we also continued the gearhead lifestyle by taking part in some other cool things as well.
In February, we had the chance to attend the media days at the Canadian International AutoShow. While not the biggest auto show around, it had plenty to do and take in.
Then in May, we ventured to Austin, Texas to experience the new Hyundai Veloster. We even ended up liking it so much that we took Hyundai up on another offer in November. However, this time, we got a chance to drive the N version around Thunderhill Raceway.
Over the summer we embraced the heat and took a classic American road trip around the American Southwest.
Autumn is where things really took off though. For the launch of Forza Horizon 4, we got the chance to live the Horizon life at the Goodwood Estate. There we got to go for rides in all sorts of amazing machines. We even had the opportunity to race a hovercraft too — and a hot air balloon.
Shortly after that, we attended an event for a dying technology, the manual transmission. At this #SaveTheManuals experience we got to try out the new Toyota Corolla and its rather slick standard transmission.
Then came late October and we geared up for one of the largest automotive events on American soil, SEMA. There we checked out bro-dozers, saw some real-life Hot Wheels, and even watched the GT Awards first hand. In addition, we also witnessed Igor Fraga absolutely dominate the GT Sport Americas Regional event.
Another highlight of our jammed packed automotive year came during the GT Sport World Finals. During that event, we had the chance to take some classic metal for a spin around Monaco. That's a major automotive bucket list item crossed off, and our faces ached from smiling so much.
So what will 2019 bring us? It's hard to say but we're looking forward to it.
Have a favorite 2018 automotive moment of your own? Head on over to the forums and let us know!