Hennessey has lifted the curtain on the engine that it will install into its latest hypercar, the Venom F5.
Named after the highest wind speeds on the Fujita scale, the company's already made its expectations for the Venom F5 perfectly clear. It aims to become the first road-going vehicle to exceed 300mph (483km/h); currently the record stands at 277mph.
The company is no stranger to high speed performance. One of its 10,000 cars managed to set an unofficial record north of 270mph back in 2014. It knows exactly what's required to meet these numbers, among which is a gigantic engine with equally mind-boggling performance numbers.
Up until now, Hennessey has been a little fuzzy on the details of the F5's engine. At the Monterey Car Week, it made everything crystal clear, unveiling the power unit in full.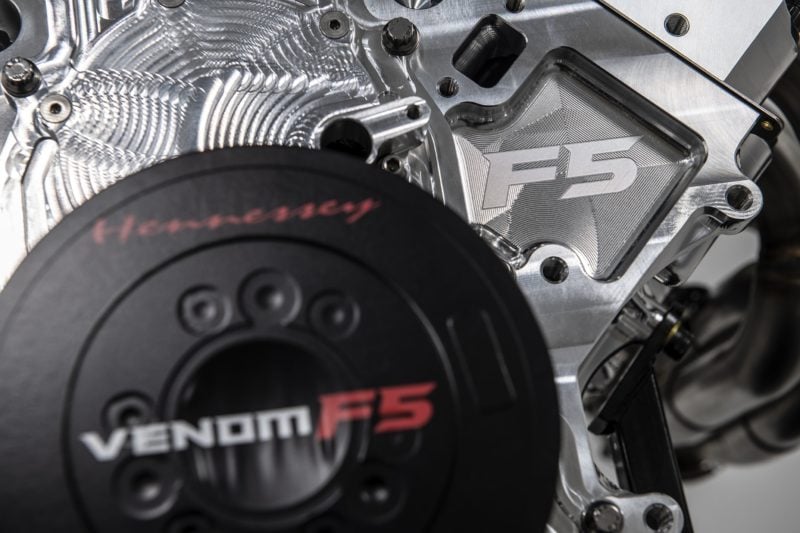 The engine is a custom-built 7.6-liter V8. There might be no replacement for displacement, but Hennessey's gone and equipped the 464 cubic-inch powerplant with a pair of turbochargers. All in, that'll pump out more than 1,600hp at 7,200rpm, and 1,300lbft of torque.
To put that number into perspective, that's the same power as the two previous record holders — the original Bugatti Veyron and the McLaren F1 — combined. That's quite a punch.
In order to build the engine Hennessey starts with a billet aluminum machined block. The cylinders feature steel sleeves, while the headers for the turbochargers are stainless steel. The dry-sumped engine has a 9.3:1 compression ratio, and the two turbochargers have billet compressor wheels.
Hennessey's worked with long-term partners Shell and Pennzoil to create the Venom F5's engine. Carlos Maurer, president of Shell Lubricants Americas said:
"Our relationship with John and the Hennessey Special Vehicles team is mutually rewarding. Our products are tested to their performance limits in the new engine designed especially for Venom F5 and will help the Hennessey team to break more records. This extreme performance testbed allows Shell to progress our own innovations as we support this hypercar in its move to next level status."
This may not even be the engine's final form. There may be more power to come, should the Venom F5 need an extra boost to reach its target. Even so, the 2,950lb F5 should hit 0-186mph in under ten seconds, and 0-249-0 in under 30.
Even with the base price for the Venom F5 at $1.6 million, the company has already confirmed orders for 15 of the 24-car production run.
More Posts On...