At last year's Pebble Beach Concours d'Elegance, Infiniti stunned us with the Prototype 9. Now the company is back for this year's event with a new concept. Aptly named the Prototype 10, it's equally as stunning.
Channeling the 1950s era of racers, Infiniti has once again looked to the past for inspiration. It's low, sleek, and comes with just one offset seat. Or, if you'd rather, a monoposto.
If you think it looks like a Vision Gran Turismo car, you're not far off the mark. Looking at the Prototype 10 side-by-side with the 2015 Infiniti VGT, you can see some resemblance. It's almost like the Prototype 10 is the vintage version of the futuristic VGT.
The Prototype 10 also draws styling cues from another Infiniti concept, the Q Inspiration. Making its debut the 2018 Detroit Auto Show, the Q showcased the company's new design language. This language is seen throughout the Prototype 10.
For the most part, the Prototype 10 is pretty sparse. The exterior forgoes any style for style's sake. Instead, it takes a very minimalist approach.
The interior is very minimal as well. With just two pedal, a leather seat, and a racing wheel, it's about as straight-forward as you can get.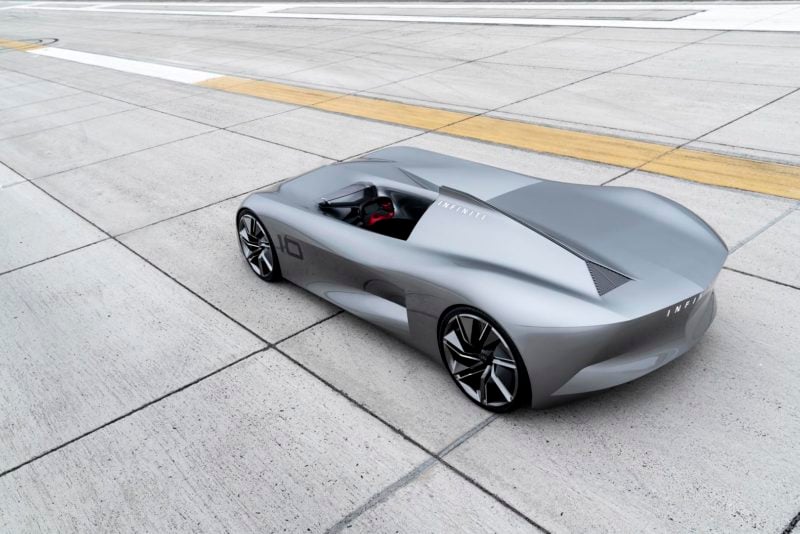 All this together works quite nicely though. It captures the essence of a vintage racer without overdoing it — a small feat for a company not even 30 years old.
At its heart, the Prototype 10 uses an electric drivetrain. Its real purpose isn't to show off the performance of the company's EV approach, but rather its packaging. Keeping with a flat floor and low center of gravity, Infiniti hopes to transition it to its production vehicles.
Infiniti is also using the Prototype 10 to outline its electrification strategy. Starting with the 2021 model year, every Infiniti model will have some sort of electrification. This echoes a growing industry trend already being used by Volvo and Jaguar.
To accomplish this, Infiniti will use a combination of fully electric and hybrid powertrains. However, this does not mean it's giving up on internal combustion engines. Chances are you'll still be able to get an ICE if you want — at least for a little while longer.
If you want to check out the Prototype 10 for yourself, it'll grace the lawns of Pebble Beach this weekend.
See more articles on Infiniti and Pebble Beach Concours d'Elegance.