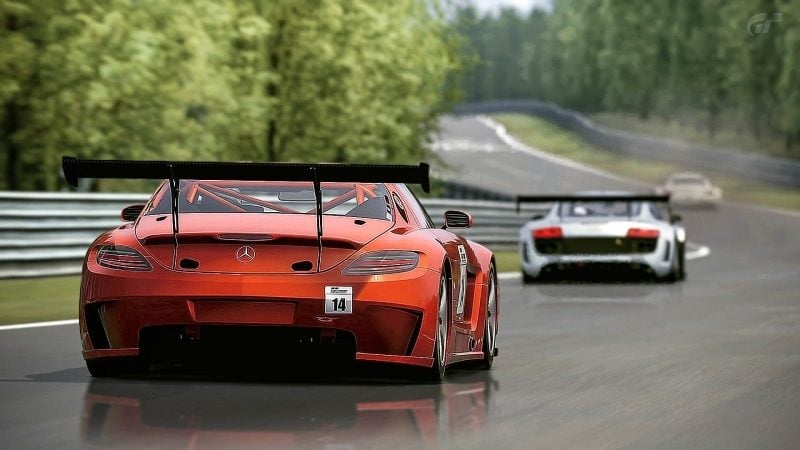 RE Amemiya overtaking, October 2nd, 2015, courtesy of ac1.
Earlier this week, Team Redline talked with us about the exciting future of eSports and sim racing. The team has countless achievements to their name, stretching as far back as Grand Prix Legends, right up to present day iRacing championships. Today, we're happy to be a part of the unveiling of their dedicated Gran Turismo team. Team principle Dom Duhan starts things off, while the new lineup collectively answered the rest of our questions.
Dom Duhan: With GT Sport round the corner, we are really excited to be a part of it with a cracking team of talented drivers. We have been represented by some of the best in the GT community and are really proud of their achievements – and look forward to working with them in future.  Our official core team will be focusing on GT Sport and the GTPlanet Sportscar Series, as well as seasonal events.
The core driver lineup to start, but by no means all of the TRL members that play Gran Turismo!
GTPlanet: How long have you been playing the GT series?
Team Redline: Most of the guys have been playing since GT1.
GTPlanet: What made you start?
Team Redline: We all love cars and all aspects of racing and GT seemed to deliver a great selection of vehicles and the best variety of racing from snow to asphalt and sprint races to endurance.
GTPlanet: Favourite feature of GT6? Why?
Team Redline: Definitely the community feature! It's a great way to keep in touch with each other easily, create leagues, clubs, groups and check out driver information. Also the time trials offer something new every two weeks and it's a great way to compete against other drivers.
GTPlanet: Favourite track?
Team Redline: Tough question!! With so many great tracks to choose from it's a hard choice but a few of our favourites would have to be Monaco, Suzuka and Spa.
GTPlanet: A team dedicated to pushing the limits of what's possible in sim racing, on a game that has yearly competitions to turn players into real life racers. What are your thoughts and experiences with GT Academy?
Team Redline: GT Academy is a great way of recruiting some serious driving talent as we have seen with the previous winners going on to achieve some serious real life race results in numerous classes of racing. As for us we have multiple GT Academy finalists in the TRL team.
GTPlanet: Some racing drivers just love driving, and do it even on the off-season. What other racing games do you play when you're not setting records in GT6?
Team Redline: A couple of us play some PC sims and also Project Cars and F1 series on console but the rest are GT warriors.
GTPlanet: Other drivers take part in completely different – though usually still competitive – hobbies. Are there other games/genres you find yourself playing a lot of?
Team Redline: We're Mostly playing racing games but when we're not we play anything from DayZ on PC to GTA 5 on console.
GTPlanet: What are your thoughts on GT Sport?
Team Redline: We're all really excited to hear about GT Sport being officially recognized by the FIA! Also the chance to compete in an FIA sanctioned championship on GT is an amazing thought, we can't wait!
GTPlanet: Goals for 2016?
Team Redline: Compete in GT Sport, Branch out to Assetto Corsa when released on console (Editor's Note: just revealed to be April 22), releasing the official GT page on the Team Redline website and also to win in this year's GTPlanet Sportscar Series championship with our first team entry as TRL.
To read more about the team, including a full list of awards as well as the complete current roster, head to www.teamredline.co.uk, and check out  the team's official Facebook, Twitter, Instagram, and YouTube pages.
Thank you to Dom, Olli, and the rest of the TRL GT team for taking the time to answer our questions. Good luck in 2016!
More Posts On...
The original comments for this post are no longer available.