Everyone's favorite marsupial is getting back behind the wheel. A confirmation at The Game Awards is all it took: Crash Team Racing Nitro-Fueled arrives next summer.
The announcement comes shortly after a teaser for the remake earlier in the week. According to publisher Activision, CTR Nitro-Fueled will be a "from the ground up" redo of the 1999 kart racer. Every game mode will return, from the story-based Adventure to Arcade, Time Trials and Battle Mode. In addition, online multiplayer will be available as well as traditional split-screen.
In the Adventure mode, players will compete in a variety of races to defend Earth from big bad Nitrous Oxide. The egotistical alien believes himself to be the fastest racer in the galaxy, and will turn the globe into a giant parking lot if he wins.
Hey, it was the '90s. Don't think about it too much — watch the trailer instead:
CTRNF is available to pre-order now for PS4, XB1, and PC (there's no timed console exclusivity this time). The regular edition is $40, while a deluxe Nitrous Oxide Edition rings in at $60. With this one players will be able to do something they never could in the PS1 classic: drive as N. Oxide himself. You'll gain access to him from day one, alongside his kart, space-themed skins for some of the drivers, and "much more".
If you don't shell out for the higher-spec version, don't fret: you'll still be able to unlock Oxide and his ride through the game's tougher Adventure Mode challenges.
For a real history trip, check out the comparison picture below. We'll race you up Papu's Pyramid next June!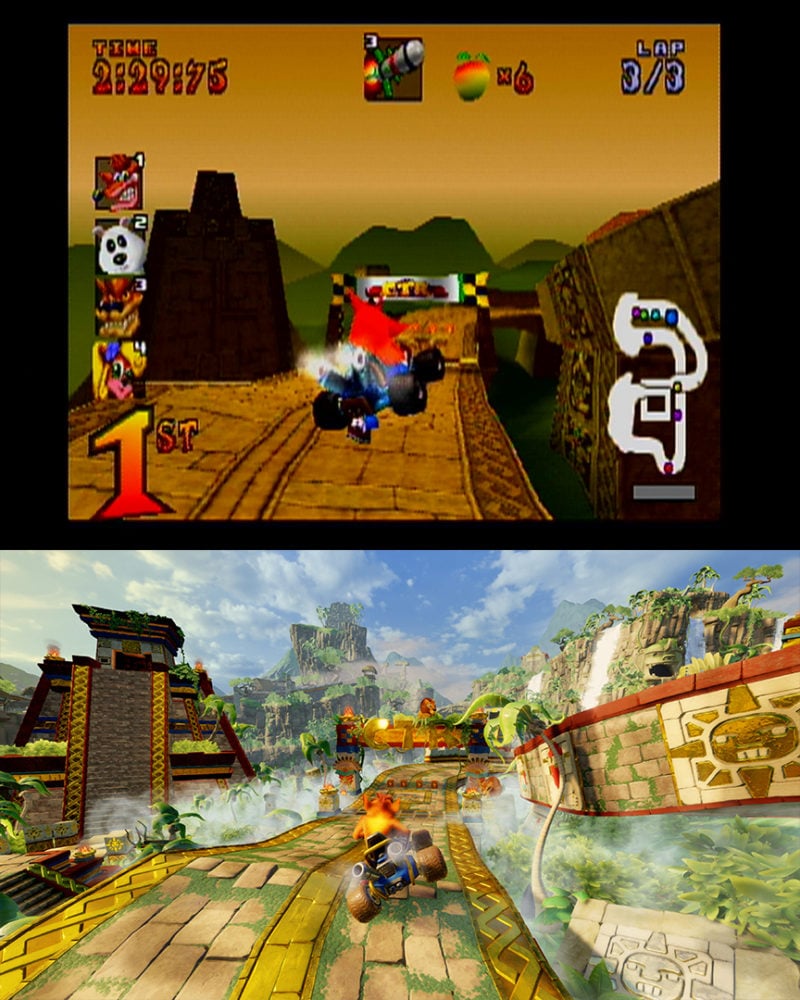 See more articles on Crash Team Racing.