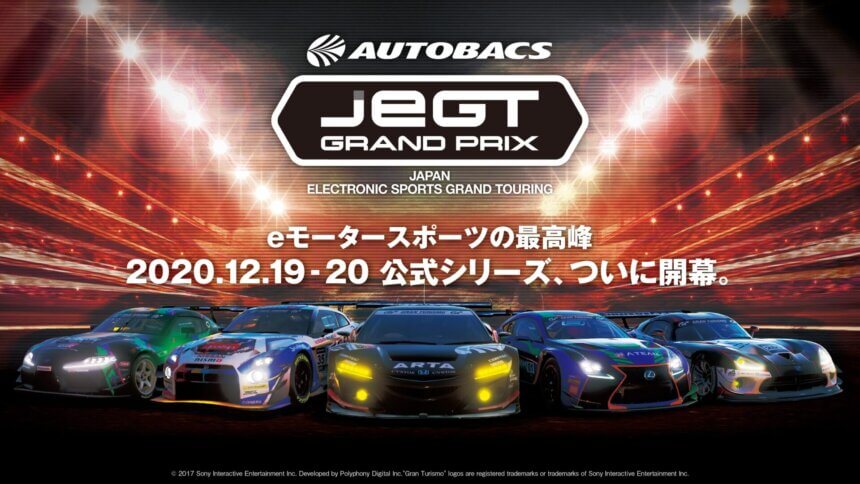 Following a launch last year, the Japan Esports GT (JeGT) competition is returning for 2020, and in quite some style.
The series has now attracted some major sponsorship, with Japanese automotive parts supplier, race team, and occasional vehicle manufacturer Autobacs getting involved. That's allowed JeGT, under its new name of "Autobacs JeGT Grand Prix", to offer a prize fund to competitors of almost $50,000 (¥5 million) across the various categories. According to Autobacs, this is the highest payout for any esports event in Japan.
In essence JeGT is a pro-am series. The event sees professional racing drivers mixing with JeGT-certified sim racers. If you missed the launch in 2019, we saw a number of Formula D and Super GT racers — including GT Academy champion Jann Mardenborough — race against some well-known players from Japan's domestic sim racing scene.
The winner on that occasion was Takuma Miyazono, who also won the only World Tour event on this year's GT Sport FIA Online Championship calendar, in Sydney. Miyazono is one of 19 sim-racing drivers currently certified by JeGT, though there are more to come in the next few months.
While we can say that the competition will continue to use Gran Turismo Sport, we don't know exactly what the format will be. The launch event used Gr.3 race cars, and the promo image for the event features these same vehicle, so that's a pretty safe guess. However we do know that there'll be an individual tournament and a teams event. The former will offer ¥1m ($10,000) to the winner, while the winning team will take home ¥1.5m ($15,000).
There is a schedule for the events, with four online rounds in each category from December 2020 through to February 2021:
Individual Match

Round 1 – December 19, 2020
Round 2 – January 9, 2021
Round 3 – January 30, 2021
Round 4 – February 20, 2021

Team Battle

Round 1 – December 20, 2020
Round 2 – January 10, 2021
Round 3 – January 31, 2021
Round 4 – February 21, 2021
Following all of the online events, there'll be a grand final in March 2021. Conditions permitting, this will take place at the Redee World arena, Japan's largest esports facility. This facility, in the Expocity complex in Suita, Osaka, is a 52,000-square feet esports space which includes a 130-feet wide display screen for spectators.
JeGT will live stream all the events on its official YouTube channel.