The Gran Turismo documentary KAZ: Pushing the Virtual Divide has taken top honors at the 2014 Gaming Marketing Summit.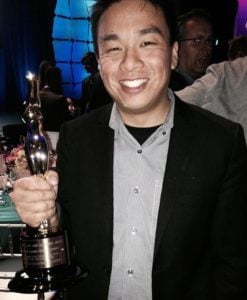 Nominated in the "Best Long Format Featuring Promotional Content" category, KAZ went up against several other documentaries, including Forza Motorsport's collaborative film with Audi.
Gran Turismo received another nomination at the GMAs for the GT6 "First Love" marketing campaign, which featured Mario Andretti and a five-day, live-streamed rebuild of his first race car.
SCEA's Ken Chan, who was instrumental in commissioning Tamir Moscovici to produce and direct the film, accepted the award at a special event in San Francisco yesterday. Congratulations to everyone involved in the production!
KAZ is free to watch on a wide range of popular streaming services, including Hulu, Crackle, ReelHouse, and Amazon Instant Video. You can also catch the full version of the documentary right here on YouTube:
See more articles on KAZ, Polyphony Digital, SCEA, and Tamir Moscovici.