Kazunori Yamauchi sported a Spanish soccer jersey at one point during a media session in Barcelona today at GameLab 2012, and some of his early interviews with local news outlets are now being published.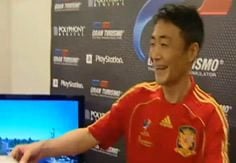 They hold some very interesting comments, though keep in mind the specifics may have been lost in translation (originally spoken in Japanese, translated to Spanish, and finally to English).
Kazunori's words to Terra.es will be of particular interest to fans hoping for a Gran Turismo title on the PlayStation Vita, as he discussed the future of gaming on mobile devices:
"Before the game was limited to the living room of the house. But no turning back and is inevitable that a game console may be in the new mobile devices. […] As new consoles and new platforms emerge, the language of the game changes. Evolution must offer the user the most intense experiences possible and with an increase in perceived quality."
While speaking with Elmundo, he also shared information about Polyphony Digital's attempts to create an officially-licensed Formula 1 game:
"[…] we were interested to create a game with the Formula 1 license but had to withdraw. That industry is a monster, so big that any agreement you want to get forces you to make a financial outlay that we can not afford."
Also in Elmundo's article, Kazunori discusses just how far driving simulators have to go in terms of realism, claiming that even a simulation on a machine radically more powerful than the PlayStation 3 would be far from perfect:
"[…] we are close on issues of aerodynamics. No simulation can achieve 100% because even the great Formula 1 teams use models to refine their models , but we are close. We could not achieve a perfect simulator or even if we had machines that were ten thousand or a hundred thousand times more powerful than today."
As previously mentioned, GameLab 2012 is open to the public throughout this weekend. Kazunori Yamauchi will be making an appearance and signing autographs for the public on Friday.
More Posts On...
The original comments for this post are no longer available.