We know a mouse is the last thing you want to play a racing game with. However, we also know that many of you are more than just sim racers; you're gamers through and through. This is why we decided to check out two of the latest mice from Logitech — the G703 and G903.
Not only that, we've also taken Logitech's Powerplay wireless charging system for a test drive. Has technology made going cordless a completely viable option for gaming? Let's find out.
Logitech sent us retail versions of the G703, G903, and Powerplay Charging System for review. Due to the nature of the products, we're reviewing them all in this one article, though we'll note any major discrepancies between the mice.
Value
Determining the value for money when it comes to a mouse is a little difficult. However, some mice are indeed better than others for various reasons, and the G703 and G903 have their own pros and cons.
The G903 is positioned to be the "Cadillac" of gaming mice, and unfortunately, that means it commands a Cadillac level price. With an MSRP of $149.99 it's not cheap and is one of the most expensive mice on the market today. But is it worth it? In short, yes, very much so.
From my humble beginnings as a PC gamer, I've almost exclusively used a wired mouse. I always felt like a wireless mouse wasn't quick enough and the batteries died too frequently because I forgot to charge it the night before. This is why my mouse of choice currently is the Razer DeathAdder Chroma.
However, after playing with the G903 for a couple of weeks now, I might just be a convert. I've never used a wireless mouse that performs exactly like a wired one until the G903 came along.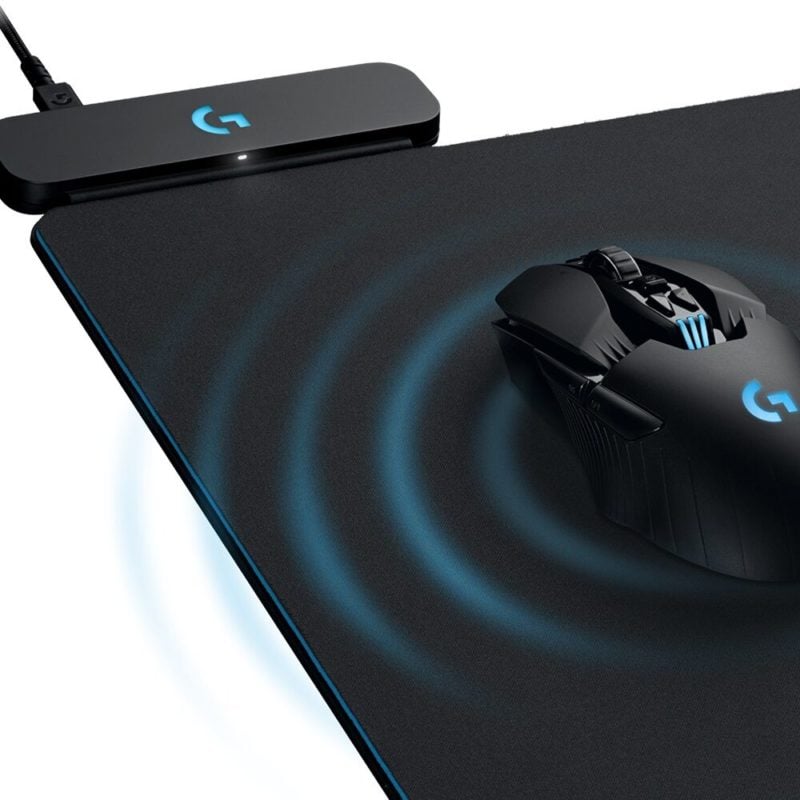 With an MSRP of $99.99, the G703 is more budget friendly, but it's still a fantastic mouse for both gaming and non-gaming applications alike.
It does, of course, lack some of the features the G903 comes with, which we'll come back to later in the review. Overall, there's less customization, but Logitech was keen on keeping several of the features that make the G903 great. If the G903 is the Cadillac of gaming mice, the G703 is the Buick.
The Powerplay mat is also an added expense, though it is not required. With an MSRP of $99.99, you'll be looking at a package price of $249.98 if you pair it with the G903.
The Powerplay pad uses wireless charging technology to top off your batteries while you're using your mouse. Frankly, this is the best feature I have seen in a wireless mouse, and nullifies one of their intrinsic shortcomings.
In addition to charging your mouse, it also uses an integrated wireless receiver so you don't need to occupy another USB port. On the subject of receivers: neither mouse experience any interference.
Compatibility
While both mice are made primarily for gaming, computers are more than just expensive gaming consoles. So how do the mice work for all the other daily tasks you may perform on your PC?
With the G903, I used it on my desktop at home, controlling everything from entertainment services to my fantasy football team. The odd shape of the mouse works wonders while you're gaming, but it can be a little difficult to get used to with other tasks.
The G903 is good for precision work, too, like editing in Photoshop. You'll need to turn down the DPI for some programs, else the cursor will fly all over the screen. Once you've dialed in the sensitivity though, working with it will be a breeze.
Once you're done with your productivity applications for the day and can switch over to your favorite game, you'll be glad you have the G903.
Often, when a company creates a gaming mouse, the design it solely for fast pace, multiplayer, first-person shooters like Overwatch. This leaves gamers wishing they had something different when they want to play something more relaxed.
To see how the G903 faired with a slower-paced game, I started a session of the RTS game Crusader Kings II. Anyone who's played the game knows it moves at a glacial pace. During a three-hour session my hand never once grew tired and the mouse still felt great when I finally called it quits.
The G703 is still very much a gaming mouse, but it equally feels right at home in the business world.
I took the G703 to my office and put it through the paces of daily work life. It performed well and was very comfortable for long days of clicking through e-mails. It's probably the best mouse I've ever used at work. Other tasks like photo editing and surfing the web seem to fit the G703 better than the G903, too.
With a shape that's more form fitting to your hand, the G703 feels like a good middle ground between a gaming mouse and a traditional mouse. For people who don't want to own or deal with multiple mice, this is a very good thing.
I did try gaming with the G703 to see if it worked as well as the G903. While playing Destiny 2, I could tell it wasn't as crisp or quick as its bigger brother. However, when I tried my hand at Stardew Valley — a game that didn't require me to mow down hordes of aliens — the mouse felt just as good as the G903.
Features
Both mice are packed with features, but as mentioned above, the G903 comes with a few more than the G703. So what do you get for the $50 premium the G903 commands?
First is customization. There are 11 programmable buttons which store their behavior in onboard memory of the G903. This allows you to take your G903 from computer to computer without losing your ideal setup.
My favorite feature — by far — is the scroll wheel. With a simple click of a button, it transforms from a traditional click-wheel to one that's free spinning.
There are also different buttons and inserts to help adjust the mouse to your hand. It can even be converted from right-hand to left-hand in a matter of seconds. This is especially helpful if you share your gaming rig with someone whose dominant hand is different than yours.
As you'd expect, the G703 has fewer of these customization options. With only six programmable buttons it doesn't give you as much flexibility as the G903, but it still stores the setting in its onboard memory.
Much to the dismay of lefties, the mouse is also only made for right-handers.
Both mice feature super snappy response times and accuracy, and the sensitivity is also fully customizable to meet your needs. The maximum setting is 12,000 DPI and can be tuned all way down to just 200 DPI.
While the sensitivity is less than its main competitor – the Razer Mamba with 16,000 DPI – it will be more than sufficient for a majority of users.
The G903 felt a bit more crisp when putting it through its paces, though the G703 certainly wasn't a slouch. Personally, it felt like the sleek design of the G903 also made for quicker movements.
Another performance boost for the G903 comes with the mechanical click buttons. They work off of a pivot point and allow for the best click feedback I've ever felt from a mouse. The rebound rate is also incredibly quick which makes playing first-person shooters a breeze.
The G703 doesn't get this technology, but the clicks still feel solid and are on par with other gaming mice. It felt remarkably similar to the DeathAdder, which isn't a bad thing.
Both the G703 and G903 are incredibly light as far as wireless mice go. The G903 tips the scales at just 3.88 oz, while the G703 is even lighter at 3.77 oz. By comparison, the Mamba clocks in at 4.40 oz.
More seasoned gamers that grew up with the behemoth mice of old might be put off by the lightness. Thankfully, Logitech equips both mice with a little door on the undercarriage that accepts a 10 g weight. I liked this addition, though I do wish there were more weight choices. I personally like a heavy mouse, but I'm also probably one of the few that do.
The light weight will allow gamers to move the mouse slightly quicker. In the eSports world that's a huge advantage, but for most of us, we probably won't see any real improvement from it.
Without the infinite battery life from the Powerplay pad, both mice live a long life. Both will stay running for 24 hours or up to 32 hours without the LED lights. This is much better than the approximate 20 hours you get from the Razer Mamba.
Of course, they can also convert to wired mice in seconds. Using the included USB cable, all you need to do is plug it into a little access port on the front of the mouse and it begins charging. This allows for owners without the Powerplay pad to continue using the device without any interruptions.
Finally, both mice get industry-standard color tuning that allows for a plethora 16.8 million different colors to be displayed by the LED. The light isn't overbearing, either. Some lighted mice put Christmas trees to shame, but the lighting won't distract you.
Quality and Finish
While the G903 feels like a higher end product than its little brother, the G703 is by no means flimsy.
While going back and forth to work, I often threw my G703 in my bag and had it endure the abuse that comes with it. After two weeks of jostling about in a bag chocked full of cables, pens, notepads, and whatever else I deem necessary for work, there was nary a scratch to be found.
In contrast, my other notebook mouse – a run-of-the-mill Microsoft – looks like it's been through a war zone. While I've used it longer, it didn't take very long to show signs of a hard life. The G703 took it like a champ and it looks like it'll be accompanying me on my work-related journeys from here on out.
The G903 was a bit more comfortable during the testing period. It primarily sat at my home workstation free from the hardships of mobile office duty. However, I have no concerns about its durability.
As for the finish, they both are plastic but have a slight texture to them. This makes them fairly easy to grip. However, only the G703 has rubberized sides, and I do think the G903 would benefit from this. It'd provide increased grip and allow for contrasting materials to liven up the design element ever so slightly.
Verdict
Depending on how you plan to use them, both mice are a buy.
If you're looking to be at the top of the food chain in the gaming world, the G903 is for you. It easily trumps other high-end wireless gaming mice on the market. Between its performance, accuracy, and customization it's worth the $149.99 it asks of you.
Also if you've been a long-time hold out of wireless mice because they just don't offer the right stuff for you, then the G903 will turn you into a convert.
If you're looking for a more of an all-around mouse that functions just as well in the everyday grind of office life, but still provides excellent gaming performance, the G703 fits that mold. For the budget-minded, the G703 also finds a good balance between options and price.
As for the Powerplay pad, it's not really necessary for a majority of gamers. The battery life on both mice are strong, and even a forgetful user can just plug it in if the batteries go flat. With that said, it definitely falls into the category of "nice to have".
As a long time user of wired Razer mice, I think I've been fully converted by the G903 and will continue to use it as my primary mouse.
Logitech G903 & G703 Gaming Mice with Powerplay Charging System