After being cruelly dumped out of the Le Mans 24 hours three months ago, the Highcroft Racing Nissan DeltaWing will see its return to competitive action in October, with a GT Academy driver at the wheel.
Lucas Ordoñez will be familiar enough with the DeltaWing, having raced alongside the car at Le Mans this year on his way to an 8th place class finish as well as being one of the car's official test drivers. It's not his first run at Petit Le Mans either, as he finished third in class in the Signatech LMP2 car last year.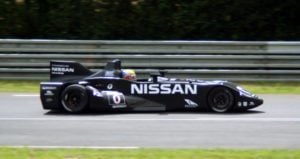 As for the DeltaWing, the Le Mans race provided vital data about the car, designed with the aim of being as quick as an LMP2 car while using half as much fuel and half as many tyres. When the car was squeezed off the track and into an early retirement after 75 laps, it had indeed rivalled the LMP2 laptimes while running twice the fuel economy (10.7mpg to 5mpg) and was still on its original tyres.
Just like the Le Mans race, DeltaWing's entry will be ineligible for classification and racing as an invitation at Road Atlanta. However, following the recent restructuring of North American sports car motorsport, rumours abound of DeltaWing's participation in the entire 2013 ALMS season too.
Qualifying for Petit Le Mans occurs on Friday 19th October, while the 1000mi/10 hour race starts at 1530GMT/UTC on Saturday 20th.
More Posts On...
The original comments for this post are no longer available.