Epic Games and a Warner Bros team including Lana Wachowski, co-director of the original The Matrix trilogy and the upcoming The Matrix Resurrections movie, have revealed a startling tech demo for Unreal Engine 5 based in the universe of The Matrix.
Officially titled The Matrix Awakens: An Unreal Engine 5 Experience, it gives players a first real look at what could be possible with the new engine underpinning games on the new generation of console hardware — and it's free to PS5 and Xbox Series players right now.
Part gameplay demo and part cinematic experience, Awakens stars Keanu Reeves (Thomas Anderson/Neo) and Carrie-Anne Moss (Trinity) but — aside from a short video clip of Reeves — entirely in virtual form. It's set in a Matrix-style environment of a green-tinted generic American city, measuring some 6.1 square miles (15.8 square kilometres) in area.
The gameplay part of the experience involves car chases and fast-paced action sequences, which Epic says are completely dynamic and will respond "in a fully unscripted way". That means that there should be a unique experience every time players run it.
This is all down to Chaos, UE5's high-performance physics system that can simulate the movement of cloth, hair, vehicles, and more, all in real time.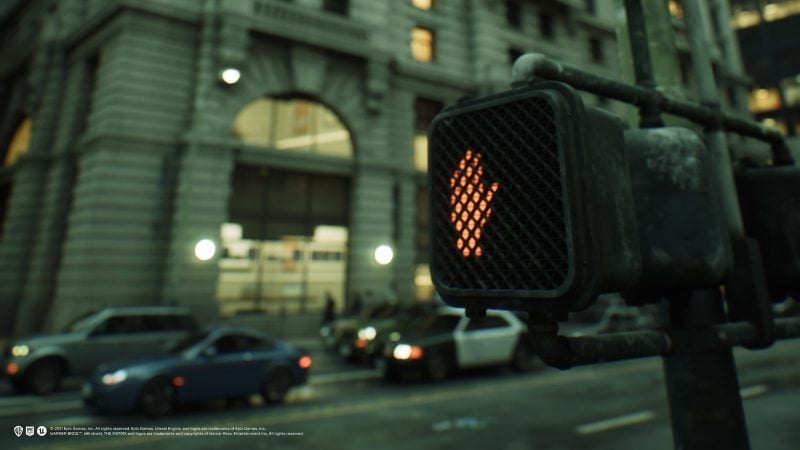 And that "more" covers a lot of bases. Within the city are 7,000 buildings, each made of thousands of modular pieces, which are in turn comprised of millions of triangles and enhanced with props, signage, and debris. The building windows, like the city's 27,848 lamp posts, use "emissive materials" rather than point light sources, with UE5's Lumen delivering real-time ray tracing.
Its streets consist of over 160 miles of roads, with 1,248 intersections, and nearly double that distance in sidewalks. There's even 12,422 individual manholes. All of that detail is streamed and scaled by UE5's Nanite geometry technology, meaning there's no need for manually created models with different levels of detail (LOD).
However, most important of all — at least from a racing gamer's point of view — are the cars. Awakens contains some 45,073 cars, of which 38,146 are drivable and can sustain damage in a realistic way.
While The Matrix Awakens isn't a racing game, or technically even a driving game, it does nonetheless show the huge potential for such titles.
Unreal Engine 4 underpins Assetto Corsa Competizione and there's little denying the game's visual prowess on the right hardware. With Assetto Corsa 2 expected in 2024 and likely using UE5, all of the capabilities we see above means it could very well be a showstopper.
If you have a PlayStation 5 or Xbox Series console, you can download The Matrix Awakens from the relevant storefront right now. It's free, and only requires a 25GB download, and while you're waiting you can watch this official video from Unreal Engine: