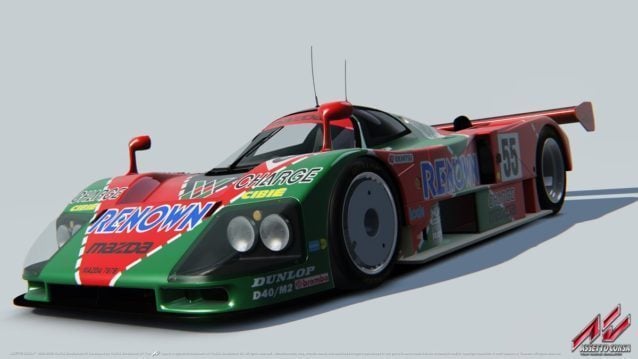 Good news for Assetto Corsa players. Kunos Simulazioni has announced that two of the most iconic cars to wear the Mazda badge are coming to the game for free, while a previously-announced Porsche is inbound as well.
Both Japanese models will be arriving with the game's next major update on PC. Both the 787B and MX-5 started life as third-party mods within the Assetto Corsa community, but were received so positively that Kunos worked with Mazda to evolve them for official inclusion.
Assetto Corsa's rather impressive physics engine should be well suited to the NA-generation Mazda MX-5. The first iteration of the best-selling sports car in the world should provide plenty of fun for players with its classic front-engine, rear wheel drive setup.
It's going to be really exciting to get to grips with the only Japanese Le Mans winner, and we will be turning the volume all the way up to listen to the iconic shriek that the infamous four-rotor engine makes. The Group C-era 787B will join the equally monstrous Sauber C9 that's already included in Assetto Corsa. Porsche pack owners can also count the 962c — in long and short-tail versions — within the group.
Speaking of Porsche, the long-awaited mid-engined 911 RSR is set to arrive "very soon", according to a post from Kunos in the official forums. Originally set to be included in Porsche Pack Volume Three, the 911 RSR was replaced by the road-going Turbo S. The racer was then ear-marked for January, but very little has been heard about it since.
This will mark the second update for PC players. There has been no console timeline given for the new content, but PlayStation 4 and Xbox One players should expect the last round of new content — which includes the Audi S1 and new Highlands circuit — at some point in April. Stay tuned to GTPlanet for more Assetto Corsa news as it arrives.
See more articles on 787B, Assetto Corsa DLC, Assetto Corsa Game Updates, Mazda, Mazda MX-5, and Porsche.