It's as they say: all good things must come to an end. After several days of teasing, PC players now have access to the third and final Porsche Pack for Assetto Corsa. Arriving alongside today's finale is update 1.11 for the game, bringing with it an all-new Championship gameplay mode in addition to the following vehicles from the Stuttgart manufacturer:
911 GT3 Cup 2017
911 Turbo S
911 GT3 R 2015
919 Hybrid 2016
908 LH
917 K
911 R
The fun doesn't end there, all players will be able to enjoy the company of the Macan Turbo luxury crossover in-game, at no additional cost. The bad news of course is the absence of 2017's mid-engine 911 RSR which has been delayed until January, and in its place is the 205 mph 911 Turbo S – a suitable replacement all things considered.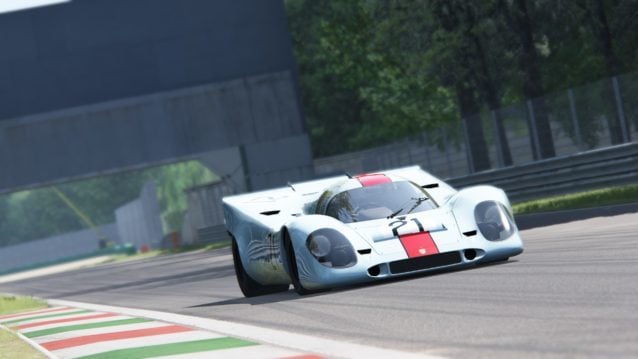 While no release date for the Porsche Pack finale is within sight for console racers, they'll have their hands full at the beginning of the new year with the 16 new-to-console cars coming from the Red Pack and Porsche Pack 2.
Among the many improvements of today's 1.11 update, lies the new Championship gameplay feature. Players will be able to create their own championship, outlining the cars used, tracks, number of laps, points, rules, and compete against the AI.
Is this the end of all things Porsche in Assetto Corsa? With the licensing deal between EA and Porsche coming to an end, the safe bet suggests this isn't the last we'll see of the German marque in the game.
Porsche Pack 3 is now available on Steam for $6.99 USD. The full change log can be found below the gallery.
New Porsche 919 Hybrid 2016 LeMans configuration (Porsche Pack 3)
New Porsche 908 Lang Heck (LongTail) (Porsche Pack 3)
New Porsche 917K (Porsche Pack 3)
New Porsche 911 R (991) (Porsche Pack 3)
New Porsche 911 GT3 Cup 2017 (Porsche Pack 3)
New Porsche 911 GT3 R 2016 (Porsche Pack 3)
New Porsche 911 Turbo S (991) (Porsche Pack 3)
New Porsche Macan Turbo (free bonus)
New Championship gameplay. Create your own championship, select cars, tracks, laps, points, rules and compete against AI.
Fixed wing damage model on Nissan GTR
Shared Memory :
Fixed kersCharge and kersInput for ERS system
Added system/cfg/

messages.ini

to filter system messages out
Added Print function in Time Table (export in Documents\Assetto Corsa\out)
Fixed Setup Electronic tab issue on ABS level for cars featuring no TC
Reviewed damage curve + repair times
New formula for effective radius calculation
PitStop is possible also in Practice session
Fixed Confirm button in Pitstop screen to work without any requestes operation
Fixed UI resetting AI level at start
Corrected front wheels 3D placement for Lotus Evora S and step S2
Pitstop animation disabled for VR users
New V10 tyres and updated physics and inertias for all GT3 cars
New V10 tyres and updated physics and inertias for all GT2 cars plus Glickenhaus P4/5C and Evora GX and GTC
Updated V10 tyres and updated physics and inertias for Hypercars (LaFerrari, 599XX, FxxK, P1, Aventador SV, Huayra, Zonda R), more experimentation
Corrected Porsche 917/30 inertia values
Corrected Porsche 917/30 ackerman and front bump steer suspension
Corrected aero downforce and drag values for Porsche 962 Short Tail
Corrected drag values for Porsche 962 Long Tail
Porsche 962C Long Tail now has passive wastegate pressure map that permits user controlled overboost as a % of a turbo boost map. 0-9 keys
F4 key sets camera on the player car
Added Delete function on Setup screen
Added electronic controller cltr_wastegate[X].ini to control wastegate levels on turbos
Fixed potential track cut on nordschleife endurance and cup layouts
More Posts On...