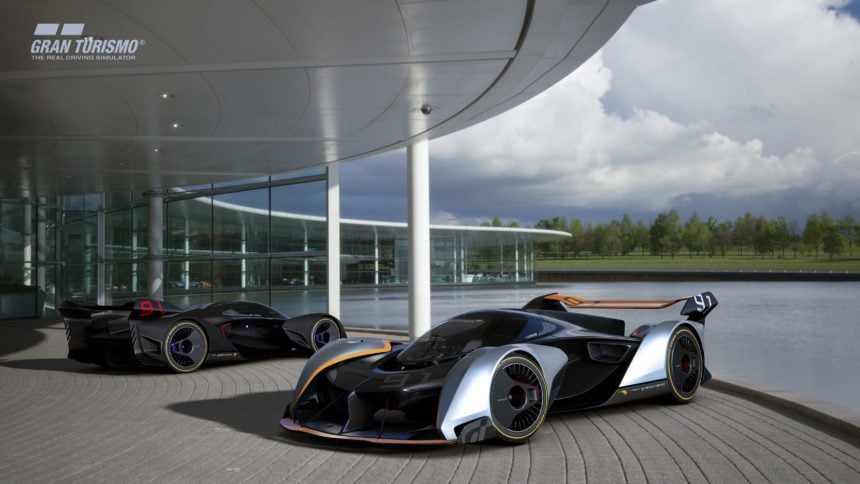 Legendary British car manufacturer and race team McLaren has unveiled a new Vision Gran Turismo car.
With the catchy name of "McLaren Ultimate Vision Gran Turismo", the hybrid hypercar features the brand's own 4-liter V8 turbo and active aerodynamics.
The single-seater car also includes a rather unusual driving position. Rather than sitting upright as in a normal car, the UVGT's driver is lying down. In case you think that's not too strange, given how an F1 driver sits, think again: here the driver is lying on their front…
Rob Melville, the design director at McLaren Automotive, explains:
We wanted to break new ground and to innovate and the McLaren Ultimate Vision Gran Turismo does exactly that. It puts the driver absolutely at the centre of the action, delivering a sensory overload with incredible sound and awe-inspiring acceleration. From the game player's point of view, the driving experience in this car will be like nothing else: the amazing glass cockpit and the motorcycle-like driving position – with your head far forward, almost right above the front axle – combine to allow you to see exactly where the apex of the corner is so you can shave vital milliseconds off each lap.
Power for the UVGT comes from a hybrid drivetrain. The V8 McLaren engine drivers the rear wheels, with electric motors in the front wheel pods. The total system output is 1,134hp (1,150PS), with 940lbft of torque. Extensive use of carbon fiber keeps the kerb weight down to a metric tonne – 2,204lb.
The car features a new aerodynamic technology that McLaren calls "Integrated Active Aero". Rather than moving entire surfaces, the system functions by opening covers around air inlets on key surfaces during cornering. This creates drag and generates downforce, without the need for heavy hydraulics and slow-moving panels.
Players will be able to choose from three standard liveries in the game, dubbed Performance, Ulterior and Noir.
More Posts On...