Mercedes is plotting quite the Geneva Motor Show this year. It's recently revealed it will debut new halo models in the G-Class and S-Class ranges at the show in March. Apparently that 1,200hp duo isn't enough for the brand.
These images reveal a new Mercedes-AMG GT coupe. The four-door will join the existing two-door GT coupe. The shots show a camouflage-wrapped version undergoing wind tunnel testing.
When AMG initially revealed the car's existence last year, it said the car would borrow from F1 technology. In this case that means a hybrid system rather than a full powertrain. While not as extreme as the Project ONE hypercar, an F1-style energy recovery system paired to the AMG biturbo V8 meant upwards of 800hp
Will this make it through to the production model? We can't say for sure, but it seems pretty likely. Mercedes did say that Project ONE was simply the first in a line of F1-derived products, and AMG is now focusing on electrification. Nevertheless, the four-door GT has changed in a few subtle ways since its first reveal — most noticeably its exhaust and door mirrors — so we'll have to wait three weeks to find out.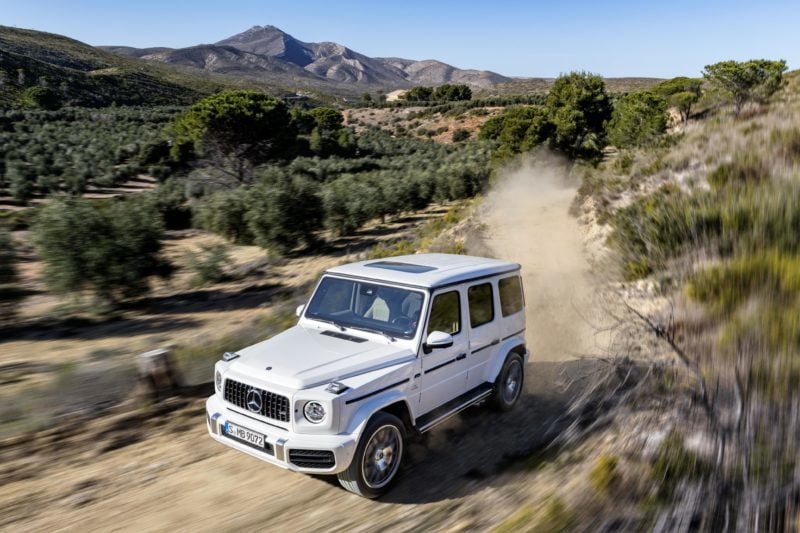 At the other end of the AMG scale is the new G63. Mercedes will also give this car its debut in Geneva, but there are no electric motors anywhere.
Despite appearances, this is an all-new G-Class from rubber to roof. It shares very few components with the car we tested last year, and that includes the engine.
The new G63 makes use of that 4-liter biturbo V8, which replaces the old 5.5-liter unit. That results in a modest power hike from 563hp to 576hp — the same as the AMG GT R — but also a near 10% increase in fuel economy to 21.4mpg (Imperial). It's paired to a nine-speed automatic and, of course, four-wheel drive.
This means that despite the curb weight of nearly 5,650lb, the G63 will hit 60mph in 4.3 seconds. With the AMG Driver's Package, and sufficient bravery, it can reach 149mph, although the car is factory limited to 137mph.
The new Mercedes-Maybach S-Class is also heading across the border from Stuttgart to Geneva. Since Mercedes re-relaunched the Maybach brand in 2015, it has accounted for 10% of all S-Class orders.
Available with either a 462hp, 4-liter V8 or a 621hp, 6-liter V12, the giant limo is 8 inches longer than a regular S-Class. Maybach slots all of that extra space in the wheelbase, to give rear-seat passengers the most legroom possible.
More Posts On...