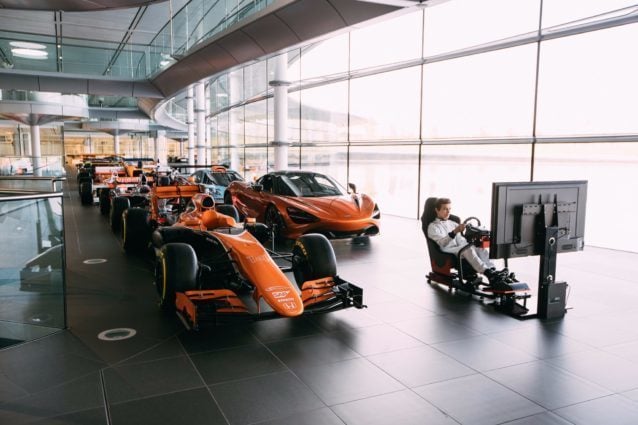 You'd have been forgiven for thinking that last month's announcement of a partnership between Logitech and McLaren-Honda would amount to little more than a name on a car.
It seems though that the pair have deeper and more exciting plans for gamers.
A couple of teaser images and a video posted on Twitter by both companies hints at something in the esports arena emerging from the hookup.
Gamers. Racers. F1 Fans. Get ready. Game on. #eSports #WFG #LogitechG pic.twitter.com/4wtMw5qlS3

— McLaren (@McLarenF1) May 2, 2017
The video clip, weighing in at just 27 seconds, doesn't reveal much. The camera swoops along a line of McLaren's vehicles, past and present, at the firm's Technology Centre in Woking. Lando Norris, McLaren Young Driver program racer, sits at the front of this metaphorical grid, in a sim racing rig.
We can't tell what game is on the screen, with no visual cues other than the fact it seems he's driving around Silverstone. The rig in question is the recently announced Sparco Evolve, and it seems likely he's using a Logitech wheel.
McLaren's own tweet references "The ultimate racer. The ultimate job. Game on.", while the hashtags #esports and #WFG are also used. The "ultimate job" hint might suggest a similar direction to GT Academy, although "WFG" has us stumped; it may refer to whatever competition the duo has planned.
We'll bring you more information on this intriguing proposition when we have it.
More Posts On...