Hot on the heels of Gamersyde's first look at the GamesCom playable GT5 demo, they now provide us with a first real look at ingame damage.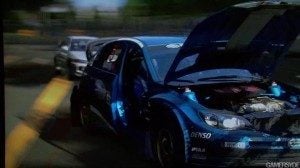 Using the same Subaru Impreza WRC car, the Gamersyde insider drove slightly more carelessly than the previous attempt and we can now see some quite extensive damage to the poor, battered Scooby – including sufficient front-end damage to pop the bonnet clean open (good job those vents are there!) and poor Phil Mills is now sitting in a draught as his side door has been completely ripped away!
Edit: Once more, with added Youtube:
The original comments for this post are no longer available.