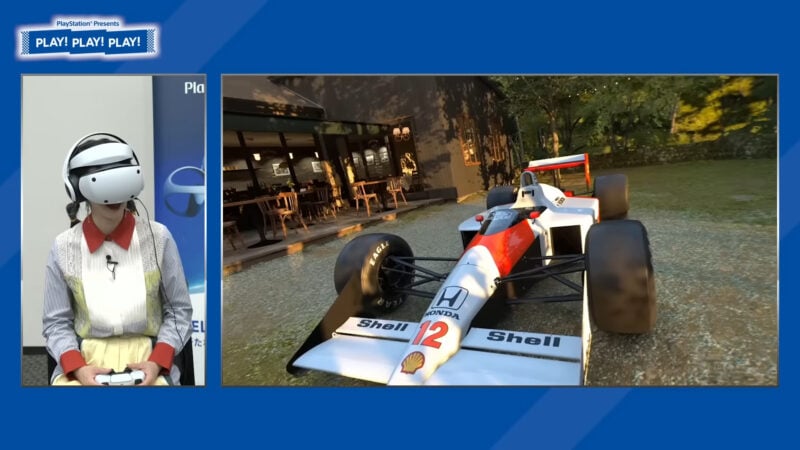 The official PlayStation Japan YouTube channel posted a new video early this morning, showing off new footage of Gran Turismo 7 running on the PlayStation VR 2 headset. It offers the best look yet at GT7's VR Showroom mode, which allows players to explore both the exteriors and interiors of all the game's cars in a 3D environment.
The video also reveals more of the 12 total VR Showroom locations in which the cars will be available for viewing. We are still waiting for the complete list, but so far, the following seven locations can be confirmed:
Pit Garage
Decorated Pit Garage
Japanese Garden
GT Café
Legend Cars Dealership
Brand Central
GT Auto
The very excited host explores the Jaguar XJ13, McLaren MP4/4, and Mazda Roadster NR-A in VR Showroom mode, walking around and getting into the cars. She then takes the Mazda around Deep Forest in a lap which shows various lighting conditions, including shadows and direct sunlight.
Although numerous media outlets, including GTPlanet, have already gone hands-on with Gran Turismo 7 and PSVR 2, we were not able to capture our own video footage. This has made actual video clips of the new hardware in use with GT7 incredibly rare up to this point.
For more details on what it's actually like to play Gran Turismo 7 with the new hardware, be sure to check out our full video on the experience, which includes limited high-quality direct capture gameplay.
With the launch of Gran Turismo 7 Update 1.29 arriving in just a few hours, bringing with it Grand Valley and Gran Turismo Sophy, there will be a flood of new footage in the days to come. Stay tuned!
See more articles on PlayStation VR.