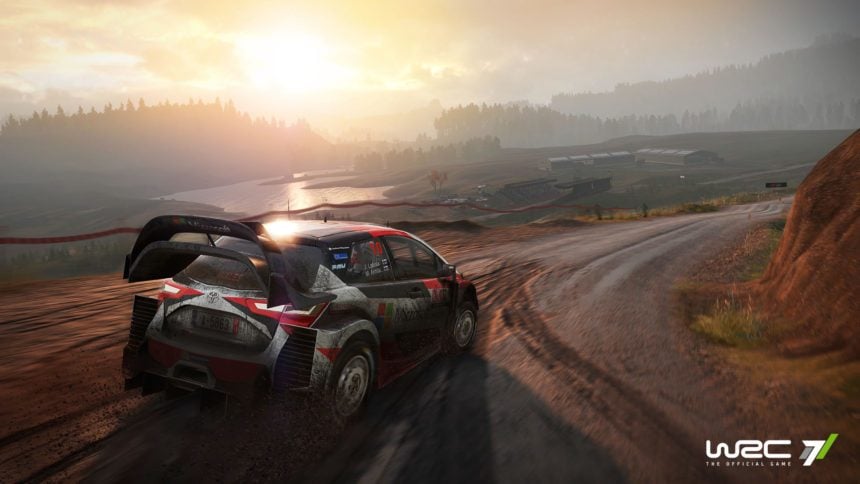 Kylotonn has released a new patch for WRC 7. The official game for the motorsport series is now up to version 1.2 as improvements arrive in the form of camera options and force feedback upgrades. As of the writing of this post, the patch is currently available on PlayStation 4.
The launch version of WRC 7 made keen use of dynamic FoV and motion blur to emulate the feeling of speed. The implementation of these types of feature are often not favoured by players and as a result, Kylotonn has given the option to disable both. Removing both these settings will offer a more crisp and consistent experience whilst driving.
We downloaded the update and tried out the new options and they certainly clean up the experience quite a bit. Dynamic FoV in WRC 7 adjusted the camera in situations of high speed and when turning around corners. Turning off this feature takes away both these elements and for players who don't like the Need For Speed style panning it solves the issue. There didn't seem to be any adverse effects from removing the previously mandatory camera kink — just expect the sense of speed to feel lessened.
Removing the motion blur creates a more crisp picture when driving. Sometimes racing in the dusk and in the rain could make the image appear muddy, but the new option does its job in cleaning this up. The downside to carrying out this change is that WRC 7's graphics aren't exactly the greatest and no motion blur highlights this. Ultimately, this is a trade-off you'll have to accept should you want to disable motion blur.
Full patch notes are as listed below. Those who use sim racing peripherals should be aware of the alterations:
Improved detection of peripherals
Enhanced Force Feedback
Added additional settings to calibrate FFB (found in the 'Options' menu)
Added the option to toggle dynamic field of view and motion blur
One of the worries with a yearly release cycle is a potential lack of post-game support. WRC 7 was more than decent at launch (read our review here) but the addition of more options is appreciated. It's good to see Kylotonn build on WRC 7 and offer players more choice.