If franchises in the rally genre were students at a school, each would have a vastly different personality. DiRT would be the trailblazer, constantly showing off new, innovative ways to approach work and tackle a wide variety of subjects. Sebastien Loeb Rally Evo would be the quiet smart kid, offering a lot but not quite making the impact it should. WRC represents the bank-rolled student who has a private tutor but still manages to underachieve.
Although the series has been far from bad, players have responded to recent titles with a shrug of the shoulders. It occupies a space but hasn't done much with it. Technical issues also marred each entry, just adding to the problems.
WRC 7 aims to buck that trend with Kylotonn going all-in with a more polished approach. It wasn't until our E3 hands-on that we started to notice the steps that had been made to improve the series. Now that we've played the game extensively, we can confidently say that WRC 7 is the best official rally title in years. But is it the new head pupil?
Big Ben Interactive provided us with a review code. The title was played on a standard PS4 with both a Dualshock 4 and Thrustmaster T150. No driving aids were used throughout.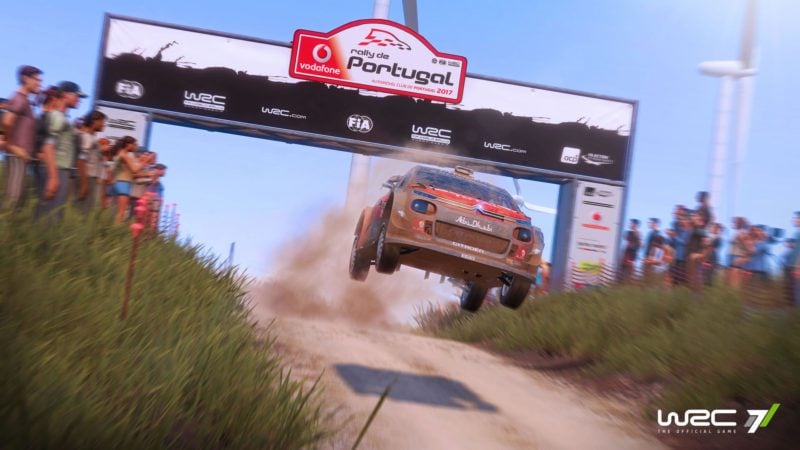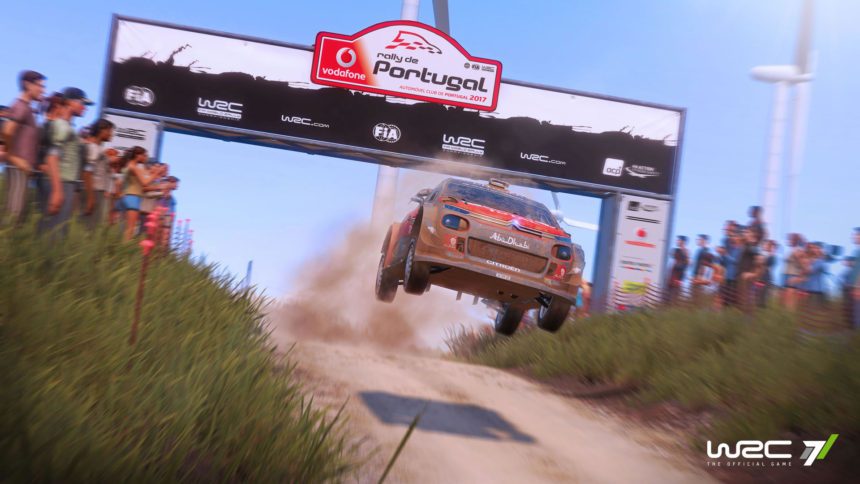 Content and Value For Money
WRC 7 lives up to it's namesake as a replication of the real-life World Rally Championship. Packed with the stages used in the 2017 WRC Season, you can take on these tracks in cars across vehicles in the WRC, WRC 2 WRC Junior and Bonus car categories. As expected, all the teams are here and the vehicles look the part.
The sheer exclusivity of this content alone will intrigue players, and so it should. This year's car roster is the most exciting that the sport has had for ages. Toyota, Citreon, Hyundai, Ford and Mini all compete in the 2017 series. The authenticity comes at the price of losing out on historic or older rally machines though, so bear this in mind.
Speaking of that calendar, it's nothing short of phenomenal. The sheer jump from DiRT 4's track generator to the real stages in WRC 7 is staggering. Just about every stage in the 2017 season offers intense challenge, high speeds or scenery. Some locales — like the Rally de Corse — even offer all three.
Make no mistake, if you are a WRC diehard, 7 continues the traditional of the titles before it and offers the most comprehensive set of stages. The Super Special Stages are also great fun, acting as a less intense "break" from the real stages. Actual rally tracks can extend past 8mi under the "Epic Stage" category. These monoliths can take 10 minutes or more to tackle. Kylotonn has nailed the track design and scenery right from the first drive.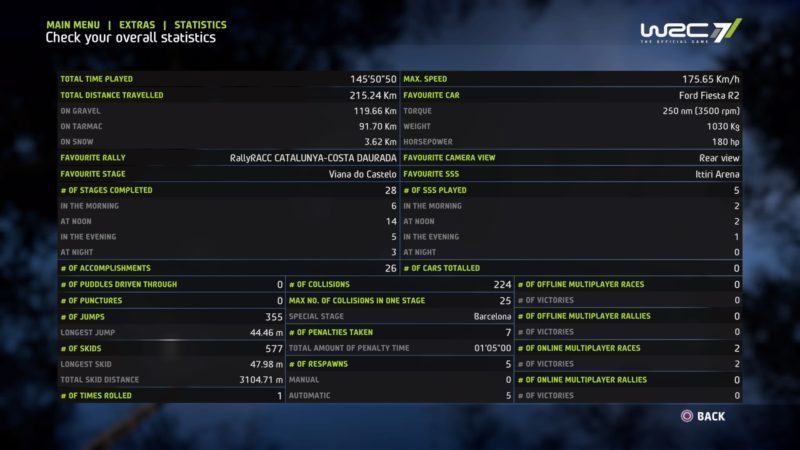 The main core of the game is career mode which is as standard as possible. You'll start from WRC Junior and make your way up to the real deal through contracts earned from good performances. It really is as simple as that. You'll get messages of support/ridicule from your team and other press outlets but these amount to little more than a few post-event sentences. The strength of the career comes from the licensing. Competing for actual FIA-certified championships beats out made-up tournaments found elsewhere in the genre.
Achievements throughout WRC 7 are tracked via the Drivercard. The Drivercard tracks everything from wins, retirements and penalties to give you a comprehensive look at your rally career. The foundations for esports integration are also there but currently not in use at time of writing.
https://www.youtube.com/watch?v=Es8y9ejrUGk&feature=youtu.be
Graphics
From a graphical and technical performance standpoint, WRC 7 marks a step up for the franchise. The plague of screen tearing and dropped frames disappears as the game mostly sticks to a locked 30FPS and 1080p resolution.
This does mean that it pales compared to other 60FPS options in the genre but the lower framerate performs very well. Opting to go for 30FPS has allowed Kylotonn to create a very pretty game. Occasional framerate dips affected us on the Monte Carlo rally, though. Specifically, it was only with foggy weather — every other time it was smooth sailing.
The graphical fidelity isn't fantastic; it's about on par or with other racers in the rally genre. Where WRC 7 really flexes its muscles is through the incredible environments. Kylotonn has recreated each stop on the WRC tour faithfully, and it really adds to the overall experience. Toss in weather effects such as rain and the title really hits home at times.
Another area that caught our eye was the inclusion of particle effects. Pieces of gravel bounce and crackle off your car and in rainy conditions you'll be forced to turn your wipers on to deal with the residue on your windscreen. The neat details like this make the overall look of the game a bit more forgivable.
Kylotonn has replicated the real-world cars with an appropriate level of care. Players can view each vehicle in a "showroom" mode, giving them the chance to inspect the high quality models up close. The rally demons look superb here and those who've wanted to get personal with the vehicles will be happy. On the track, cars appear slightly less detailed.
Damage is serviceable and impact to components such as suspension can actually be identified by the car's visual behaviour. It's a nice touch that adds to the paranoia of rally driving even more than usual.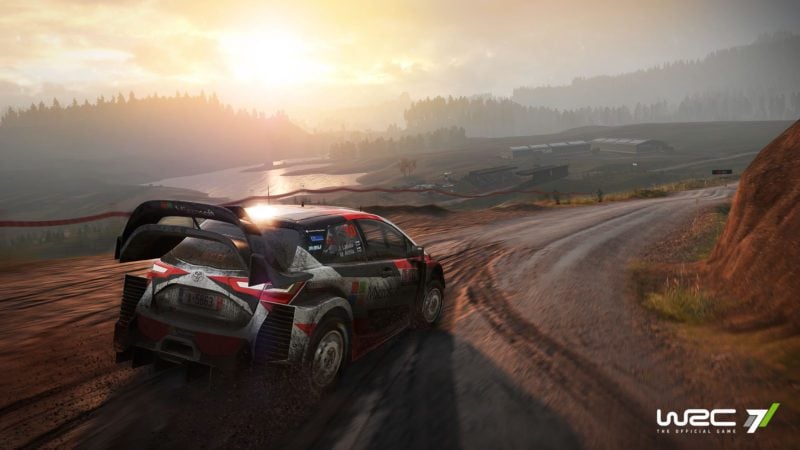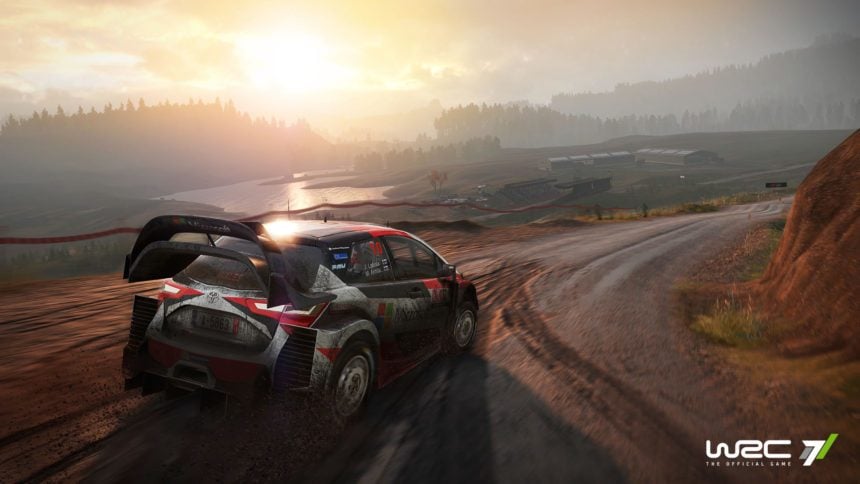 Sound Design
Sound design in WRC 7 is a bit of a mixed bag. Raw engine noises don't quite have the pop and intimidation of DiRT 4 and SLRE, coming across more muffled and passive. This isn't to say the cars sound bad, more that they don't quite have the oomph you'd expect from the most aggressive WRC roster in recent times. The atmospheric sound design makes up for this though.
In the claustrophobic cockpit cam, you'll hear everything from rain, snow, gravel or destructive pieces of the environment bounce off your rally monster. If your car takes damage, you'll sometimes hear noises of the engine churning or body parts pinging.
It makes for a visceral experience that inspires the paranoia talked about earlier. The last thing you want to hear half-way through the Catalunya Rally is a struggling engine! On the other side of the cockpit, pacenote reading is spot on, although sometimes consecutive corners can make the co-driver seem rushed.
The game's soundtrack is pretty much non-existent so don't be expecting the earworm tunes you'd find in 7's competition. Meanwhile, voiceovers help game navigation from first boot-up, helping newbies find their feet.
https://www.youtube.com/watch?v=SIGW6H423lI&feature=youtu.be
Driving Physics and Handling
Kylotonn has created a fun rally game that doesn't take itself too seriously. Playing with no driving aids, each car reacts with nuance, allowing you to slide the rear out when required. The physics engine is realistic in essence but doesn't have the savage edge of a title like DiRT Rally. This isn't necessarily a negative though; we found throwing the current WRC cars around to be the most enjoyable experience we've had in a rally game so far this year.
The technical tracks throw up the real challenge so once you get a grounding with the physics engine, it all comes down to shaving those tenths of a second off a run.
Playing on a pad may take some folks a bit of time to get used to. The top tier cars will twitch out of your grasp at first, until you get more experienced. Given the power distribution of these machines this is to be expected. Our wheel tests proved a more natural experience, giving an appreciated level of extra control.
How the physics engine deals with the various surfaces feels solid (pun intended). Tarmac is sticky and fast, making those hairpin corners even scarier if you don't prepare well. Gravel is the standard surface in rally titles and principles picked up from playing other games transfer with minimal issue. Snow and ice offer the enigmatic experience only possible with the wintery foe. All of these play into a difficult yet satisfying handling engine that takes a few liberties to not overwhelm the player.
Even with this approach, the key aspect WRC 7 gets right is that cars react as they should. With the type of pinpoint driving required to navigate the majority of the series calendar, it was key Kylotonn got it right this time around.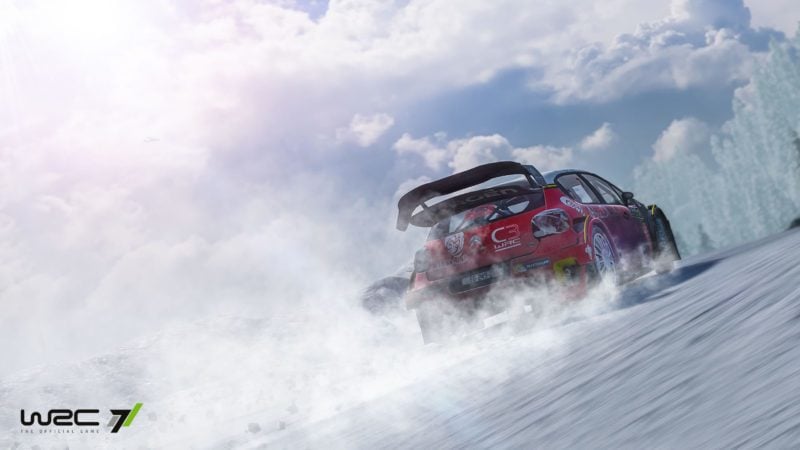 Online Features
The online aspect of WRC 7 is slightly underwhelming. Players can host traditional online lobbies or join already open rooms from a "quick play" option. Each room can host up to eight players and the host can set up multi-stage rallies with varying difficulty levels.
During online racing, you can see live time-feeds of your fellow competitors and a ghost version of the car closest to you. At first, this seemed distracting due to the intense nature of rallying but after a few trials it's easy to phase this out. Unfortunately, this is where online really peaks. On the other hand, WRC 7 includes local multiplayer options, with both split-screen and hot seat gameplay.
There is more of a focus on indirect multiplayer through leaderboards. Weekly challenges will test players against preset tracks (and perhaps cars). Unlike DiRT, which only allows players a single attempt at this type of challenge, WRC 7 uses a points system.
If your first time is blisteringly fast, the game will give you more points at the end of the event than someone who, say, took 12 attempts to get up the leaderboard. It's a nice incentive to try and nail your first attempt but we quite prefer Codies' way of tackling weekly challenges. Only having a single go at a given event upped the intensity.
Outside of the challenge mode, every track in the game has its own leaderboard to tackle. A downside to this is that there are no cumulative rankings. Given that the WRC is based around competing across multiple stages, this seems to be an oversight on Kylotonn's part. Regardless, the stage-specific leaderboards will add longevity to the title longer term.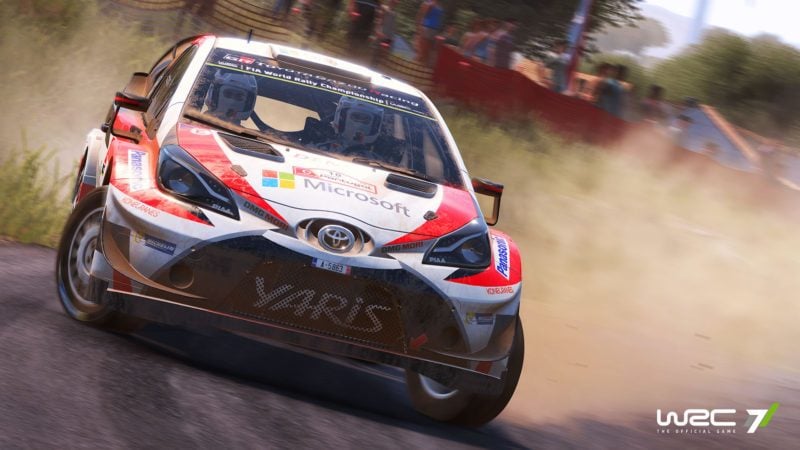 The Verdict
The most impressive aspect of WRC 7 is how it has vastly improved over its predecessors. Previous entries in the series have really struggled to win fans over but the newest iteration feels like there is a future for the series under Kylotonn. Although the game isn't perfect, WRC 7 marks a big step forward for the official series.
The biggest takeaway for us? Fun. WRC 7 blends a significant — but not overwhelming — shot of realism with fantastic level design. After the slight let-down that was the generated stages of DiRT 4, the snaking trails of WRC 7 are a revelation. In truth, the game is more than the sum of its parts.
We're intrigued to see this year's esport offering and how the weekly challenges can keep players coming back. Given the simplicity of career mode, we think the title will live by how competitive the aspects of multiplayer become. Even from early signs though, having no punishment for players leaving lobbies early seems a huge misstep. Competing on an 11 minute stage to see your only competitor leave in the last minute just isn't fun.
In conclusion, those after a more formal approach to rallying should take a look at WRC 7. As the only title offering the full 2017 WRC calendar and car roster, the exclusive content makes it stand apart from the rest. Having a fun physics engine behind it makes this iteration feel worth your time.
The WRC series is a student transformed. Don't bet against it being top of the class in the very near future.
WRC 7: World Rally Championship 7