As promised, Sector3 Studios has pulled the curtain back, revealing the next Porsche lined up for this month's RaceRoom Racing Experience update. Give a warm welcome to the Cayman GT4 Clubsport.
Following the original announcement, three cars are coming to RaceRoom before year's end, and nine total for the brand. Hot on the heels of this past weekend's previews of the GT3 Cup car, the Clubsport is a welcome addition. As the second of three Porsche cars coming to the game this month, Sector3 looks to end 2017 on the right foot.
Based on its production run Cayman GT4 sibling, the Clubsport is without a doubt bred for the track. Like the production car, power comes from a 3.8-liter flat-six engine putting down 385hp. Where the two differ is weight, while the road car weighs in at 2,955lb, the Clubsport slims down to 2,866lb. It's also worth mentioning that the car formally introduces the GT4 class to R3E.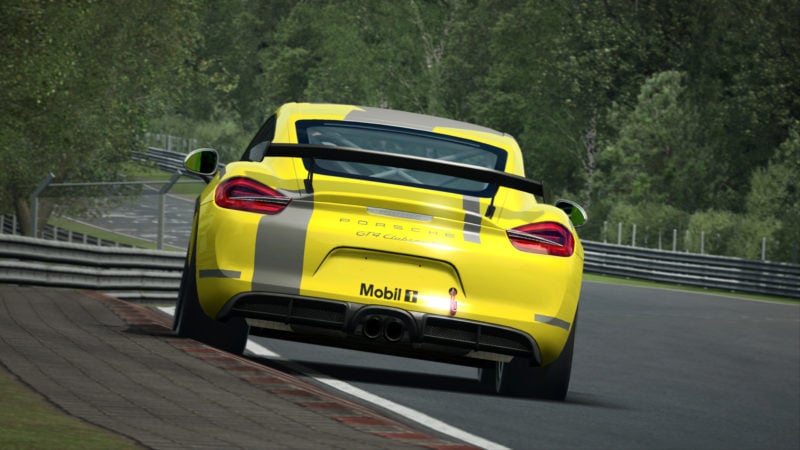 The Clubsport has a lot in common with the previous reveal as well. For example, the lightweight front axle comes from the GT3 Cup. Furthermore, the rear suspension borrows elements from the Cup car. Unlike the GT3 racer, the Clubsport is a little more forgiving and includes an ABS system.
Also like the GT3 Cup, the GT4 competes in one-make series around the world. As before, we expect this to be fairly popular in online circles and with racing leagues.
R3E will become the fourth game to feature the GT4 racer, following in the footsteps of GT Sport, Assetto Corsa and Project CARS 2.
With two Porsche racing machines confirmed, only one remains.
Stay tuned for more on the update and more on RaceRoom Racing Experience as it's available.
See more articles on Porsche, RaceRoom DLC, and RaceRoom Racing Experience Game Updates.