Earlier this month, Porsche released a cache of images revealing previously unseen concept cars. The series, called Porsche Unseen, showed some of the design concepts — in various stages of completion — of vehicles from 2005 to 2019, in connection with a book on Porsche design by the same name.
There was quite the wide range of vehicles in the images. From Boxster- and 911-based machines, to a Macan three-door concept, and even a battery powered post van, the Unseen collection seemed to cover all of Porsche's existing bases and beyond.
In among the more performance oriented examples was the Porsche Vision 920. This hypercar, based on the three-time Le Mans-winning 919 Hybrid, was pretty hard to miss in its red and white livery, but there was one detail largely hidden from view: a Gran Turismo logo.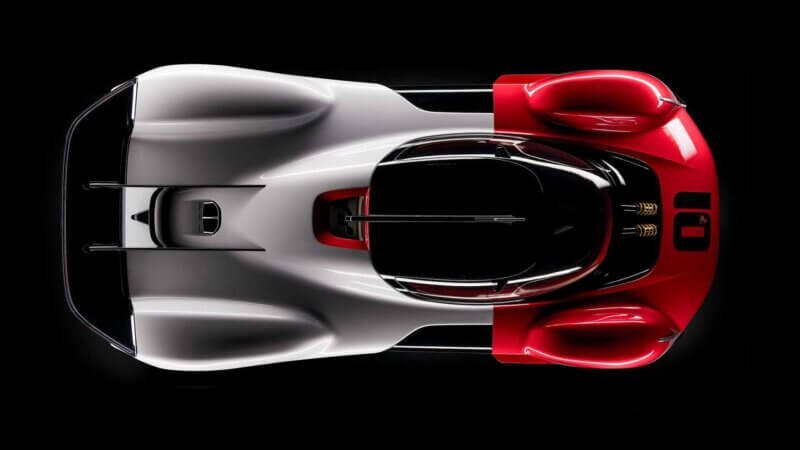 The logo appears within what looks like a small window set within a red-highlighted portion of bodywork, behind the cabin and the roof fin. Even with it pointed out, it's not the easiest of things to spot — but why is it there?
Gran Turismo fans have been eagerly waiting for a Vision GT car to come from Porsche. The Vision GT project is a unique collaboration between vehicle manufacturers and Polyphony Digital to create fantasy vehicles that come to life in the virtual environment. Inspired by the Citroen GT by Citroen, Vision GT has been running for over seven years, and includes brands from Alpine to Zagato.
Porsche announced its Vision GT in September 2019, and it was originally mooted for release into GT Sport in 2020. Is the Vision 920 going to be that car? Well… no.
We spoke to Porsche GB, who approached the design team about the GT logo. It transpires that the design was originally part of the project but ultimately it won't be the Vision GT:
The Porsche 920 Vision was developed during the brainstorming phase for the Vision Gran Turismo partnership between Polyphony Digital and Porsche. However, for our eventual contribution to the Vision Gran Turismo program, a different design approach has been chosen and we're looking forward to revealing that next year.
Although Polyphony Digital is still adding cars to GT Sport, this likely means that the Porsche Vision GT will arrive in Gran Turismo 7. The game itself is scheduled for the first half of 2021, and we still don't know the identity of blue car that features heavily in the GT7 pre-launch imagery…
See more articles on Porsche and Vision Gran Turismo.