There's something cool about movie cars. In fact, we've featured a few in previous Wants such as the Land Rover Defender from Spectre or the 350Z from Tokyo Drift. This week we are taking a look at another film car, the Peugeot 406 from Taxi.
If you live in the US, you might remember Taxi as a 2004 film starring Queen Latifah and Jimmy Fallon. It's atrocious and if you haven't seen it, you shouldn't subject yourself to it. In fact, it has a whopping 10% approval on Rotten Tomatoes.
The basis for this version of Taxi came from a French film with the same name. Act shocked, Hollywood came in with a remake. However, unlike its American counterpart, it's not terrible. It also features a rather iconic star car, in the shape of an over-the-top Peugeot 406 sedan.
In short, the film — written by Luc Besson, the man behind The Fifth Element — is about a pizza delivery driver named Daniel Morales, played by Samy Naceri. He's the fastest pizza boy around but decides to give it up to be a taxi driver. Along the way, he picks up several passengers and takes them to their destination in no time flat.
He does this by transforming his 406 with a series of buttons and toggles. By doing this all sorts of racing modifications appear in a sort of an Inspector Gadget manner.
Morales eventually gets picked up by the police and they confiscate his license. To get it back, he agrees to help the police find a group of bank robbers. It's sort of silly, in the same vein as The Transporter (another Besson creation).
Since the 1998 release of Taxi, Besson has made it into a series with four more films. The most recent, Taxi 5, came out this past April and is still raking in a decent amount of money at the box office. Altogether they've racked up $302 million.
The subject of this week's Want comes from Taxi 2, which came out in 2000. Like the other films, it features the same Peugeot 406 albeit with some serious bodywork.
With the addition of an exaggerated front splitter, large rear spoiler, and twin roof intakes, it looks pretty eccentric. But remember, this was Europe in the late 90s — cars like this were pretty standard in terms of customization.
Despite its racing modification on the outside, under the hood, it's pretty mundane. It features the stock 2.9-liter PSA V6 making around 210 hp. This is all mated to a 5-speed manual gearbox. Altogether this means a 0-60 of about 7.5 seconds and a top speed of around 140mph.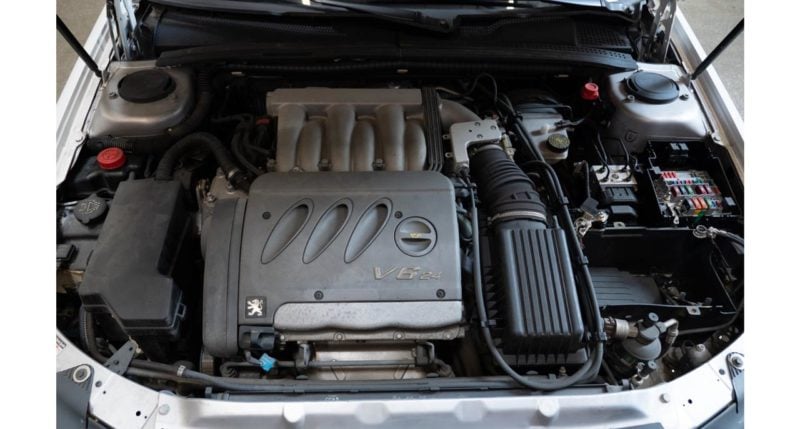 This example is just one of the many hero cars from Taxi 2. Most of those ended up damaged or scrapped, which isn't that much of a surprise.
It's currently up for auction through Leclere in its The Peugeot Adventure sale coming up on September 16th.
Despite its movie connection, the estimate is actually pretty low. With a range of just €8,000 – €10,000 ($9,200 – $11,500), if you want a movie car this is pretty obtainable.
There's a catch though: the car is not street legal. Since it came directly to Luc Besson from Peugeot, it's missing a few things. Among these is, according to Google Translate, "cold stamping on the chassis". That suggests the car was a body-in-white, missing its chassis VIN, so can't be approved for road use.
Even with it not being street legal, it'd certainly stand out at a car show. Plus with it being part of a much loved French film series, we have no doubt someone will pick it up.
See more articles on Film Cars, Peugeot, and Wednesday Want.