Sony has officially revealed that its next-gen virtual reality (VR) platform will be officially known as PlayStation VR2, and announced technical specifications for the device.
As you'd expect, PS VR2 moves the game on quite literally from its 2016 predecessor, offering improvements in every department.
That starts right with the display itself, which is again an OLED item but moves the per-eye resolution up from 960×1080 to 2000×2040. It retains the PS VR's 90/120Hz modes, but has a 10% wider field of view at 110 degrees.
The new headset also makes use of foveated rendering. This technique takes its name from the "fovea", a point on the retina which is the center of your vision. By tracking where the player is looking — with an IR camera for each eye in PS VR2 — the system diverts resources from peripheral vision in order to give better detail on what's dead ahead.
Four additional cameras on the headset track the player and the controllers, using what's known as "inside-out" tracking, to position the player in the game world. That means there's no need for an external camera as there was with PS VR, which used the "outside-in" tracking method — and the system therefore needs only a single USB-C cable to operate.
In addition the headset features a six-axis motion sensing system, with gyroscope and accelerometers, as well as a built-in motor for feedback effects, and PlayStation 5's Tempest 3D AudioTech to deliver positional sound.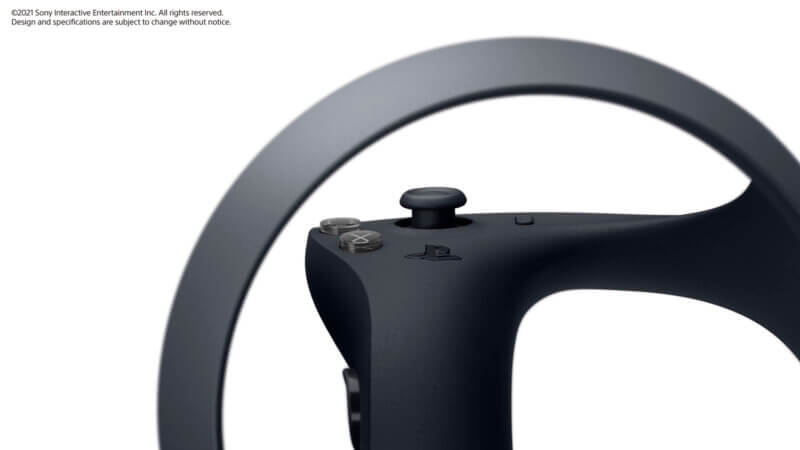 The PS VR2 controllers previously revealed now also have a name: PlayStation VR2 Sense. We've already heard about the tech involved on these controllers, which use the same methods underpinning the PS5 DualSense controller to deliver haptic feedback and adaptive triggers.
Each controller features half of the range of buttons you'll find on a DualSense, with L1, L2, L3, Create, Triangle and Square on the left device, and R1, R2, R3, Options, Circle and X on the right.
Although Sony hasn't revealed the final form of PS VR2 — we'll have to wait until later in the year for that — or the price, it has announced a game for the system already.
That's Horizon Call of the Mountain, from Horizon series developer Guerrilla Games and VR specialist Firesprite — which Sony bought in 2021. Set in the same universe as the upcoming Horizon Forbidden West PS5 title, Call of the Mountain is an original title specifically for PS VR2, and you can see the teaser below.
Whether Gran Turismo 7 will support PS VR2 in any capacity is something we'll have to wait to find out more about, but given that GT Sport had a limited mode for the original PS VR, we'd expect something for the next-gen device in the PS5 version of the title to arrive at some point.
See more articles on PlayStation VR.