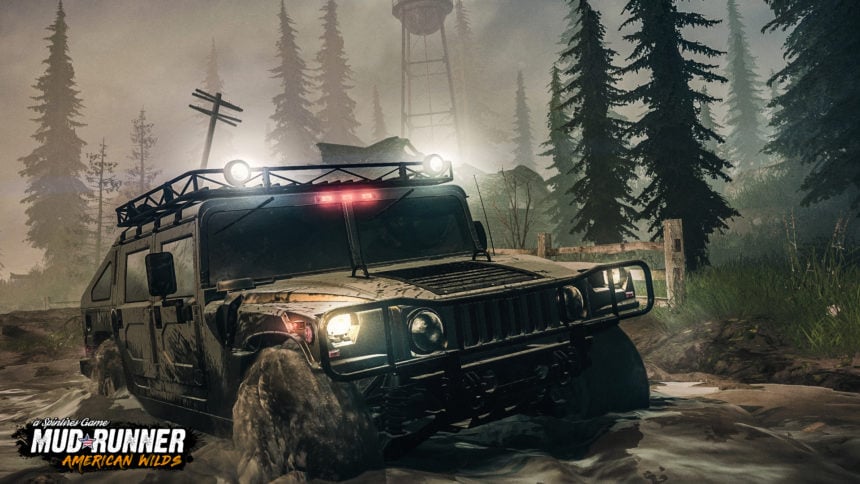 To kick off the month of September, we got confirmation of the upcoming Spintires: Mudrunner expansion. Billed as American Wilds, we knew it was close but didn't have a release date at that time. Now we do and it's only a few weeks away with a scheduled October 23 release.
In addition to the release date, Focus Home Interactive (FHI) also gave us a new teaser trailer. In it, we see a sleepy little American town surrounded by forest. This is presumably the Minnesota/North Dakota map.
Right off the bat, we see it's a bit different than the Soviet landscape we're used too. It's brighter and the terrain is a bit different too. It's still not a major departure though.
Despite this, it does put to rest one of the worries we had when the rumor of the DLC first came up. At that time we figured the expansion would rely on Alaska and look more or less like Russia. Thankfully this isn't the case.
Also in the trailer, we get a chance to see a Hummer cruising along the street, dirt two-tracks, and muddy roads.
Unfortunately, that's the only vehicle we see in the trailer.
In terms of other vehicles, we know the Western Star 4900 or 6900 and Freightliner Classic are on the list. This is thanks to a few screenshots FHI released with the announcement. However, we still don't know what the other four vehicles are.
In total American Wilds will bring seven new licensed vehicles to the game. These will come from Hummer, Western Star, and Chevrolet according to the dev blog. However, tucked away in the FHI shop listing for American Wilds is another brand: Ford.
Hopefully, with that bit of info, it means we could actually get the F-150 Raptor or its little brother the Ranger Raptor.
In addition to the announcement of the expansion, we also got an update on the Nintendo Switch version. It will hit stores sometime in November and include American Wilds plus the past DLC.
In the meantime, if you want to check out the trailer for yourself, you can find it below:
More Posts On...