If there's one thing American drivers love it's a pickup truck. But in a country where pickups are common, how do you set yourself apart on the road? Thankfully, Hennessey has the answer: more wheels.
A 6×6 off-road vehicle is nothing new. Mercedes did it with its G63 AMG 6×6. Hennessey is now giving the 6×6 treatment to the brand new Chevy Silverado Trail Boss ZR1.
This new rig from the Texas-based company sports the name Goliath. One look at it and you'll see it fits the truck like a glove (a glove decorated with Infinity Stones at that), since it's absolutely massive.
To give the Goliath its somewhat unusual look, Hennessey elongates the truck's bed and installs another axle. It then lifts the entire truck a full eight inches to make it a dominating presence on or off-road. To provide grip, Hennessey uses 37-inch BFGoodrich KM2 Mud-Terrain tires wrapped around custom 20-inch wheels. Six of them, of course.
Finally, to move around the sheer mass of the thing, the 6.2-liter V8 gets a makeover as well. By adding a 2.9-liter supercharger running 7psi of boost, the Goliath clocks in at 705hp and 675lbft of torque.
According to Hennessey, the extra power will put the 0-60 times somewhere in the mid-four-second range. That's on par with a Porsche 911 Carrera T, despite weighing several times more.
If the 705hp rating is a bit weak for you, Hennessey does have a solution for that too. Buyers can opt for the stroker kit which bumps the output to 808 ponies.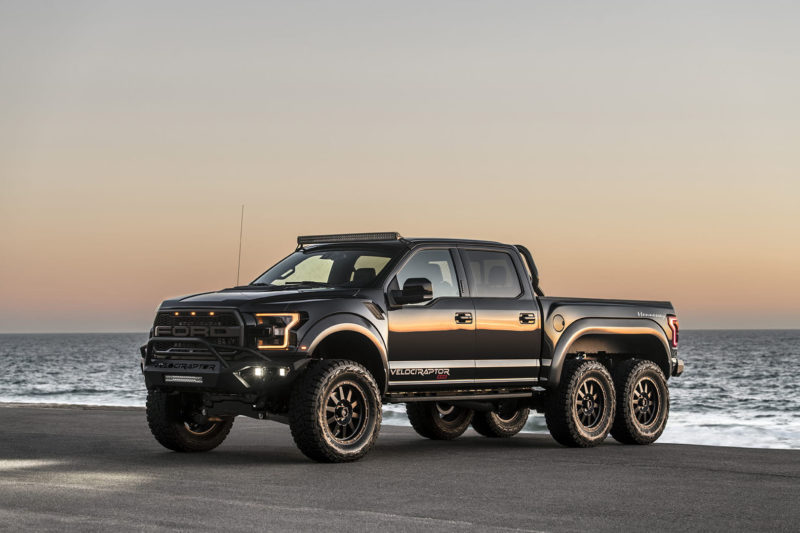 But brand loyalties run deep, and some pickup fans might baulk at driving a Chevy. Luckily Hennessey has another 6×6, the Ford-based VelociRaptor.
Looking at the numbers, the Goliath is the clear winner in a heads-up race. The VelociRaptor only packs a 3.5-liter twin-turbo V6; it may be worth 600hp and 622lbft, but that puts it some 100hp shy of the Goliath. With a 0-60mph time of 4.9 seconds, it's half a second behind the Chevy.
As for off-road prowess, they look about equal. Both have massive tires, full off-road long travel suspension, and enough gadgets to let you conquer the best Mother Nature can offer. Chances are neither truck will ever see any difficult off-road terrain. Given their price tag and size, they're more suited for Rodeo Drive than the Rubicon Trail.
And that price? Hennessey will make just 50 VelociRaptor 6x6s at $349,000 a time. The Goliath makes that seem cheap and common, with only 24 planned and starting at $375,000 each.
More Posts On...