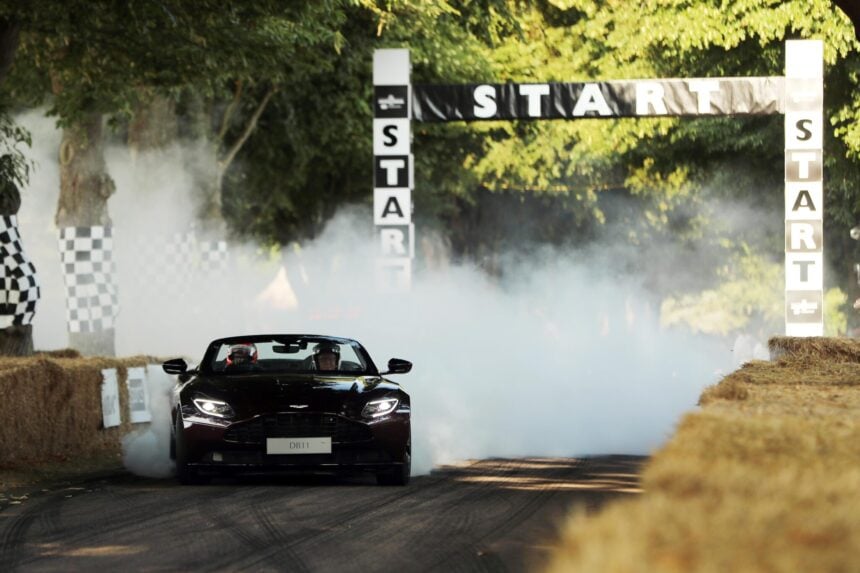 The Goodwood Festival of Speed is arguably the biggest public celebration of motoring in the world. For four days each year, the Duke of Richmond's famous family residence, Goodwood House, becomes a focal point for any kind of road vehicle — from 19th Century pioneers to modern-day electric race cars and all points in-between.
Hundreds of thousands of people pass through the gates each year, and every major manufacturer (and most minor ones) want to get their products on display at the Festival of Speed. On top of all that, there's also an actual race going on right through the middle, as supercars and race cars try to make it up the 1.16-mile long driveway as quickly as possible.
Whether you're planning on going for one day or across the whole event, there's almost too much to see without a plan. Here are the ten things we think you should prioritize this year.
The Central Feature
Goodwood's Central Feature is always a highlight of a Festival of Speed event. It's an enormous sculpture dedicated to a brand (except in 2018, when it was instead dedicated to Bernie Ecclestone) which dominates the Sussex skyline. Gerry Judah is the artist who has designed all 22 central features to date, including the 2019 item which celebrates Aston Martin.
We won't know what this year's feature will look like until the official unveiling to invited guests and media on Wednesday evening. However, we can say that it's likely to include up to 150 tons of steel — finished in white — and bring together some extraordinary Aston Martin models from across its history.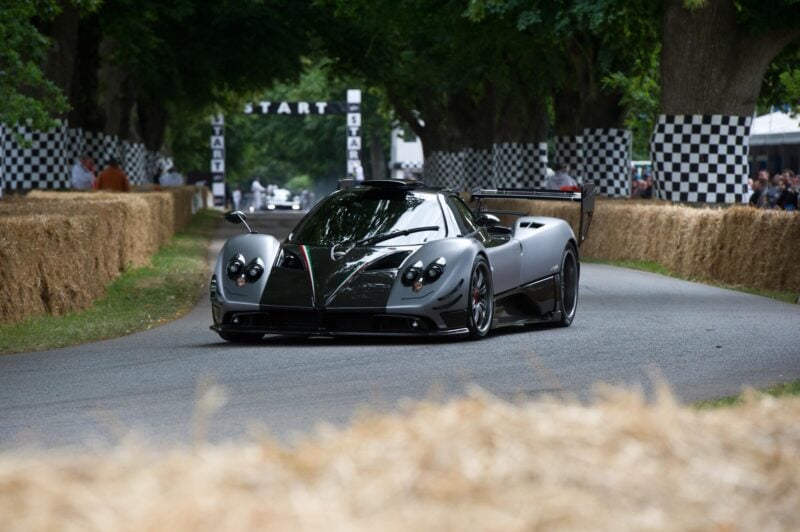 Pagani 20th Anniversary
2019 marks the 20th anniversary of Pagani, and Goodwood will be the focal point of celebrations. There'll be almost £100m ($125m) of Pagani models at the event, with around 30 different cars spread around the site. The GRRC Kinrara enclosure will include the very first Zonda ever made, and there'll be a convoy of 20 Zondas taking to the hill.
You'll also be able to watch (and hear, from a very, very long way away) a Zonda R running up the hill climb as part of the supercar run, twice each day. If that wasn't enough, Horacio Pagani himself will also be at the event.
Bonhams Auction
If you're heading to Goodwood with a lot of cash burning a hole in your pocket, be sure to visit the Bonhams marquee. The Festival of Speed hosts a high-value auction here each year and although 2019 is going to find it hard to top 2018 — when a single car sold for over £10m ($12.5m) — there's plenty of special metal for both big and small spenders.
You could put £1.3m ($1.64m) towards the McLaren P1 XP05 prototype pictured above, or splash a round million on a 110-year old Maybach with a Zeppelin airship engine. For those with smaller budgets, there's a £17,000 ($21,000) Audi Quattro Coupe, or a Ferrari 400GT coming in at £20,000 ($25,000)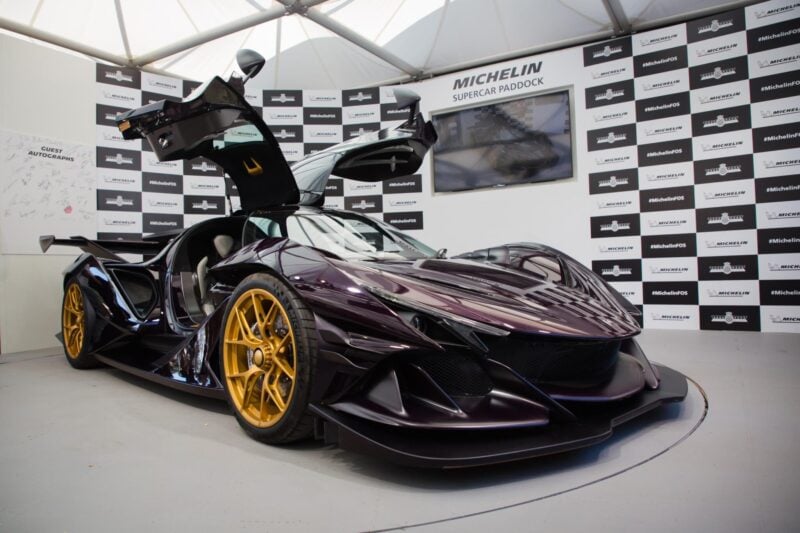 Supercar Paddock
For 2019 the Supercar Paddock has moved to make way for a new addition (see below), but new, fast cars remain a staple of the Festival of Speed. It's in a new area near the hill climb's start line — conveniently for the supercar run which takes place twice a day.
This area gives you a first chance to see some brand new cars making their public debuts. That will include for 2019 a mysterious new version of the Ford GT, the global reveal of the new De Tomaso Project P, the Ginetta Akula, and the Koenigsegg Jesko.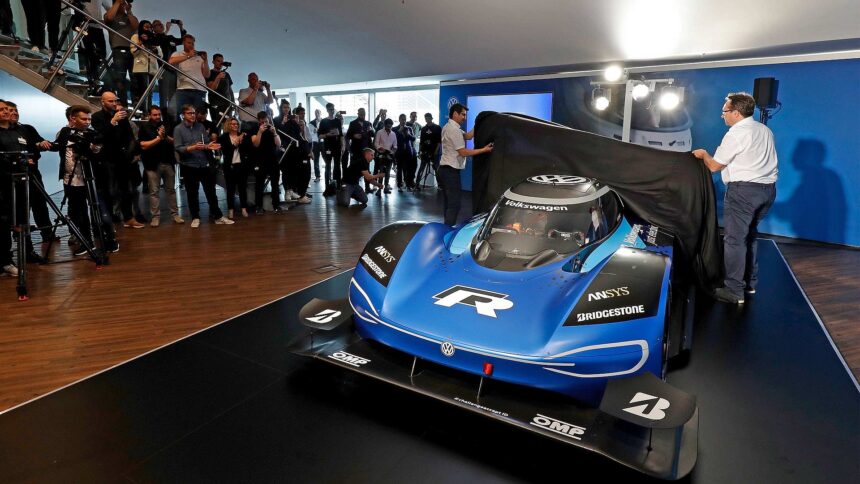 Volkswagen ID R Record Run
Volkswagen's ID R electric racer was the fastest thing on the hill last year, but it wasn't quite as quick as it could have been. We don't just mean that Dumas could have gone quicker if he hadn't taken to the grass and dismantled the rear wing on the hay bales, but the car itself wasn't dialed in for the event.
Last year's car was in Pikes Peak specification, designed for high downforce in thin air — or lots of drag down at Sussex sea level. This year's will be fresh from the Nurburgring where it became the fastest electric vehicle ever. Now Volkswagen has optimized it for speed on the flat, could we see the all-time record fall?
The Arena
Taking the place of the Supercar Paddock for 2019 is "The Arena" — or rather "The Arena presented by Forza Horizon 4: Lego Speed Champions". Horizon is arguably Britain's second biggest motoring festival (albeit virtual), and lends its name to a new stunt area.
You'll be able to see all sorts of drift and stunt mayhem this year, with performers like Ken Block, Terry Grant and Mike Whiddett torturing tires.
Cartier Style et Luxe
The Cartier lawn, between the stable block and The Arena, provides a trip through the history of motoring. It's an invitation-only concours event, usually based on various themes — 2018's themes included 25 years of FOS — which presents some of the most unusual cars from decades of motoring to create a unique collection that you can just walk right through, with no ropes keeping you away.
You're not likely to find anywhere else in the world where you can walk right up to a McLaren F1, a Bugatti EB110, a Citroen 2CV Sahara and a Porsche 356 all in the same place.
The Rally Paddock
You'll need to hitch a lift to this (in a very dusty tractor), but it's well worth it. Located at the top of the site, beyond the hill climb's finish line, is the rally paddock which features some of the most extraordinary vehicles ever made.
Like the hill climb itself, the cars up at the rally paddock get put through their paces on a full forest rally stage. You'll see cars right from junior and classic rally through the Group B era and very modern WRC machines being used as they were intended.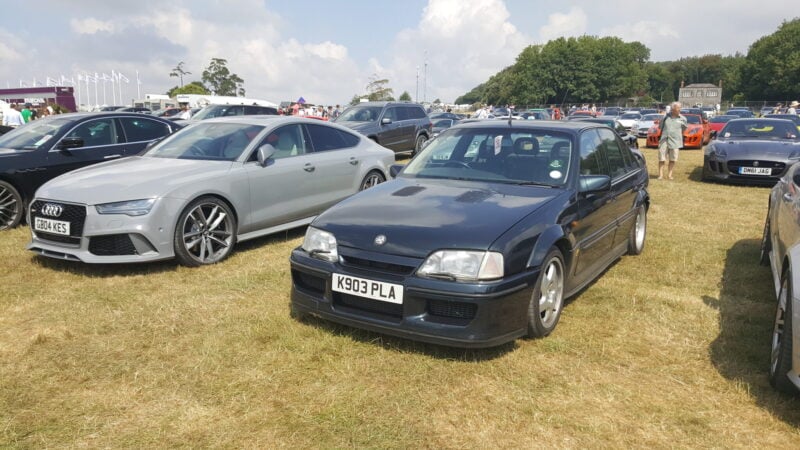 Supercar Parking
One oft-forgot facet of the Festival of Speed is the supercar parking. Goodwood allocates a special parking area for members of the public — by application and well in advance — who have unusual, interesting or just straight-up fast cars. This rather unique aspect of the event actually turns the attendees themselves into part of the festival.
It offers a chance to see some new or weird cars not otherwise involved in the event, and whatever your preferred type of motoring is it's likely there'll be something in here of interest. You can find this up near the tractor "shuttle" to the rally paddock, and above the pit area.
Michael Schumacher
2019 marks both the 50th birthday of F1 record-breaker Michael Schumacher and the 25th anniversary of his first world title. For the occasion, and befitting the general theme of this year's Festival of "Record Breakers", Goodwood has assembled a collection of some of the racing cars made famous by Schumacher and vice versa. This includes his first F1 car, the 1991 Jordan-Ford, and several title-winning cars — some of which will make timed runs up the hill.
It's one of a number of celebratory themes you'll spot as you wander round the pits area, which will include Bentley's centenary, 50 years of March Engineering, and 125 years of Mercedes-Benz in motorsport.
Of course there is far more besides, and it's unlikely you'll struggle for things to see, even if you're there for the whole event. Just be sure to pack plenty of sunscreen and cash for ice creams!
More Posts On...