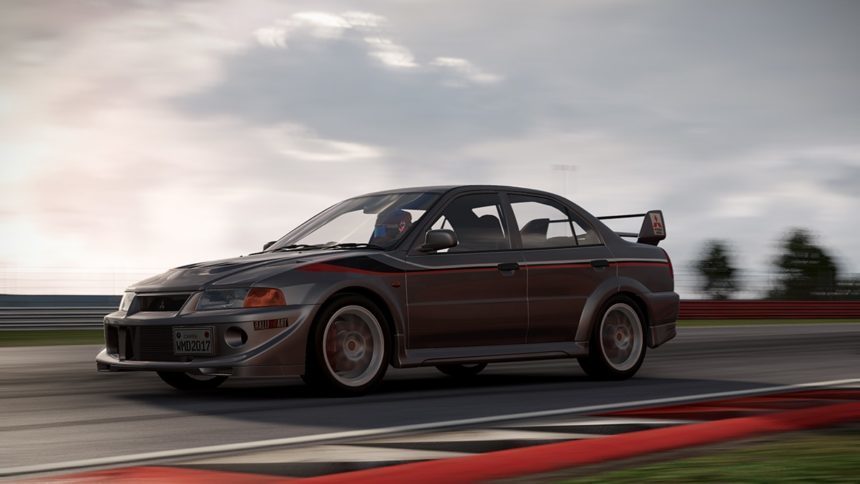 Slightly Mad Studios continues to expand the count of cars scheduled to appear in the upcoming Project CARS 2. This time it's all about the traction, as four Lancer Evolution iterations grab the spotlight.
The Lancer Evolution VI Tommi Mäkinen Edition is considered by many fans to be one of the greatest models from the 20+ year history of the model. Named after the famous Finnish rally driver who won four consecutive WRC titles from 1996 to 1999, the machine introduced distinctive improvements on the interior as well as the exterior. Though it shares the same 2.0 turbocharged powerplant with the regular model, the unique appearance it was given made it a sought-after gem for years to come.
Perhaps the fastest road-going Evolution models can be spotted roaming around the United Kingdom. Special FQ models — it stands for exactly what you think it does — limited to the British market stand out primarily thanks to great increases in power. The Evo IX FQ-360 GSR in particular delivers 359 hp and has all the necessitates you would expect from a high-performance Evo, including Active Yaw Control and a six-speed gearbox.
If youth is something your heart desires, there is the Evolution X FQ-400, the newest (and last) of the breed. Pumping out over 400 hp and 398 lb-ft of torque, it can dash from zero to 60 mph in less than four seconds.
All these models made their appearance in the original Project CARS, but will be returning once more alongside the previously announced time attack Evolution VI by SVA. A small correction on that car from our last article: the power rating sits at 1,150 hp, not the measly 940 hp originally reported. It set quite a number of lap records during the 2015 Yokohama World Time Attack Challenge, so we don't doubt it will be a real menace to compete against in Project CARS 2.
Catch more news on the development of Project CARS 2 by paying a visit to the GTPlanet Q&A with Ian Bell thread. Project CARS 2 is scheduled to appear on the global market later this year.
More Posts On...