The Italian coachworks Mole Automobiles has a new one-off Alfa Romeo 4C and it's drop-dead gorgeous.
Called the Alfa Romeo Mole Costruzione Artigianale 001, it's a bit of a mouthful. It loosely translates to Artisan Construction and one look is all you need to see that it nails the artisan bit.
Don't get us wrong, the 4C is by no means an ugly car. It's just a little on the awkward side, especially in the front fascia area. With the round headlamps and triangle grill, it resembles an overly surprised owl. The weird, insect-like light covers only make it odder.
Mole changes all this though by incorporating in the current Alfa design language. The changes include blending in the front styling cues of the Giulia and Stelvio, making the car look way more aggressive. Also by keeping the headlights small while retaining the same overall shape in the grill area, it gives the 4C a nice, chiseled look.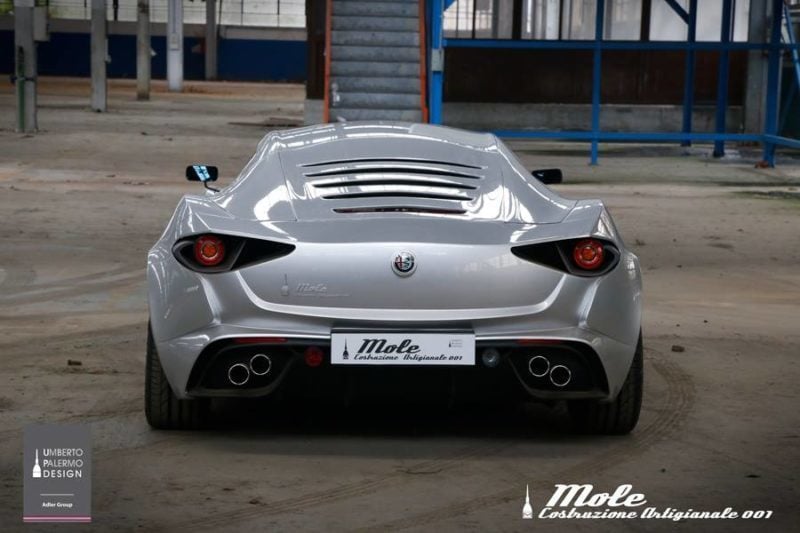 The rear of the car also gets a makeover. It's now smoother, with fewer styling lines and with the tail lights more recessed than before. The best bit though is the engine cover. On the standard 4C, it's clear plastic and allows you to see the engine. Mole chose to cover it up though in the best way possible; a solid piece with louvers cut into it.
Under the bonnet, everything presumably remains the same. This means a 1.75-liter straight-four with a turbocharger, producing 237hp and 258lbft of torque. This is good for a 0-60 time of a little over four seconds and a top speed of 160mph.
The most unfortunate bit about the Costruzione Artigianale 001 is that it's a one-off. This means you won't see it prowling the streets anytime soon. However, Alfa Romeo is currently working on an 8C successor which will have a mid-mounted engine. We can only hope that it looks this good.
If you're keen on checking the Artigianale out, it'll be on display at the Turin Auto Show now through June 10.
More Posts On...